It would be easy to fall for the headlines about wavering EV demand in the US. In the past few weeks, editors have rushed to publish articles suggesting that no one wants to buy EVs and that unsold electric cars are littering dealer lots, all backed by market data. 
"The nation's fully-electric cache is reportedly up by 350 percent this year, with nationwide inventory sitting at over 92,000 vehicles. That translates to a 92-day supply of EVs, which is almost twice the current average for gas-burning cars." (Jalopnik)

"Genesis, the Korean luxury brand, sold only 18 of its nearly $82,000 Electrified G80 sedans in the 30 days leading up to June 29, and had 210 in stock nationwide — a 350-day supply, per Cox research." (Axios)
But when you look closer at what's buried in these headlines, some trends emerge.
Electric Cars or Luxury Cars?
Many articles use luxury electric car trends to diagnose electric car demand. Frequent mentions include:
Genesis G80 starting at $82,000 

GMC Hummer EV starting at $100,000

Audi's Q8 e-tron starting at $74,400 
Auto News points out that EV registrations for other high-end brands, such as Lucid ($94,550+) and Porsche ($111,700), are stagnating this year, too. 
In other reports, the numbers are clear. OEMs are increasing their production of luxury vehicles, eliminating budget priced models, and the price of new cars is rising. The same goes with used cars – the lower the price, the less inventory. With soaring interest rates, it's harder and harder for people to afford cars – even if they want them. 
Overall market data drives home the mismatch between available inventory and increasing sales. According to J.D. Power, in June, EVs were 8.6% of retail sales and 6.7% of available inventory. What this means is that, especially with the shift to direct-to-consumer sales, inventory is not a great representation of overall demand, or even purchases.
Tax Credits Matter
There is evidence that shoppers still want EVs, but are looking for a lower price. Doom and gloom headlines don't mention that cars like the Model Y, the price of which recently dropped from $67,440 to $49,380, doubled its deliveries so far in 2023. And that the Chevrolet Bolt saw sales grow from 360 in Q1 2022 to 19,700 in 2023 when it became eligible for the federal tax credit and dropped the starting price. In fact, GM reports that most of its EV inventory in-transit is already sold, with the exception of the pricey Hummer EV. 
The effect of the federal tax credit cuts both ways: Kia and Hyundai, which are known as affordable brands, lost access to the $7,500 credit this spring and have seen their sales numbers plummet. However, Hyundai has pivoted its strategy to leasing, which has preserved some of its new-found lead in the EV world. A section of the Inflation Reduction Act allows commercial entities to pass through the $7500 credit to lease customers. 
Cost per Range Mile
The one example that jumps out is a surplus of the once hard-to-find Mustang Mach-E, which has a mid-range sticker price ($42,995 – 59,995) but a relatively high cost per range mile. Cost per range mile is a metric that we use to discuss how much of the purchase price of an EV goes to the range, as opposed to things like speakers, leather seats, and brand recognition.
From what we've found in our research, shoppers looking for utility, particularly those new to electric, are likely to prioritize cost per range mile. 
For the Mach-E, the cost per range mile is between $172/mi and $222/mi. For comparison sake, both the Volkswagen ID.4 Pro, the Model Y Long Range, and most Model 3 trims have a lower cost per range mile (around $153/mile) – and also qualify for the federal tax credit. 
Similarly, the entry-level Audi Q4, which starts at $49,800, is also flagged for being stuck on dealer lots. It falls into the same middle ground as the Mustang Mach-E. Although the cost per range mile on the Q4 is $187/mile, Audi is seen as a luxury brand, and many budget shoppers may not even look at the brand. 
A Maturing Used EV Market
I spend a lot of time researching the used EV market in order to produce Recurrent's Quarterly Market Reports, and what I'm seeing on the ground is that the used cars are already undergoing a much-needed course correction in pricing. Since the used market is not as constrained by MSRP, it can respond to market demand for affordable, entry-priced vehicles. 
Since July 2022, the Recurrent Price Index, which tracks a bundle of common and widely available models, has fallen 28% to $30,330. The share of used EVs priced under $30,000 has risen 200%, with nearly 40% of the used market below that price. As a comparison, the average listing price for a used gas car right now is above $27,000.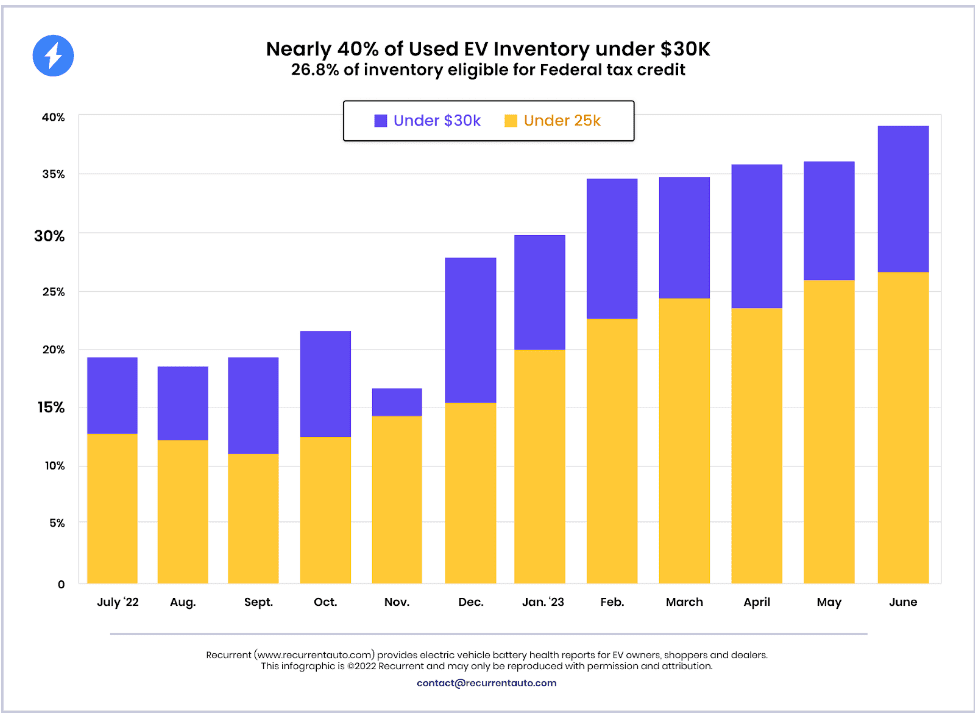 My guess is that as supply for high-priced EVs piles up, many traditional OEMs follow in Tesla's footsteps and slash prices until demand picks up. Ford is already doing so with the F-150 Lightning and the Mustang Mach-E, although CEO Jim Farley worries about accelerating depreciation for those customers who already bought their electric ponies.
Other EV market experts at Recurrent expect prices to balance themselves for the rest of 2023.
"As for pricing, the used market will continue to go down on all EV fronts. No chance it doesn't. Tesla prices will decrease due to market influences, not brand woes. Other OEMs will continue to see a lack of demand because people don't want their cars [as compared to cheaper Teslas]. And they won't become appealing until the prices warrant people's attention – frankly, that's what we need to increase adoption at a higher rate in the used market" – Michael Wheatley, Recurrent
What do you think? 
Should OEMs lower prices, even if it means upsetting customers who may have purchased an EV at a higher price in 2022 or 2023?

How much do federal tax incentives sway new – and used-car purchases?

Is price per range mile a good metric when it comes to understanding demand, particularly for economy EV shoppers?
Let me know in the comments or on Twitter/X @recurrentauto.