One of the fastest ways to increase used vehicle sales and profits is to streamline the reconditioning process. Buying great inventory at a great price is only half the battle. Great inventory buys can lose their effect fast if that inventory sits for too long and/or incurs too much expense during the reconditioning process.
Let's take a look at some ideas that will help you get your inventory front-line ready faster and lower your reconditioning costs.
Improve Time-to Line (T2L) Efficiency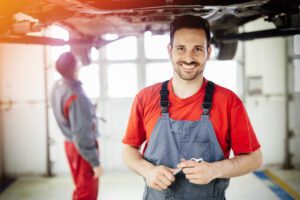 As management guru Peter Drucker said, "What gets measured gets managed." If you want to improve your used vehicle sales numbers, the first Key Performance Indicator (KPI) to take a look at is the amount of time it takes to get new inventory ready for the front line.
Dealers who can move cars from the acquisition to sale-ready stages in three to five days benefit from additional inventory turns, more profits and fresher stock. NCM Associates calculates the average daily per vehicle holding cost at $40, which accrues from vehicle acquisition to its sale. A 10-day recon cycle depreciates a car $400. Shorten this cycle to 3-5 days and you have automatically increased profit potential.
Improve Parts Availability and Fill Rate
Vehicle reconditioning is usually pretty predictable. Oil Changes, Brakes and Tires probably account for most repairs. A closer look at parts used during reconditioning over the last several months can also provide valuable insight into the parts used most often.
The cost of chasing parts down that are not in stock can really add up. Take inventory of what parts you are using the most and make sure they are always in stock. It will save time, and lower parts costs. 
Related: The Importance of Modernizing the Reconditioning Process at Your Dealership – Mike Boyd, Cox Automotive
Service Should Treat the Used Vehicle Department as a Valued Customer
Your service department is there to make money, but so is your used-vehicle department. In many stores, the used vehicle department is one of the biggest service customers, but are often not treated as such.
The used vehicle department should have parts and labor discounts similar to large fleet or wholesale customers, They should also be afforded priority service, when required, to get the job done. Discounts should be small enough so that the service department still makes money, but big enough so the used vehicle department can make money too. Find the balance and stick with it. 
Streamline Workflow
Shawn Larkin, founder and chief executive officer for North American Dealer Parts Exchange Inc., believes that technicians and advisers should not have to touch a car more than once to complete the reconditioning work.
This means planning the work, and having parts available when the repair begins. Because recon work is not attached to a waiting customer, it can be planned around the daily workflow. This process, of course, works better if there are multiple techs responsible for recon work.
"There should not be just one or two technicians dedicated to reconditioning," Larkin says. That creates backlogs. "Instead, all qualified technicians should be trained and able to process used cars. Used-car recon is not much more than the basics – steering, suspension, and lights – which service department apprentices are taught, so recon is not complicated."
Improve Communication Between Departments
Service advisers and reconditioning managers need to work very well together to streamline the process. These 2 key players should work closely to develop processes and procedures that require fewer interactions between the two.
Every time workflow is interrupted waiting for a repair approval, or waiting for vehicles to be handed off to service, is time lost and added cost to the vehicle.
There needs to be a certain level of trust, where repairs under a certain amount can be automatically approved by the service adviser. The reconditioning manager (or an assistant) also needs to be available at all times to approve larger repairs, thus helping to keep the work flowing.
Monitor Detail Department Supplies and Materials Costs
The final piece to this puzzle is the detail bay. It is amazing the amount of money and time that can be saved here with proper planning and training. It all starts with a detail department manager who has experience and knows how to use chemicals and other resources efficiently.
Just like the service department, workflow in the detail bay also needs to be planned and carried out so as to limit the number of touches.
Related: Solutions That Measure and Manage Your Dealership's Recon Process
---
Did you enjoy this article from Ken Strong? Read other articles from him here.
Car Biz Today, the official resource of the retail automotive industry.
Be sure to follow us on Facebook and Twitter to stay up to date or catch-up on all of our podcasts on demand.
While you're here, don't forget to subscribe to our email newsletter for all the latest auto industry news from CBT News.