Here's a stat that will scramble your brain: Facebook Marketplace now has 800 million users worldwide.
Let that number sink in.

Here in the U.S., 1 in 3 people use the tool. It's no wonder that Facebook Marketplace has become a critical source of new leads for dealerships around the country.
Car buyers are making the switch from Craigslist because Marketplace has proven to be more transparent, secure, and easy to use. That means dealerships are following suit, and some are already seeing great results.
There are several benefits for dealerships to be on Facebook Marketplace, but a few key challenges as well. In this article, we'll share how dealers can get started on Facebook Marketplace and grow their business. 
Related: Why Dealerships Should Use Facebook Marketplace
Getting Started on Facebook Marketplace for Dealerships
1. Choose a Marketplace Inventory Partner
Dealerships on Facebook Marketplace want to differentiate themselves from private sellers. To do that, you want to get the "Dealership" tag on your listings. But how?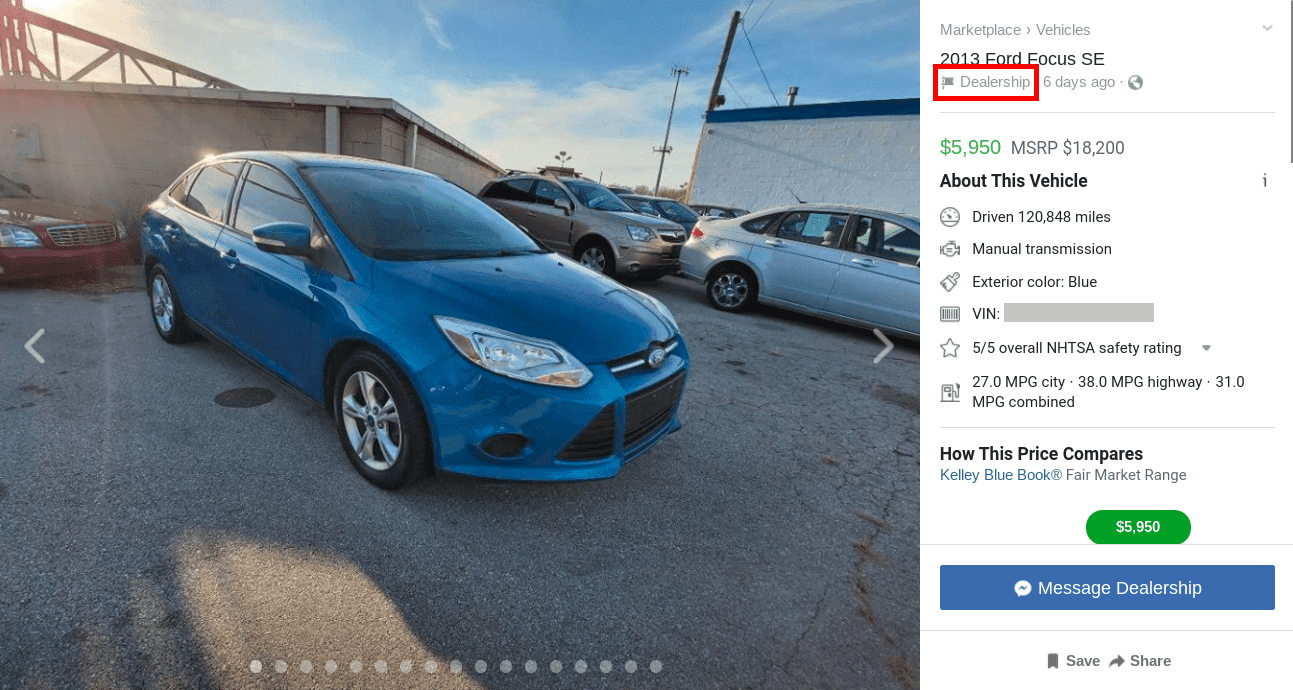 To be listed as a dealership on Facebook Marketplace, dealers need to work with an approved Inventory Partner. Most inventory partners are DMS providers or automotive marketing companies. Check the list of partners to see if you're already working with one. There are additional benefits to working with an Inventory Partner that we'll describe below. 
2. Connect your DMS 
If your DMS is NOT an Inventory Partner, you can still connect your inventory to Facebook Marketplace. Choose a marketing agency Inventory Partner, like Dealers United, to connect your DMS to Marketplace.
Connecting your DMS to Marketplace is critical to complete the next step: Adding your inventory.
3. Add ALL of Your Inventory to Marketplace
You won't see results from Facebook Marketplace by adding a listing here or there. Add ALL of your inventory, just like you do with other third-party lead providers. There's no disadvantage, and by working with an Inventory Partner, your inventory will automatically syndicate to Facebook Marketplace, giving your listings extra mileage without extra work. 
3. Respond to Customers Quickly
When a customer contacts your dealership through Facebook Messenger, you know they are ready to buy. Also, there's a good chance they reached out to multiple dealerships at the same time. They're testing to see which dealership will be most responsive, and it's a test you have to pass if you want to earn their business.
That's not the only reason to respond to customers quickly. If you use a 3rd party tool to manage messenger and you don't answer a message within 24 hours, Messenger cuts off your communication thread. After that, the customer has to reach back out to YOU. The odds of that happening are very low.
Set up an internal process to respond quickly to new leads. Designate team members to monitor Facebook Messenger. Or, you can also set up an Instant Reply to greet customers when they reach out. This tells customers you've received their message and will be responding soon.
Facebook Marketplace also has Live Chat integration partners that allow you to talk to Marketplace customers via your preferred communications app. 
Related: Why You Should Pay Attention to Facebook Marketplace for Autos
4. Manually Transcribe Notes from Messenger to CRM
Keeping all your sales conversations in one place is a key benefit of using an automotive CRM. Unfortunately, no CRMs integrate with Facebook Messenger… yet.
In the meantime, you'll need to manage Facebook Marketplace conversations separate from the rest of your leads and manually transcribe notes into your CRM. The manual effort will be worthwhile—keeping your conversations in one spot helps you streamline your sales process and keep your entire team in the loop. 
5. Earn Marketplace Badges
Facebook Marketplace is already crowded with dealerships and private sellers. To stand out, you need to go above and beyond. Prove to customers you're the best dealership by earning Marketplace Badges.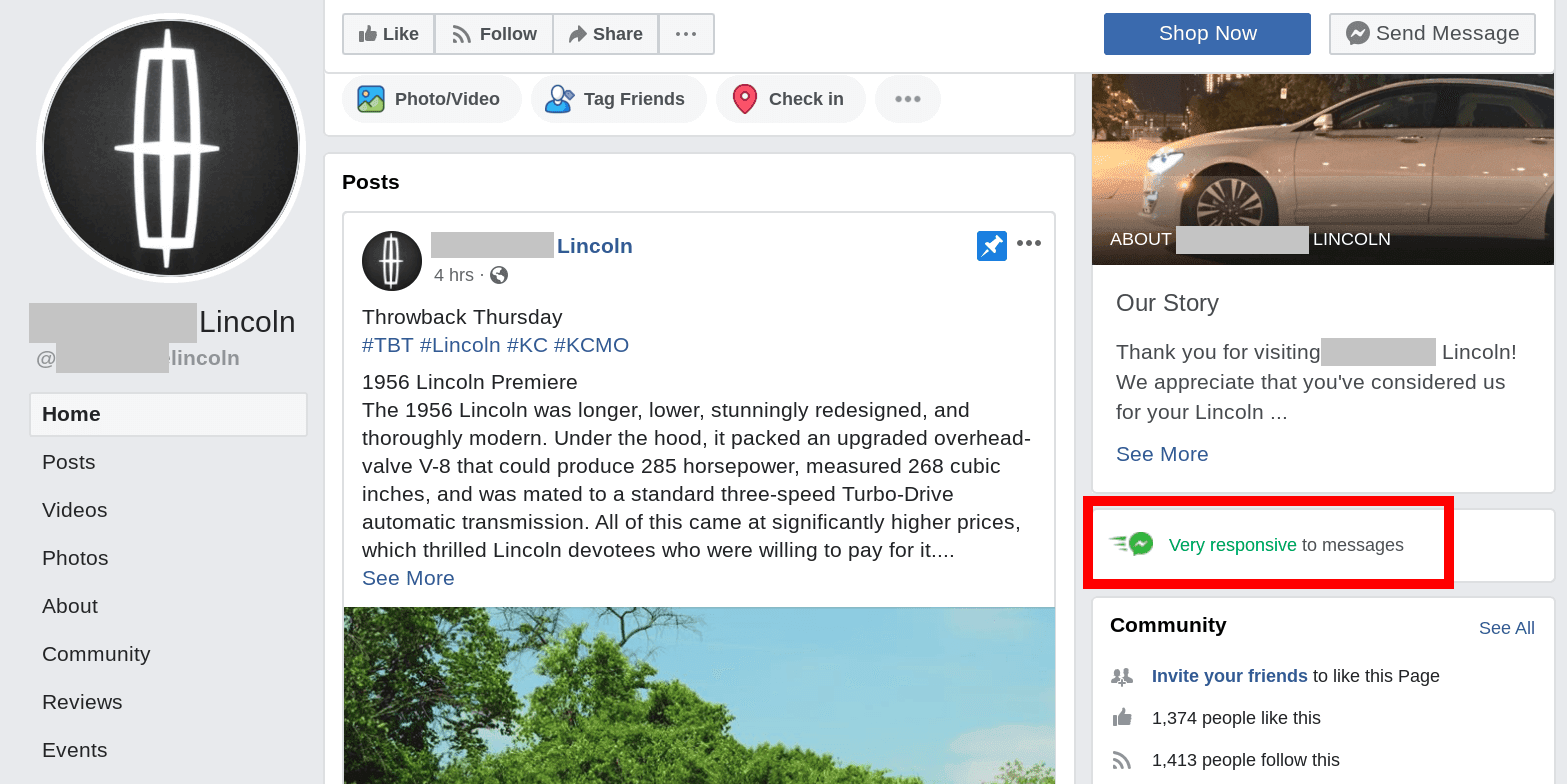 Facebook Marketplace gives out two badges:
Very Responsive.

This badge indicates that you respond quickly and consistently to messages. To earn the badge, you must respond to most of your messages over the last 30 days within 1 hour.

Community Recommended.

This badge means your dealership has been reviewed positively by several Marketplace users. To earn this badge, you need to be rated by at least three other Marketplace users, and 75% of those reviews must be positive. 
Facebook Reviews, which are posted on your dealership's Facebook Page, are also visible on Marketplace listings. Be sure to earn positive reviews day-in and day-out by providing exceptional service and, most importantly, asking for customer reviews. 
6. Use Your Best Photos and Descriptions
There's nothing new about Facebook Marketplace when it comes to creating an attractive listing. It's all about presentation. Use high-quality photos, taken in good light, and provide multiple views from inside and outside the vehicle. Add a banner or footer with your dealership logo. This helps distinguish your listings from private sellers. 
Get Started with Facebook Marketplace
Facebook Marketplace is an incredible opportunity for dealers who learn the rules and take advantage of this massive new lead source.
Start building your reputation as a responsive, recommended vendor to give yourself a leg-up on the competition. Make Marketplace a regular part of your sales program and give your team the tools to manage it. Make sure your other software tools work Marketplace, or build processes to stitch them together.
Most importantly, get to understand the Facebook Marketplace customer—they value personal privacy, but expect dealers to be transparent and responsive. Make these customers happy, and your busy will be happy. 
---
Did you enjoy this article from Zach Klempf? Read other articles from him here.
Car Biz Today, the official resource of the retail automotive industry.
Be sure to follow us on Facebook and Twitter to stay up to date or catch-up on all of our podcasts on demand.
While you're here, don't forget to subscribe to our email newsletter for all the latest auto industry news from CBT News.