F&I per vehicle profits appear to be on the rise. Reports from five of the six publicly traded auto groups indicate that F&I gross profit per vehicle was up an average of around five percent. The only auto group not reporting a per-vehicle F&I profit increase was Asbury Automotive Group Inc., of Duluth, Ga., who reported a very small one percent decline.
The other five auto groups reporting were:
AutoNation Inc., of Fort Lauderdale, Fla., rose 6.4 percent, or $107, to $1,781.

Group 1 Automotive, of Houston, rose 7.9 percent, or $123, to $1,685.

Sonic Automotive Inc., of Charlotte, N.C., rose 2.8 percent, or $39, to $1,444.

Lithia Motors Inc., of Medford, Ore., rose 10.5 percent, or $133, to $1,399.

Penske Automotive Group Inc., of Bloomfield Hills, Mich., rose 5.8 percent, or $68, to $1,244.
Reasons for Success
These companies each attributed the increases to a growing F&I product penetration and to F&I training efforts. Sonic President Jeff Dyke told Automotive News that much of their increase was driven by training and assistance from JM&A Group, an F&I product provider and training company in Deerfield Beach, Fla.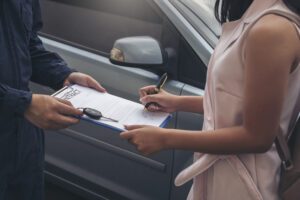 "I just cannot tout them enough. They do a fantastic job for us. I wish we had been on with them a long time ago," Dyke said. "They've just really done a good job for us, and it's certainly showing up in our performance."
Dyke also said that Sonic F&I profit-per-vehicle could reach around $1,600 in 2019 on the strength of the company's used-only EchoPark locations, whose F&I profit per vehicle ranges between $2,000 to $2,200.
At Group 1, SVP Pete DeLongchamps told analysts and reporters that the company makes more F&I profit on new-vehicle sales than on used, but added that used-vehicle F&I sales remain consistent.
At Lithia, product sales drove profits. Of the vehicles sold in the quarter, Lithia stores arranged financing on 72 percent, sold a service contract on 46 percent and sold a lifetime oil product on 24 percent, according to EVP Chris Holzshu.
Growth Opportunities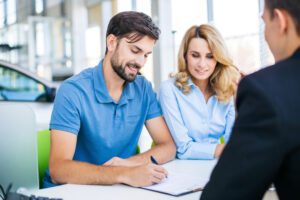 The greatest area for F&I growth seems to be in recently acquired stores. These new stores hold great potential after taking time to get up to speed with group practices and standards. At Lithia, these newer acquisitions average $800 of F&I profit per vehicle, compared with about $1,500 at their more seasoned stores.
Holzshu also said of this growth strategy, "It gives us a real opportunity for us to continue to focus on the upside potential of more F&I growth."
Lithia employs a three angle approach to F&I growth:
Hiring high-performing F&I managers

Selling the right products in the right markets

Implementing a consistent process from start to finish
Holzshu said Lithia's associates "understand what a win looks like, and they're compensated to fulfill the mission of delivering the products that we have."