Digital retailing continues to gain ground within the automotive industry. We've all seen the news stories sharing the growth of online transactions and new delivery options driven by Carvana, Vroom and other alternate models. The buzz and investment continue to grow, with Vroom recently snagging another $245M in funding. In fact, if you were going to choose a singular theme for 2019 it would have to be the rise of online sales. In 2019, we saw Carvana go from not making the Automotive News' top 100 used-vehicle retailers to debuting at No. 8 and in their most recently reported quarter selling 46,413 units, up 83% from last year. About a year ago McKinsey & Company shared "digitization and the growing importance of omnichannel marketing" as the major theme for automotive retail.
They estimated that "the new-car purchase journeys will shift to 10–25 percent digital from 0 percent today, with used cars increasing to 25–50 percent digital from around 6 percent today."  They expected that used car number to double from 6% last year January to 12% this year, which is only slightly less bullish than the 2020 MAX Digital Annual Dealer survey which has that number at 15%. CarMax recently shared that express pickup and home delivery offerings combined were less than 10% of their sales where available. All of those numbers are up from prior years and represent solid growth.
The amount of digital retailing activity and growth in 2019 might mislead you to think all of your focus should be on creating deals on your website for a few leading-edge customers. It shouldn't. The current segment is still small; 10-15% of the market, even though it's growing, should not have you ignoring the fundamentals on the majority of your business. Yes, you do need to have omnichannel features on your roadmap this year or next, but it's not your largest opportunity in 2020. Despite the hype and coming change, today, at this very moment 85-88% of transactions are still traditional and dealership based. Your #1 digital strategy is in providing digital assistance to improving the human customer experience at your dealership. The in-dealership traffic is never going to be larger than it is today. Your dealership experience, making it as easy as possible for your customers to come in and test drive and buy in store, deserves your focus now.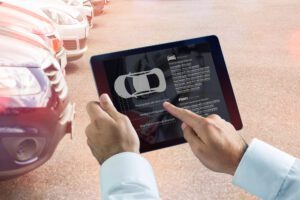 What are you doing to make the most of that full 85% of transactions that will be delivered through your physical dealership location? How have you changed how you handle that critical first contact? If you have a Business Development Center, how are you set up accommodate the knowledge gap the internet research has created? Have you connected your BDC to a process to make sure that they can answer every question about every vehicle your customer could be interested in to get them in store to have the physical experience with the vehicle? Do they have a way to instantly become an expert across your full vehicle inventory, so they can speak with confidence to your interested shopper? Are they able to easily package all that information in a compelling package to motivate your shoppers to keep the appointment in your dealership? Do you have a secret shopper program? Have you tested the experience to know how your staff is doing? What are you doing differently to improve the experience inside of your dealership? How are you helping your team to build the best possible showroom interactions and exceed the needs of this digitally influenced customer?
The customers coming into your showroom have exceptionally high expectations. They were online already and may still be online as they are standing in your dealership. They expect a lot of information fast. They are used to being in control, so a high stress low information environment isn't going to cut it. They expect your people to be experts. With the sales teams that are turning over at 80% a year, it just isn't possible for your staff to know all the details without technology.
As you compare the impact of various digital strategies, keep in mind that even a very successful top of the funnel activity, for example, a search strategy that grew traffic to your site by 10% will not yield 10% more sales. Instead, the impact of that traffic will be minimized as it has to work its way through a series of clicks and decision trees to show up inside your doors. Adding a little more to the top of the funnel is terrific, unfortunately the impact gets diminished as the shopping journey continues. In stark contrast, when you affect a variable at the end of the car shopping journey like improving experience with direct shopper contact in your dealership, a 10% improvement can result directly in a 10% improvement in sales.
Ironically, a key lesson from online retailing is what happens in the dealership is key. And the digital assistance to your staff in that transaction is a game changer. We've seen competition pivot from pure self-serve e-commerce tools to trying to provide sales assistance. Why? Because they see the opportunity to impact the volume is on the primary in-dealership purchase path. That's why we built tools like MAX Digital Showroom and now the new MAX BDC tools. The moment of that first person-to-person contact is your chance to make the magic happen. It's the shift from independent work on the shopper's part to openness to being helped. Done right, your BDC, sales staff and customer are on the same team, sharing the same information, understanding and building the value of the vehicle for that customer. They are directly creating a positive experience with more margin, that will close more frequently, delivering better short and long-term financial impact for your business. Your bottom line grows because those changes affect the great majority of your opportunities, not just a small slice of them. The lesson is clear, continue to improve your customer experience providing the information rich, transparent process today's customer expects. And as you think about how you capture the biggest digital opportunity for 2020, don't overlook digital assistance for what is happening in real life at your dealership.