Automotive interior design and manufacturing specialists Yanfeng have developed an in-car sanitizer that is capable of killing the novel coronavirus on vehicle surfaces. Yanfeng calls it the Experience in Motion 2021 Shared concept (XiM21S), and the system offers two ways in which technology integrated into the vehicle can fight germs, bacterial or viral.
CEO of Yanfeng Automotive Interiors, Hans Hendriks, said of XiM21S, "We have launched a technology that uses UVC (ultraviolet-C) light, which has the spectrum that can actually kill 99.9% of all bacteria and viruses, including the COVID-19 virus, within a matter of minutes."

The technology is due to be available early next year is essentially an update on the XiM21 automotive concept shown by Yanfeng in September 2020. Developed for Smart Cabin technologies and "holistic digital and physical solutions" that enhance driver and passenger experiences, the original concept makes use of dual curved displays for the driver and a passenger-side sliding display. Advanced voice recognition, hands-off detection, fatigue detection, and other ADAS systems are integral.
But the XiM21S is intended for a slightly different audience – shared mobility. The idea of catching COVID-19 in ride-sharing vehicles has decimated that industry since March 2020. Uber has lost billions of dollars since the beginning of the pandemic and business has been down 73 percent year over year. Between fears of catching the virus on shared surfaces and fewer places to travel to, the shared economy continues to take a beating.
Easing riders' worries about virus and other illness transmission possibilities could have a positive impact on the industry, and that's what Yanfeng has targeted with XiM21S. It's also not intended for the current COVID-19 fight since an early 2021 release would have little to no bearing on the pandemic as it's experienced now. And as the XiM21S doesn't have a driver's seat in its design, it's clearly expected for a time when vehicle autonomy is in effect.
Repurposing Tech
It's important to note that Yanfeng is not taking credit for developing the technology. Rather, they're deploying the tech for use in the automotive industry where a demand has suddenly opened up.
Hendriks emphasizes, "This is not a light technology that we have invented. It's being used to clean hospital operating rooms. But we have developed a solution where it can be integrated into the overhead console."
In 2019, well ahead of any COVID-19 talk, Yanfeng introduced Hygiene Technologies in their shared mobility Smart Cabins as a concept called the 'Wellness Pod'. An overhead-mounted unit integrated advanced cleanliness for shared spaces like train cabins, buses, and vans that included three tenets: a UV air sanitizer, multi-scent dispenser, and a UV surface sanitizer.
The FDA still hasn't identified the exposure requirements to inactivate the COVID-19 virus, so the length of in-car UV treatment and at what intensity may still be in flux for Yanfeng.
That said, Yanfeng has already released an option for vehicle owners in the Asian markets. Drivers in China can buy an aftermarket UV sanitizer system that reportedly performs a sweep of the vehicle interior to disinfect the air and surfaces.
"China is an easier market to quickly put these new technologies on the market," Hendriks said. "There is more scrutiny when it comes to safety and liability in North American and Europe, but we are looking at those markets as well."
---
Did you enjoy this article from Jason Unrau? Read other articles from him here.
Be sure to follow us on Facebook and Twitter to stay up to date or catch-up on all of our podcasts on demand.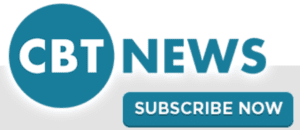 While you're here, don't forget to subscribe to our email newsletter for all the latest auto industry news from CBT News.