Advertising Partner

How long does it take your sales staff to respond to a lead? An hour, a day, a week? And is the answer wishful thinking or a verified number?
If you do indeed know the actual response time, you're halfway to a better handling of leads. But most sales-oriented businesses, like dealerships, aren't prepared for what it takes to convert leads in today's competitive environment.
Let's get some eye-opening statistics about lead response times out of the way.
Among all industries, it takes an average of 47 hours for a lead to receive a response, according to Forbes.
In addition, Forbes also reports that 27% of leads never get a response at all.
Yes, most dealers use digital lead management tools that never let this happen. However, the typical interaction with a business sets expectations for consumers that can easily be exceeded by forward-thinking dealerships.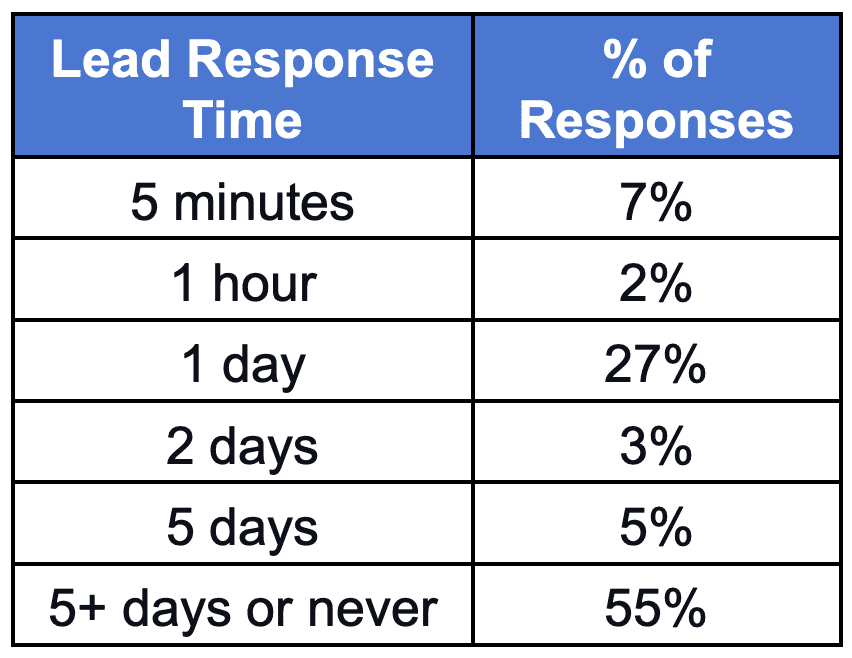 Here's more of what consumers are used to, based on a 433-company survey conducted by Drift, a marketing and sales services firm.
Put simply, dealers can come across as customer-focused by immediately responding to leads. And here's why that matters.
The ideal response time for following up on a lead is five minutes, according to InsideSales.com. The probability of reaching that consumer falls by eight times if contact is made outside those first few minutes.
Meanwhile, the Harvard Business Review grants a more generous one-hour response time to be seven times more likely to have a worthwhile conversation with a decision-maker.
ServiceBell chimes in with more reasons why fast lead response times are essential.
82% of inquiring consumers expect to get a response within 10 minutes.
72% of customers make a purchase because of a quality experience
A one-minute response time means up to 391% more conversions
Why fast lead response times matter: The big picture
With the metrics out of the way, let's talk more broadly about why reaching out right away to leads is essential to a dealer's bottom line.
Stay competitive
It's no secret that today's consumers expect immediate engagement; they'll go elsewhere if this attention is lacking. And any loyalty only lasts until needs are no longer being met. Finding another dealer is just a click away.
So, a fast lead response prevents (or at least delays) a consumer from going elsewhere, demonstrates the value of their time, and proves you're meeting their needs from the beginning.
Improve conversions
Customers contact dealers for a reason; they're interested in buying cars. But you'll never know if this is a burning desire or a slow-motion sale until there's a return contact. By responding rapidly, a dealer can take advantage of this interest and convert these leads into car buyers before they lose interest or go shopping at a different dealership.
Build trust
Car shopping dials up the skepticism factor among many consumers, but this can be overcome by a fast response. Being attentive proves you're there to meet customer needs and provide the attention and appreciation they crave. These are foundational measures for closing a sale and building long-term relationships.
Steps for a fast lead response plan
A few actions can get your dealership on a plan for quicker lead responses.
Set Expectations: Sales staff should know the expectations regarding lead response times. And while a five-minute response time isn't realistic 24/7, established standards help guide the way.
Use Technology: Chatbots, live-chat functionality (including video chats), and auto-response emails are just some tools available to ramp up response times and lead engagement. Conduct an audit to see if your operation could benefit from additional technology.
Track Response Times: Add one more metric to your measurements: lead response time. You'll be able to spot any gaps (and who's causing them) and determine how conversion rates are impacted by response times.
---
Did you enjoy this article? Please share your thoughts, comments, or questions regarding this topic by connecting with us at newsroom@cbtnews.com.
Be sure to follow us on Facebook, LinkedIn, and TikTok to stay up to date.
While you're here, don't forget to subscribe to our email newsletter for all the latest auto industry news from CBT News.