Welcome to the Kerrigan Advisors Market Update with Bridget Fitzpatrick and Erin Kerrigan, Founder and Managing Director of Kerrigan Advisors.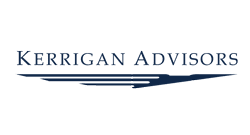 VIDEO TRANSCRIPT:
Bridget F.: Hello, everyone, and welcome to The Kerrigan Advisors Market Update. Today, we're joined by Erin Kerrigan, Founder and Managing Director of Kerrigan Advisors. Thank you so much for joining us.
Erin K.: Thank you so much for having me.
Bridget F.: How is the Kerrigan Index starting in 2020?
Erin K.: The Kerrigan Index was flat in January, but keep in mind, we are waiting for all the earnings to come out for the public companies. I expect February will be pretty strong. Thus far, these earnings are strong from our seven publicly traded companies in the index and so it should be a good year. You have to keep in mind, though, that we're coming off of 2019, which was an incredible year for the index. The index was up 43% in 2019, outperforming the S&P by 48%.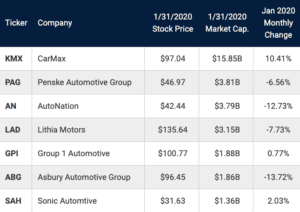 Bridget F.: Let's connect on buy-sell activity. How did 2019 fare?
Erin K.: 2019 was a very strong year, much to many skeptics' surprise. I mean, we continue to see the SAAR decline. Not that much, but it is declining, and yet we still see a lot of interest in buying dealerships. Over 200 transactions were completed in 2019. We don't have the exact number yet. We're still tabulating everything, but we know it is over 200. That would be the sixth consecutive year of over 200 transactions in our industry and I would say that is a very active buy-sell market.
Bridget F.: What are the expectations for 2020?
Erin K.: Well, 2020 is expected to be a very strong year as well, and that's in large part by the fact that it's being kicked off by a billion-dollar deal. Asbury's announcement of their acquisition of Park Place Dealerships, which they are paying a billion dollars for 10 dealerships, really sets the stage in our view for the buy-sell market for 2020. We expect it could be one of the highest value markets in terms of money spent on acquisitions ever with that kickoff of that big deal.
Bridget F.: Can you tell us what's going on with dealership valuations?
Erin K.: Dealership valuations have remained very strong. When you look at the Blue Sky value, that ticked up in 2019 because earnings actually increased slightly for the industry, which again, is surprising to some but those that are in the industry know that the highest margin parts of our business, fixed operations and used vehicles, continues to grow. That's really what's caused the rise in earnings.
Erin K.: Valuations on Blue Sky ticked up in 2019, and then there's real estate. Well, real estate for dealers that own their real estate, you guys know, the value of real estate has risen tremendously, about 18% since 2015. Today, we're trading at peak values when you look at the entire enterprise of a dealership, including real estate. In fact, over a million dollars higher than the valuations we saw in 2015.
Bridget F.: What is driving the strong valuations?
Erin K.: You know, in our view, the valuations are really driven by the capital markets. The average dealership is valued at about $17 million when you include real estate, and so that's a big transaction and most buyers finance a great deal of it. Well, today, you can get a lot of financing. We've seen 50% or more financing on Blue Sky and 80% or sometimes as much as a hundred percent financing on real estate.
Erin K.: With interest rates so low and so much access to debt, we are just finding that that's had an effect at increasing many valuations because buyers can pay more because their cost of capital is so low. It really is a reminder to us how important the financial markets are to the valuation of our business and the buy-sell markets.
Bridget F.: What other trends do you see in industry consolidation?
Erin K.: One of the trends that we are seeing is more and more single-point dealers, so dealers that have one valuable store, maybe it's a Toyota store in a great market or a Lexus store, many of them are choosing now to sell because they do feel that they need to be part of a bigger organization. We're seeing a great deal of regional consolidation, which is very much the trend we believe in in terms of how our industry's going to evolve. We think we'll see mega dealers in each market, and then at some point, those mega dealers, too, will be consolidated, but we think that'll be a ways down.
Erin K.: Those dealers that just have one point, they are starting to say, "Gosh, my store's so valuable and I see this regional consolidator getting bigger and bigger and I think the time is right now for me to sell that store so that I won't be able to benefit from the scale that that big group has." Clearly, it's going to be harder and harder to go it alone in the future.
Thank you for watching the official new source of the retail automotive industry. This has been a JBF Business Media production.