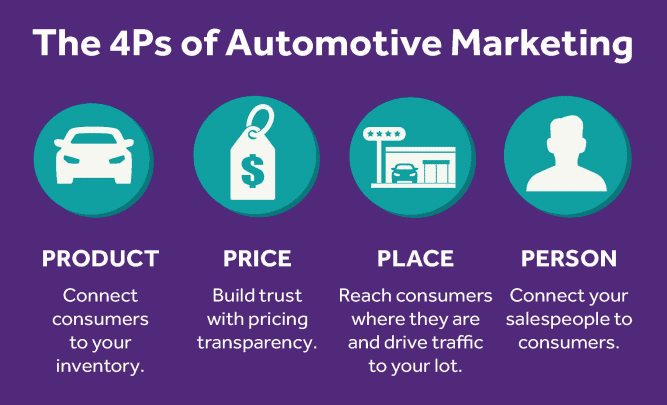 Automobile shoppers' behaviors have changed; they do so much of their research online that more than half never contact a dealership before their walk on the lot. Their experiences on sites such as Zillow.com have made them expect more transparency and personal service from auto dealerships. They want to research on their own terms but interact with a salesperson who can act as a seasoned consultant to help them through the process on the lot.
The evolution of the modern car shopper has led to The 4Ps of Automotive MarketingTM: Product (what to buy), Price (what to pay), Place (where to buy), and Person (who to buy from).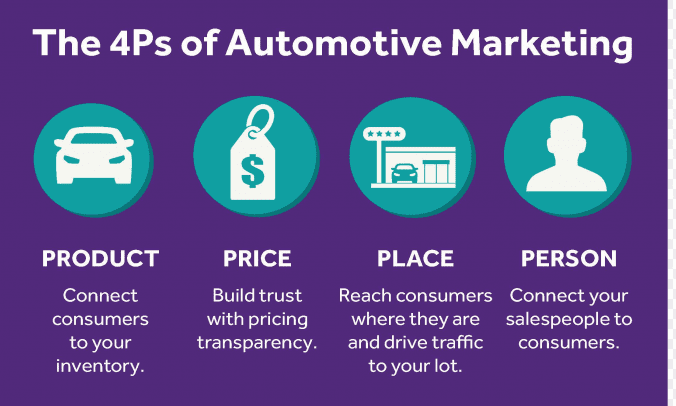 Rethinking Promotion
Promoting a dealership has changed from "look at me!" advertising to increasing transparency and focusing on the customer experience at the dealership. This doesn't mean promotion, one of the original four Ps of marketing, goes away. But our traditional notions of promotion have changed largely because today shoppers demand transparency and utility. Shoppers research as many as 9 auto-related websites on average before they purchase a vehicle. They are conditioned to research. They want dealerships, especially salespeople, to act more as partners and consultants.
Meanwhile, while they're on the lot, shoppers freely use their mobile phones to research competitors' inventory, importing showrooming behavior from the retail industry at large (think looking at TVs on your Amazon app while you are standing in the store at BestBuy). Under the new 4Ps, promotion is an element underpinning Product, Price, Place, and Person through the sharing of useful information, such as:
• Product: VDPs enriched with content such as photographs, reviews, and vehicle features.
• Price: Price contextualization tools such as badging, or visual indicators that provide more information as to why a vehicle is priced the way it is.
• Place: Details about how your dealership stands out from the competition, along with customer reviews to provide validation.
• Person: Deep information on salespeople through reviews, profiles (just like Uber drivers), and certification.
Reaching the Modern Car Shopper
The digital car shopper has also completely redefined our notion of place. "Place" no longer exclusively means the lot. Place includes everywhere in the online/offline world where consumers research their purchase decision. Dealers must be present in more places than ever before – with the right content and experiences to attract shoppers to the lot.
But the deal isn't done once shoppers arrive – the battle to win the hearts and minds of mobile phone savvy car shoppers has intensified on the lot. Forward-thinking dealers are responding by dialing up their dealership experience, offering shoppers the kind of personalized care that they've come to expect from the digital world, before, during, and after the purchase.
Ultimately, the car purchase ends on the lot with two people – a shopper and a salesperson coming to an agreement. Shoppers are willing to review salespeople and seek out the ones who are the best fit based on their reviews and profiles. Everything comes down to the person – both the shopper and the salesperson.
And getting the right car, at the right price, to the right person is what this business is all about. Long live the new 4Ps of Automotive Marketing.
[1] Cars.com, Mobile Influence on Car Shopping, January 2017.
[2]JD Power New Auto Shopper Study, 2017 data.