When the March sales figures were released, the alarm bells sounded across the automotive industry. March new vehicle sales contributed to an overall quarterly decline of 27 percent year over year. Expectations for April were dire with Edmunds forecasting as much as 80 percent fewer new vehicle sales for the month than previously estimated. The month-end reports told a different, much less worrisome story.
Rather than an 80 percent decline, car sales fell by around 50 percent industry-wide. That's certainly not a positive thing, but it isn't nearly as awful as it could have been. Buyers accounting for 56 percent of those sales embraced remote or online selling processes from dealers forced to shutter showrooms. But in the mix, SUVs and trucks truly were the products that buoyed those numbers most. 
Trucks Selling Extremely Well
Pickup trucks like the best-selling Ford F-150 still declined in April but it's been reported that it's the first time that trucks outsold passenger cars ever. Factories stopped or slowed production early on in the pandemic bracing for the slowdown, but sales outpaced expectations.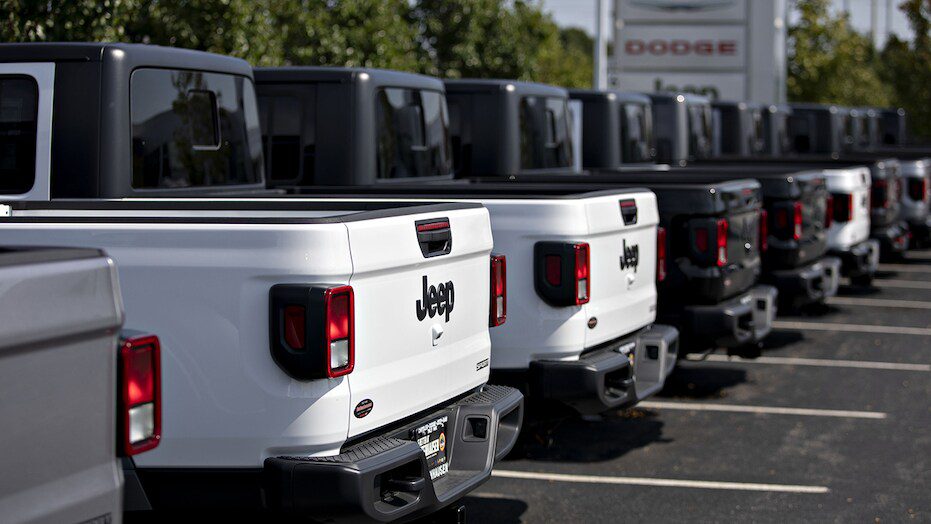 That's clear to see when the full picture is in view. At the current sales expectations, the average inventory levels for new vehicles are 121 days' supply, up more than six weeks from the same time frame last year. Pickup trucks are considerably less. The F-Series is well stocked at 119 days and the Ram pickup at 110 days, but the remainder are well below. 
Chevrolet Silverado sits at 68 days' supply compared to 121 days in April 2019.

Toyota Tacoma has 60 days' supply.

Ford Ranger has 85 days' supply remaining

GMC Sierra is running low at just 59 days' supply. 
The surprising rate of sales, especially for pickup trucks that run thousands of dollars more on average than passenger cars, surely is driven by strong incentives in April from carmakers. 84-month financing terms at 0 percent interest were enacted for the first time in more than a decade on these models. 
Low Fuel Prices Foster Sales
A decimated oil price also drove fuel prices as low as they have been since February 2016. Thanks to an overabundance of production combined with the shutdown that shocked fuel producers, crude oil storage was at about 85 percent worldwide.
As typically happens when fuel prices are low, consumers were abundantly confident in purchasing vehicles with higher fuel consumption ratings. Pickup trucks and SUVS, particularly full-size models, have been sought after even during the pandemic. 
What Could Happen with Sales
There has always been a close correlation between vehicle being purchased and fuel prices – an obvious statement to make, but one dealers should pay close attention to. In times when fuel prices are bottom of the barrel, suppressed fuel prices drive higher-consumption models up. Naturally, it's often followed with an over-correction in the market where fuel prices exceed average and compact to midsize models see a resurgence.
This time, the incredible overstock of crude oil stores will probably mitigate the over-correction. Fuel prices are likely to stay low as demand for fuel remains subdued. It's probable that consumers will keep buying trucks and SUVs until producers are able to alleviate their excess. But that's months away, or longer.
Although new truck stocks are somewhat depleted currently, it would appear that maintaining higher inventory of pickups and larger SUVs would be a good practice.
---
Did you enjoy this article from Jason Unrau? Read other articles from him here.
Car Biz Today, the official resource of the retail automotive industry.

Be sure to follow us on Facebook and Twitter to stay up to date or catch-up on all of our podcasts on demand.
While you're here, don't forget to subscribe to our email newsletter for all the latest auto industry news from CBT News.