Welcome to this episode of The Friday 5 with Steve Greenfield, Founder and CEO of Automotive Ventures, an auto technology advisory firm that helps entrepreneurs raise money and maximize the value of their companies.
First up this week, Automotive Ventures is launching a new initiative to democratize access for industry participants to invest directly into automotive technology startups.
We're now seeing more than 60 early-stage startups per month, and I've heard from many industry participants that they'd like the ability to get access to our deal flow, invest directly into individual startups, and be able to do so with small check sizes.
This is the feedback that has forced me to reflect on why I started Automotive Ventures, to begin with: to democratize access to information and investments for all industry participants.
So, with that, we are introducing the Automotive Ventures Investment Club.
The Investment Club is an exclusive group of accredited investors who have an interest in investing in early-stage automotive and mobility startups.
Build your own portfolio deal-by-deal alongside the Automotive Ventures Funds and join other investors funding the next wave of industry-changing startups.
What is the benefit of participating? Deal flow and convenience. 
We take care of identifying startups, negotiating deal terms, performing due diligence, writing a deal memo, hosting a webinar, and advising the Special Purpose Investment Vehicle that makes the investment. We do all of the heavy lifting for you.
Get unprecedented access to premium deal flow. Invest deal-by-deal. You choose the companies you like.
In the spirit of trying to make this as accessible as possible for the widest audience, minimum investments range from $2,000 – $15,000 per deal, largely dependent upon the size of the allocation.
Automotive Ventures handles fund admin, custom fund formation, regulatory filings, taxes, and more.
The process is quite simple:
Apply to join

Receive deal memos in your inbox

Attend webinars with the founders

Decide if you want to invest
If you're interested – or know of others that might be – please send me a note at steve@automotiveventures.com.
The news cycle continues to deliver a torrent of new information impacting dealers, and I'm here to report on new developments over the past week.
Dealer associations in at least 13 states say Ford Motor Company is unfairly burdening its retail network with costly requirements for electric vehicle sales and breaking some franchise laws.
Officials in Pennsylvania, Virginia, North Carolina, and other states have written to Ford calling for significant change to one of CEO Jim Farley's signature initiatives, which would require dealers to invest up to $1.2 million on chargers, staff training and new sales standards to overhaul the retail experience.
As I've reported here on past Friday 5 episodes, Ford dealers have been asked to choose between different levels of EV certification – and as another option can spend $500,000 instead of $1.2 million, but would only be allowed to sell no more than 25 EVs a year. Some of the state associations contend that such a cap is illegal.
Ford originally set an October 31 deadline for dealers to select their investment level but postponed it to December 2 after dealers asked for more time. Dealers can decide to not participate in either of the two EV tiers, but would then be limited to selling only gasoline and hybrid models starting in 2024.
It'll be very interesting to see what percentage of dealers elect into the three different tiers, and most interesting to see which dealers elect to only sell internal combustion vehicles and not EVs.
Next up, news from the BMW Group Q3 global business update in Munich, referring to a planned change in the retail sales model in Europe and other markets outside of the US.
BMW Group said this week that their intention is that buyers of a vehicle from the luxury German automaker should be able to order a car directly from the manufacturer in the future with no need to involve a car dealer.
The new structure is said to apply to the purchase of Mini models from 2024 onwards and for BMW models from 2026 onwards. 
BMW was clear to underscore that this change applies only to the European market and other markets outside of the US and has no impact on the BMW business model or operations here in the US.
Wholesale auction acquisition
Finally, in this month's Automotive Ventures Intel Report we featured an important deal that may have big implications for the wholesale auction and remarketing sectors.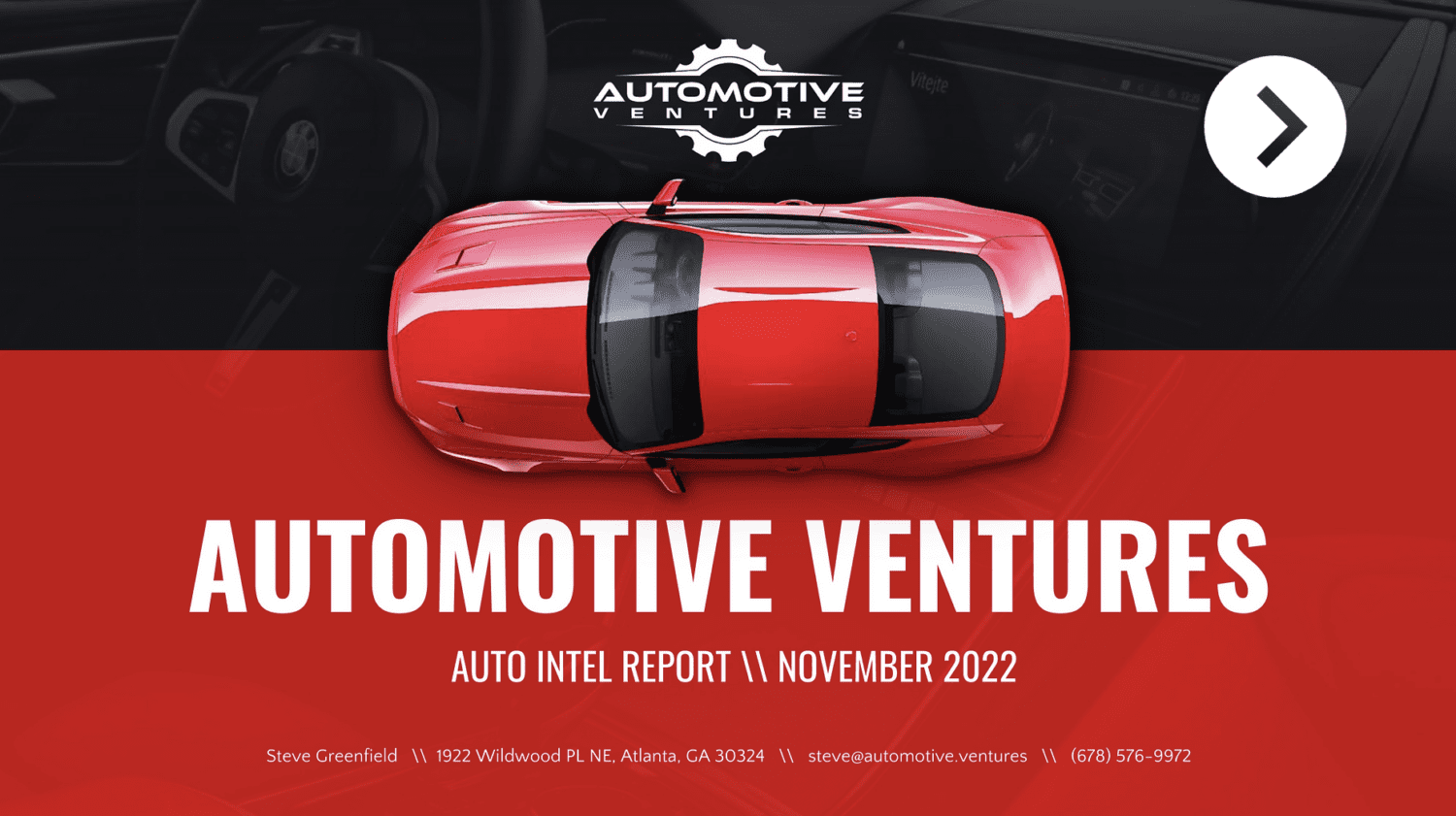 The deal we featured was Hyundai Glovis' acquisition of Greater Erie Auto Auction.
Hyundai Glovis aims to have auction sites in US six cities by the end of 2025. The company's business is mainly focused on sea freight but they have been running car auctions in Korea since 2001.
If Hyundai Glovis does successfully build out an auction network in six US cities over the next three years, it'll be interesting to see how aggressively they continue to expand.
Find out more about this deal and others in the latest edition of the Automotive Ventures Intel Report, available at AutomotiveVentures.com.
Companies To Watch
Every week we highlight interesting companies in the automotive technology space to keep an eye on. If you read my monthly industry Intel Report, I showcase a few companies each month, and we take the opportunity here on the Friday Five to share some of those companies each week with you.
Today, we have two companies to watch: Blink AI and Payvmnt.
Blink AI offers AI-enhanced service scheduling and marketing (across the Phone plus Web plus Text). BlinkAi loads the shop evenly all day long- all while reducing calls to your service department.
The reason that I love Blink AI is that every morning, most dealership service drives get overloaded with walk-ins. This causes long wait times, Customer Complaints, Bad CSI, Lower Average $/RO. But then your shop load is light at 2PM in the afternoon.
BlinkAi solves this problem and loads the shop evenly all day long- all while reducing calls to your service department.
Your people have better things to do than answer the phone for someone who only wants to schedule an oil change or check if their car is ready.
National averages are 25% of calls are to schedule an appointment and 45% are to check on the status of their vehicle in service. You can allow BlinkAI to tackle up to 70% of your calls!
You can check out Blink AI at www.BlinkAI.com.
Payvmnt helps list-mile delivery drivers with better intelligence. They provide real-time route optimization software crowdsourced from drivers to provide drivers with a better delivery experience. Payvmnt makes Last Mile delivery effortless, accurate and efficient.
The reason that I love Payvmnt is they enable sharing of insights amongst fellow drivers which allows the driver network to grow and support each other no matter the city.
From gate codes to package locker codes Payvmnt provides a network of validated data that allows drivers to access properties faster.
From apartment complexes to office buildings, they provide detailed maps that give you detailed steps on where to go.
Their machine-learning models are trained on thousands of driver insights which allows them to optimize routes in a unique way.
Payvmnt is powered by drivers everywhere and makes Last Mile delivery effortless, accurate and efficient. 
You can check out Payvmnt at www.Payvmnt.com.
——
So that's your weekly Friday 5, a quick wrap-up of the big deals in the automotive technology space over the past week.
If you're an early-stage automotive technology entrepreneur looking to raise money, or an entrepreneur who is trying to decide whether and when they should raise money or sell their business, I'd love to speak with you.
Thank you for tuning into CBT News for this week's Friday 5, and we'll see you next week!
---
Did you enjoy this week's episode of the Friday 5? Please share your thoughts, comments, or questions regarding this topic by connecting with us at newsroom@cbtnews.com.
Be sure to follow us on Facebook, LinkedIn, and TikTok to stay up to date.
While you're here, don't forget to subscribe to our email newsletter for all the latest auto industry news from CBT News.