Times are changing, and car buyers are changing with them. High prices and high interest rates are taking a toll on consumers. Curious to understand how shoppers are evolving to navigate these new conditions, the site Edmunds conducted a study into recent consumer behavior habits. The research team looked closely at transaction and finance data and used the results to rank states by "responsible car shopping behavior."
In a map detailing the rankings, northeastern states tend toward the more responsible, with Connecticut, Massachusetts and Rhode Island leading the pack. Towards the opposite end of the spectrum are the lower contiguous states, notably New Mexico, Arkansas, and Mississippi. Hawaii and Alaska are reversals of the trend, with Arkansas close to the bottom and the southwestern island state tying for ninth place with Maine.
Ivan Drury, Edmund's senior manager of industry analysis, doesn't believe that the states themselves are responsible for the clear regional patterns. In a press release, Drury said, "While some states have unique environmental conditions or regional preferences that may impact purchasing decisions, the primary driver behind responsible shopping is simply how informed shoppers are and how much they do to prepare before they even step foot into the dealership." He added that "Responsible car shopping behaviors vary from state to state, but on the balance, these differences are not driven holistically by economic factors or income levels."
When establishing their terms, Edmunds defined responsible based on four averages: percentage of trade-ins with negative equity, the amount owed on those trade-ins, length of loan and loan interest rates. Looking at the data collected, the team noticed that those who spent time using car shopping calculators often ended making more responsible decisions and that the more time spent on them, the better their purchases tended to be.
"While there are certain things about shopping for a car that are out of your control, like your budget or needs, being smart about your research is something every consumer can do," said Matt Jones, Edmunds' senior consumer advice editor and former car salesman in the press release mentioned above. "Buying a car is a significant investment that can affect your financial stability for years to come, and you can avoid falling into the negative equity trap if you're mindful about a few key things up front."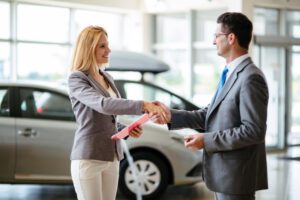 On that front, along with the findings Edmunds offers a few tips for consumers. These include getting your car loans pre-approved, putting 10 percent down and keeping loan terms short. They also advise customers to consider leasing and to consider residual values. In their release, they point out that SUVs and trucks are currently retaining a lot more value than cars and are therefore worth looking into when shopping around.
For dealerships, this report could help sales teams better understand how well-informed their customers are before they come in, and determine what kinds of information clients may need. The information can also help inform additions to one's dealership website so that it can better be used as a customer tool when searching for the perfect vehicle.