Just when analyst think they have an idea of the purchasing patterns of car buyers, consumers end up bucking trends and surprising us all. This year has indeed been an erratic ride when it comes to auto sales; April saw gains, while March and February saw declines. May is the next piece of the automotive saga and defied expectations to post a 4.7 percent sales increase. Consultants from JD Power and LMC Automotive projected a decline of one percent, but shoppers had other plans. While this is a promising turn, the annualized sales rate for May is 16.91 million, the first time the SAAR fell below 17 million since August 2017, so progress is still sluggish. Read on for trends that defined last month's sales performance.
SUVs, Trucks, and Crossovers: A Significant Profit Lift
Consumers are still attracted to larger vehicles, and this likely not only helped increase sales numbers but also gave a boost to the profits of many manufacturers. Average new transaction prices for full-size pickup trucks are $48,213 while SUVs increased to over $63,000. As car buyers continue to embrace these brands, manufacturers will continue to see a boost in their profits. However, it remains to be seen how much longer consumers will follow this trend.
The Winners of the Month
Subaru and FCA continue to see significant gains. Subaru recorded their best May ever with a 7.2 sales percent increase over May 2017. They have recorded 78 months of consecutive growth and over 50 months of consecutive increase for the Outback and Foresters. Car buyers have fully engaged with the crossover offerings of Subaru. Even in months of decline, Subaru has still seen gains. It is remarkable to see what they have done, and how they have become a leader in auto sales.
As the year goes on, and car buyers begin to feel the heat from increased interest rates, it will be interesting to see if they can still hold on. FCA has also gotten in on the SUV and crossover success. They saw an 11 percent sales increase for the month. Jeep sales rose 29 percent while Ram increased two percent. General Motors only releases quarterly results at this point, but industry insiders project they saw a 10 percent increase. Hyundai also finally got out of the red with a 5.9 percent overall sales increase.
Lagging Performers
May was not a bright spot for everyone. Toyota sales dropped 1.3 percent due to weaker demand. Nissan also saw a decline of 4.1 percent. While these manufacturers do have larger vehicle offerings, much of their brand intertwines with smaller vehicles. Many of the automakers who experienced positive sales have ramped up their SUV and crossover marketing. This may likely be a blip on the screen for Toyota as they have historically performed well during the year. However, Nissan has seen a trend of declines, so it will be interesting to see if they can make some gains as the year comes to a close.
Reasons for the Bump
May did defy a lot of expectations, but there are some plausible reasons for the increase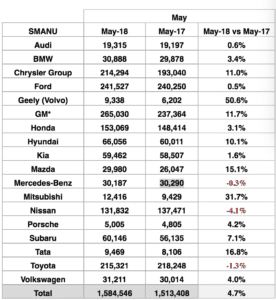 . First, last month did have a holiday weekend that gave most American workers time off to explore and research new vehicles. Many automakers also likely offered deals and incentives in honor of the Memorial Day Weekend. The overall incentive average for the month was over $3,600, an increase over $3,500 for the previous year. So, automakers are seeing the need to offer more incentives, and car buyers seem to be responding favorably. There is also the indirect impact of U.S. tax reform that could be giving car buyers a bit more money in their pockets to work with. As the year goes on, analysts will have to take into account the impact of tax law on car buyers.
Looking Ahead
Again, this year's auto sales have been a rocky one. Analysts have their work cut out for them when it comes to making solid projections. The state of economic growth should indicate a favorable rest of the year, but rising interest rates and monthly loan payments are on par to slow things down. Experts still feel that this year's auto sales will be the lowest in the past three years, but the question remains of how small they will actually be. If the beginning of this year is any indication of what to expect, the jury is indeed still out.
Sources:
FCA, Ford, Honda, Hyundai-Kia, trucks drive industry gain, www.autonews.com/article/20180601/RETAIL01/180609974/us-auto-sales-may
Fiat Chrysler reports 11 pct jump in U.S. May auto sales, www.yahoo.com/news/fiat-chrysler-reports-11-pct-131819002.html
May auto sales mixed for US carmakers, www.cnbc.com/2018/06/01/may-auto-sales-mixed-for-us-carmakers.html
Subaru Of America, Inc. Reports Record May Sales, www.prnewswire.com/news-releases/subaru-of-america-inc-reports-record-may-sales-300658329.html
This Week in Car Buying: Trucks drive sales, prices higher; Jeep eyes subscriptions; Loans, payments hit high; A Bugatti you can afford, www.kbb.com/car-news/all-the-latest/this-week-in-car-buying-trucks-drive-sales-prices-higher/2100005469/