Welcome to another edition of The Future of Automotive, with Steve Greenfield, Founder, and CEO of Automotive Ventures, an auto technology advisory firm that helps entrepreneurs raise money and maximize the value of their companies.
Welcome to the show, and I'm glad you could join us.
First up, a public service announcement. We only have a few slots left in the Automotive Ventures DealerFund, so we'll be conducting our final close at the end of April. If you're a dealer who wants to invest in early stage automotive technology companies that benefit your operations, please let me know. I'd love to discuss your potential participation in the fund.
So with that, let's get to the news.
Jaguar reduces number of rooftops
First up this week, we heard that Jaguar has started the process of reducing the number of Jaguar dealership locations by offering their dealers extra allocations of hot-selling Land Rover units if they give up their Jaguar franchises.
It's unclear how many dealers have already accepted the offer, but we understand that it could be as many as 40 locations so far.
To put that into context, Jaguar Land Rover began 2023 with 395 U.S. dealerships, the vast majority of which carry both brands in a dual format showroom, with Jaguar on one side and Land Rover on the other.
Word on the street is that by 2025, the Jaguar brand plans to dramatically move up into the ultra-luxury area of the market, and accept the tradeof of lower sales volumes. We have heard out of the U.K. that Jaguar will offer three ultraluxury all-electric SUVs, with prices starting around $122,000.
With this strategy, I'm not surprised that a lot of dealers aren't buying in, and are choosing to surrender their locations.
In the UK, Jaguar plans to reduce the number of dealerships to around 20 from about 80 today. If that same 75% haircut were applied to the US market, we may see 300 of their 395 stores close here –  but we'll report back if and as we gather addiitonal information.
In news from a different OEM this week, Ford reported that its EV business unit, called "Model e", is expected to lose $3 billion this year. That contrasts with forecasts of $7 billion in profit for their legacy combustion engine unit and $6 billion for the commercial Ford Pro business.
This latest projection would bring the total amount lost on EVs for Ford to $6 billion from 2021 through 2023.
But the company remains bullish longer-term. Ford reiterated their goal of earning an 8% profit margin on EVs — and 10% for the company overall — by the end of 2026.
Ford CEO Jim Farley frequently mentions that they aim to close the gap on EV leader Tesla in terms of profitability, often citing a cost advantage of more than $10,000 per electric car sold.
But, it's worth remembering that Tesla lost money for more than a decade before it began posting consistent profits. And there is still some uncertainty about how much of Tesla's profits comes from selling carbon credits to legacy automakers to help them hit their targets. Last year, Tesla's operating margin was 16.8%, but in 2021, Tesla's carbon credit revenue worth $1.46 billion, accounting for about 3% of its total revenue.
Hyundai's EV charging network
Finally this week, Hyundai announced they are exploring the establishment of their own EV charging network.
The network would be similar to the one Mercedes-Benz is going to establish, in that it would be in partnership with other companies (in the case of Mercedes, they are partnered on the U.S. portion of its forthcoming network with ChargePoint on equipment and with MN8 Energy on renewable energy).
The most famous example of an automaker having its own charging network is Tesla, whose Superchargers are seen as the gold standard for an efficient DC fast-charging experience, in the U.S. and the world. Tesla owns and operates roughly 40,000 Supercharger stations globally.
Not only are Tesla chargers recognized for the strength of their geographical coverage, but users say they are quicker, more reliable, and less of hassle to operate than stations from other charging networks. Recently we've heard many reports of confusing, inoperable, and slower-than-expected fast chargers. J.D. Power recently noted that 21% of public EV chargers are inoperable.
Companies To Watch
Every week we highlight interesting companies in the automotive technology space to keep an eye on. If you read my monthly industry Intel Report, which you can subscribe to for free, I showcase a few companies each month, and we take the opportunity here on this segment to share some of those companies each week with you.
Today, we have two companies to watch: OpenBay and TreeHouse.
OpenBay
OpenBay allows consumers to compare service professionals near them, and receive multiple price estimates upfront. They can then easily schedule their service and realize a saving of up to 25% on their service work.
If you offer automotive service to your customers, OpenBay can help – by providing online automotive service solutions to help grow your business.
The reason that I love Openbay is that they drive quality customers in need of service to your business. OpenBay can help drive new customer acquisition and increase your customer satisfaction.
You can check out OpenBay at www.OpenBay.com.
TreeHouse
TreeHouse aims to make home charging as delightful to consumers as driving their new EV, by providing home charging solutions for all EV brands and for all homes.
Consumers can get an instant estimate from Treehouse for home charging installation and bundle their installation with a charger. They provide recommendations that are best for customer's vehicle, home and for their budget.
TreeHouse has invested hundreds of hours researching EV chargers and curated the best products on the market. Treehouse's licensed and vetted installers are committed to industry-leading quality and safety practices. And, they handle permits and stand behind their work with hassle-free warranties.
In addition, Treehouse has compiled every federal, state, and local incentive for home EV charging. They help the consumer claim available rebates and select the best utility rate plan for their needs.
The reason that I love TreeHouse is that they are working closely with many of the automakers and with dealers to help remove friction from the EV charger buying, installation, and ownership experience.
You can check out TreeHouse at www.TreeHouse.pro.
So that's it for this week's Future of Automotive segment.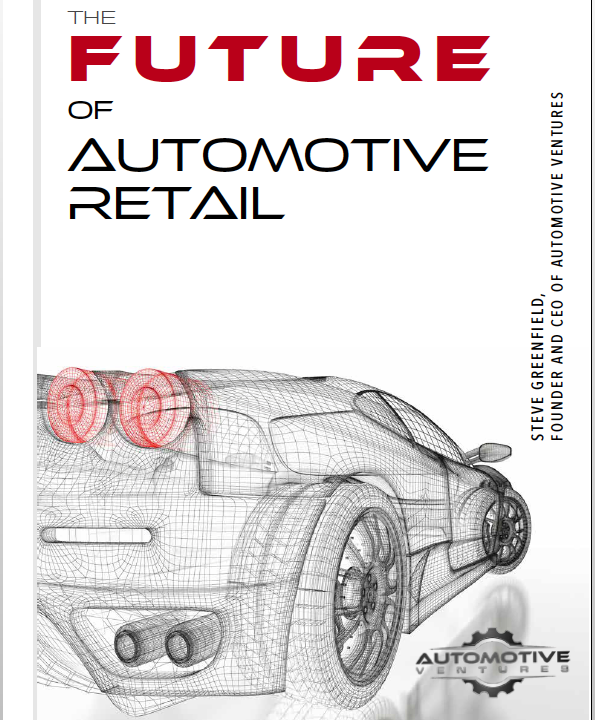 If you're an AutoTech entrepreneur working on a solution that helps car dealerships, we want to hear from you. We are actively investing out of our new DealerFund.
If you're a dealer who wants to invest in early-stage AutoTech companies that benefit your business, let me know. We are still accepting new investors into the DealerFund.
If you're interested in joining our Investment Club to make direct investments into AutoTech and Mobility startups with small checks, join the Club. There is no obligation to start seeing our deal flow.
And don't forget to check out my book, The Future of Automotive Retail, on Amazon.com.
Thank you for tuning into CBT News for this week's Future of Automotive segment, and we'll see you next week!