The journey of Tesla's direct-to-consumer business model has been filled with court cases. Their approach to selling cars is nothing short of disruptive to the current status quo. However, the electric car company recently scored a win in Virginia.
The Virginia Automobile Dealers Association appealed a 2016 court decision that allowed Tesla to open a company-ran store in Henrico County. Earlier this week, Judge Gregory Rupe of Richmond Circuit Court upheld the Virginia Department of Motor Vehicle Commissioner, Richard Holcomb's, original decision to allow Tesla to operate their own store.
In their original appeal, the dealer association argued that Tesla violated a law that kept any automobile manufacturer from owning or operating their own dealership.
Even though Rupe upheld the commissioner's original decision, he did express concern with Tesla's current selling model. However, the ruling currently stands, and Tesla can open and operate their showrooms in the state of Virginia.
What could this ruling mean for other states that Tesla is eyeing, and how could this change the trajectory of the direct-to-consumer business model? Take a look at our takeaways below: 
The Current State of Tesla's Direct-to-Consumer Strategy 
While Tesla scored a victory in Virginia, the company is still enduring bans in 17 states. These include the following: Alabama, Arkansas, Connecticut, Iowa, Kansas, Kentucky, Louisiana, Michigan, Montana, Nebraska, New Mexico, North Dakota, Oklahoma, South Carolina, South Dakota, and Texas.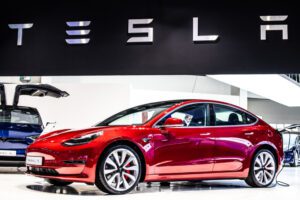 In places like Georgia, Maryland, North Carolina, Ohio, and five other states, Tesla can operate dealerships, but there are limits on the number of dealerships they can open within the states. It is also worth noting that Tesla does have an exemption in Washington to operate dealerships, but the company is currently the only automaker allowed to do this.
However, in 20 states, the company can directly sell to consumers without any limitations or restrictions.
A few other states do not allow manufacturers to sell directly to consumers but have a limited exemption for Tesla only, much like the arrangement in Washington. 
What This Decision Could Mean for States Where Bans are Still in Place
According to Tesla's community website, seven states currently have legislation being proposed that would either allow Tesla or all automakers to sell to consumers directly or specifically let other EV automakers do the same.
The results of this decision can influence the way Congress and lawmakers approach these matters. For example, if the decision in Virginia turns out to provide significant revenue for the county as well as the state, then states who are looking to bring more commerce into their areas—where bans are in place—may be more accepting of Tesla's inquiries.
As a result, laws on the books that prohibit direct-to-seller models may slowly be in jeopardy and states that once banned or limited Tesla may take a second look at the offering. This step would be a significant blow to the influence and voice of dealer associations across the country.
If this were to occur, it definitely wouldn't happen overnight, and dealers would have the time to create strategies to prevent this from taking hold. However, it is worth acknowledging the potential impact decisions like the one in Virginia would have on court cases and legislation that is proposed in the rest of the country. 
Final Thoughts 
Tesla's direct-to-seller approach is a disruption that has made many lawmakers, members of Congress, and dealers uneasy. Their claim that their model allows them to offer the best customer experience and comprehensive education regarding their cars seemed to have an impact on the decision in Virginia.
While the company is still banned in many states, current legislation is allowing lawmakers to revisit earlier decisions. Some of the legislation even asks for all automakers to be allowed to sell their own cars directly. If these proposed legislative actions are approved or the decision in Virginia happens elsewhere, it can hurt independent dealerships in the long-term. Lawmakers and Congress will have to balance public interest and commerce with the needs of dealers, which, unfortunately, is not an easy feat.