While social media and digital channels have become a popular method for potential car buyers to find their ideal vehicle, the data still revealed that walk-ins were still the most popular way to make the first contact with dealerships. Unfortunately, the current impact of COVID-19 has likely changed the way consumers are conducting research, as it has practically eliminated physically interacting with showroom staff.
Each interaction with your dealership is a touchpoint, a chance to push consumers through the sales funnel, to get them to make a final purchasing decision. Walk-ins were a significant part of this process and were likely a considerable push toward the sale.
Since this method is unavailable, your dealership marketing team is going to have to put more emphasis on digital marketing touchpoints, while also creating more personalized plans for reaching out.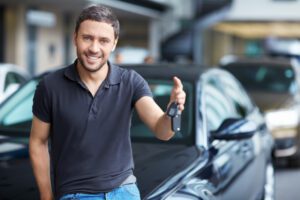 So, how can you still push potential customers through the sales funnel, even if they can't meet in the store? Take a look at these tips below. 
Understand Everyone's Role in the Sales Funnel
Before you revamp your strategy with your marketing team, it is crucial that you and every department understand what a sales funnel is and how they play an integral part in it. A sales funnel is a visual representation of the journey your customers take from the first contact to the actual purchase.
It is represented by these four steps: awareness, interest, decision, and action. Each person on staff plays a part in moving individuals along these phases. From the first call with a front desk associate to the test drive, all interactions play a role in these four steps. 
Related: Five Pieces of Critical Messaging to Deliver to Your Customers Amid the COVID-19 Outbreak
Have a Strong First Step 
Approximately 31 percent of marketers don't know where to start with prospecting and creating awareness. As the old saying says, "you never get another chance to make a first impression." So, work with your marketing team to meet your customers where they are in a meaningful way.
Your goal is to get potential consumers to interact with you as much as possible. This step could look like creating an SEO-optimized blog post on car care that is meant to rank high in searches or developing an email freebie that encourages potential customers to sign-up for a newsletter. Decide on how you want to make your first impression and start strong. 
Offer Value
You want to give potential customers a reason to interact with your content. The current situation with COVID-19 gives you many opportunities to do this. Find out what their needs are and create content that provides a solution. For example, use tools like BuzzSumo or even a simple hashtag search on Twitter to see the dialogue that is occurring regarding automotive topics.
Is there a large number of individuals needing information about where to get repairs or maintenance, or are potential consumers looking for a dealership that is delivering vehicles after purchase? Use this information to develop a strategy to offer value and move them from awareness and interest to decision and action. 
Get Personal 
Again, you do not have the option of meeting people physically and creating an in-person connection. So, this is where you need to use social media and video tools to get as personal as possible. You may want to allow customers to sign-up for times to meet virtually to discuss vehicle options and set up an in-person appointment (if possible). You can also have live streams to hold Q&A sessions to answer customer questions or allow service staff to share maintenance best practices.
Additionally, you may want to film vehicle walkthroughs and describe details the same way you would if someone were in the showroom. Regarding digital marketing, this is also a great time to use data to offer dynamic and customized email content. Demographic information, as well as data from social media channels, can allow you to provide targeted email content or purchasing recommendations. 
Make a Point to Follow Up 
Data reveals that 50 percent of all sales happen after the fifth contact. So, it is crucial to have a strategy that includes strategic follow-ups to help your consumers move through the sales funnel. There are many opportunities for individuals to fall through the cracks, which is why it is important to have tools that collect as much data as possible. A CRM tool allows staff to easily track lead information as well as when they last had contact.
It is also essential to stay current in following up on any interest forms, Facebook messages, and voicemail inquiries. A study by MIT Faculty Fellow, Professor Oldroyd, found that waiting over 20 hours to contact a lead significantly hurts the chances of qualifying them. So make sure your team is adequately following up on all interest, whether on social media or through online forms. 
Tighten Up Your Approach by Knowing Where Your Customers Are 
You want to make sure you are putting your time, energy, and money into tactics that work. Developing a robust sales funnel strategy involves a bit of experimentation. However, because of the dynamic nature of the changing economic situation due to COVID-19, you want to make sure you are using tools, strategies, and platforms that benefit you and your team.
For example, if your customers are not actively on Instagram, don't put your time and efforts there if you can't afford to. Also, if you find that embedding videos in email newsletters fail to improve conversions, let them go. Pay attention to what works, and have a system in place to track how every tactic you undertake impacts your customer interactions. 
Related: How Dealerships Can Come out of the COVID-19 Scare Stronger Than Before
Digital Tools Can Still Help You Move Through the Sales Funnel 
You are indeed going to lose some of that personal connection; however, you can still bridge the gap. We are in a time where customers have become accustomed to using social media, online forms, and inventory pages to help drive them toward their final purchasing decisions.
From live video streams to targeted email messaging, you can still inform customers of who you are, allow them to get to know you, and then influence their decision to purchase a car or make a service appointment. With some creativity, savvy goal-setting, and intentionality, you can still make those connections and move your customers through the sales funnel successfully.
---

Did you enjoy this article from Chanell Turner? Read other articles from her here.
Car Biz Today, the official resource of the retail automotive industry.

Be sure to follow us on Facebook and Twitter to stay up to date or catch-up on all of our podcasts on demand.
While you're here, don't forget to subscribe to our email newsletter for all the latest auto industry news from CBT News.