Welcome to this episode of The Friday 5 with Steve Greenfield, Founder and CEO of Automotive Ventures, an auto technology advisory firm that helps entrepreneurs raise money and maximize the value of their companies.
2021 was a record-breaking year for M&A deal values, exceeding expectations at an unmatched $5.9 trillion dollars, according to Bain & Company.
In a white-hot market, valuation multiples hit an all-time high of 15.4 times enterprise value-to-EBITDA. Tech assets, in particular, decoupled from the broader M&A market, with multiples at 25 times. 
The environment for deal-making remains fundamentally attractive, and a well-balanced mix of market signals suggests the strategic M&A market will continue to be robust well into 2022.
Next up, Shift5 announced a $50 million dollar Series B round. The company attempts to defend systems critical to transportation networks.
Shift5's latest round of funding lands just a few months after its $20 million dollar Series A raise, buoyed by several million-dollar deals last year during which the company doubled its headcount. The Series B round was led by Insight Partners.
Transportation networks rely on operational technology systems, like on-board components, which are critical to the functioning of trains, aircraft and even military equipment like tanks, but are becoming more prone to cyberattacks because these once-isolated systems are increasingly added to internet-facing networks.
While attacks on OT networks are rare, OT system failures can lead to millions of dollars in losses, downtime or even create safety risks when things go wrong. The U.S. government's cybersecurity agency CISA has warned of a growing threat to critical infrastructure.
But OT systems are often unique to their application, and stripping out components from a tank, for example, to test for security vulnerabilities is not practical, nor are tanks readily easy to acquire.
Shift5 tries to solve this by giving transportation companies and leaders visibility into their OT networks, which helps to reduce their overall attack surface. This visibility aims to help detect threats and defend systems from internet-based attacks.
Next up, Motorq, the leading connected car API company, has raised $40 million dollars in its Series B round of funding. The round was also led by Insight Partners, with participation from existing investors including Story Ventures, FM Capital, Monta Vista Capital and Avanta Ventures.
Funding will be used to grow the product development and engineering teams, increase collaboration with the automotive OEMs, establish sales and business development in Europe and Japan and enhance the core Motorq platform for new markets, including insurance, automotive rental, and dealer services.
Motorq's cloud-based system ingests and monitors embedded data from a vehicle's onboard computers, runs advanced analytics and machine learning models, contextualizes the insights with other information sets and delivers those insights to customers via APIs and other infrastructure tools.
Motorq is the leading integration platform for global OEMs. With relationships with the top 10 global automotive leaders covering 21 brands, Motorq can quickly and securely connect to and provision information from more than 51 million vehicles, a number that is increasing each day. It also has partnerships with 8 of the 10 largest fleet management companies.
And for the final deal of the week, Epirus, a company that sells "directed-energy" weapons that can take down drones, raised a $200 million dollar Series C funding round to further develop its defense systems.
The new funding gives Epirus a post-deal valuation of $1.35 billion dollars, and takes its total capital raised to $287 million dollars since it launched in 2018.
Rowe Price led the round and was joined by investors 8VC, Bedrock, Broom Ventures, EPIQ Capital Group, Gaingels, General Dynamics Land Systems, I Squared Capital, Thomas & Moore Strategic Ventures, Parkwood Digital Ventures, Piedmont Capital, Red Cell Partners and StepStone Group.
Epirus' technology has found traction in an era when drone warfare has become increasingly pervasive. Epirus develops microwave energy-powered weapons, like its Leonidas product, that can detect and zap drones out of the air.
It has already won contracts from the U.S. Air Force, DARPA and the Army Applications Laboratory. In January, Epirus partnered with General Dynamics Land Systems, one of its investors, to integrate the Leonidas with Stryker armored vehicles used by the U.S. Army.
Companies To Watch
Every week we highlight interesting companies in the automotive technology space to keep an eye on. If you read my monthly industry Intel Report, I showcase a few companies each month, and we take the opportunity here on the Friday Five to share some of those companies each week with you. 
Today, we have two companies to watch: RLP and Visionary Machines. 
Our first Company to watch this week is RLP or Rapid Liquid Print.
RLP is developing a new class of 3D printers that can produce large-scale, high-resolution, soft and stretchable products in minutes with the highest quality industrial materials. 
RLP is working with researchers and industry-leading companies around the world on applications including medical devices, footwear, home goods, furniture, aviation, and automotive components.
Check out RLP, at www.rapidliquidprint.co  
Our second company to watch this week is Visionary Machines. 
Visionary Machines has created a revolution in 3D sensing using camera arrays, delivering better than human vision for machines — with unparalleled depth, color, motion, and trajectory. 
Visionary Machines' vision is to enable machines to see — so they can navigate, measure distances, perceive objects and intelligently interact with the world around them
Check out Visionary Machines at www.visionarymachines.com.
——————-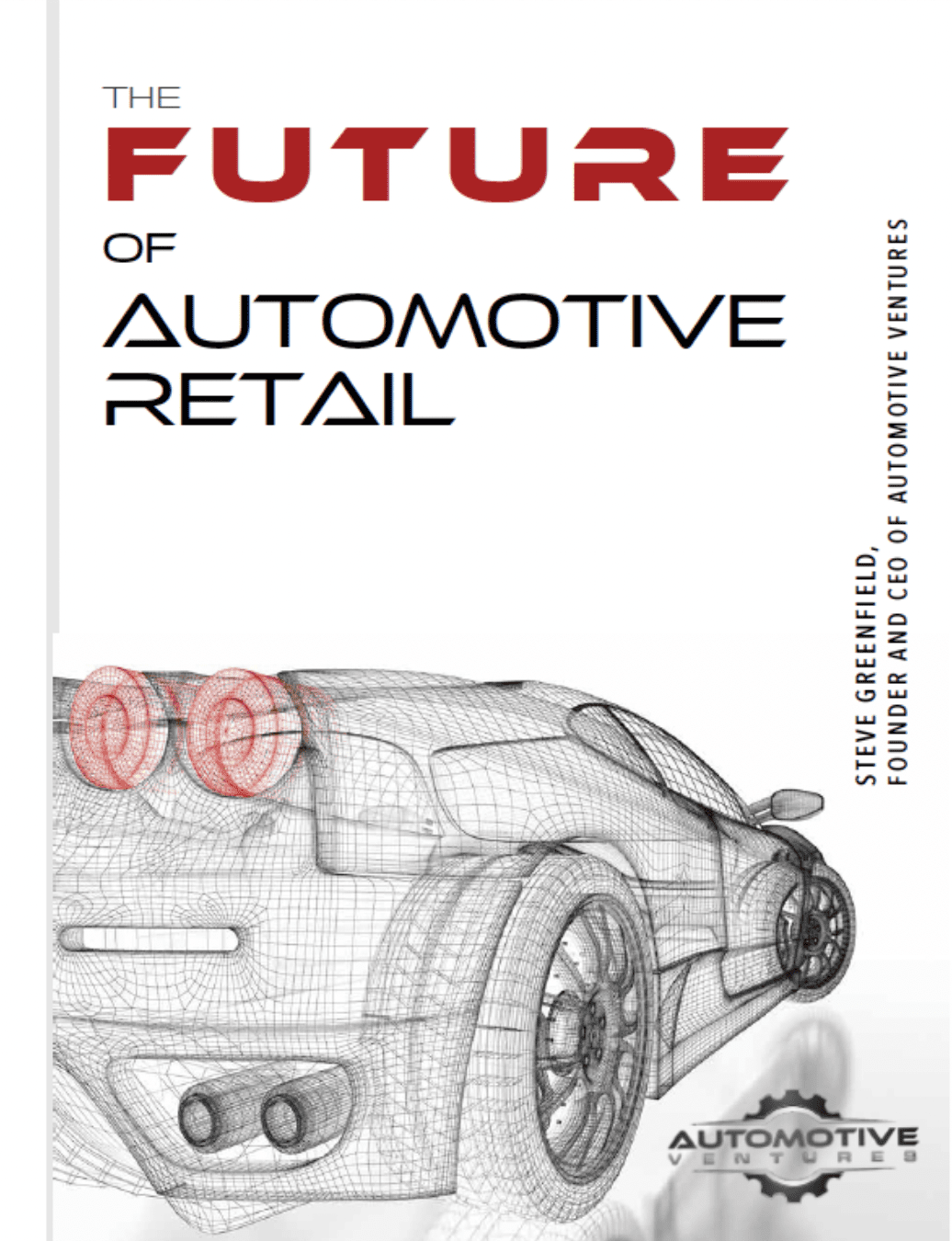 Well, the show must go on, and this week Mike Stanton, the CEO of NADA reiterated that the NADA Conference is still on in Las Vegas in mid-March. I'm looking forward to seeing a number of you out there.
Just ahead of NADA, my new book will be out, titled The Future of Automotive Retail. In the book, I overview the various themes that are most likely to impact auto dealerships' businesses over the next 5 to 10 years, and I attempt to provide some practical advice on how to prepare to weather upcoming disruptive forces.
For all of you who tune in to the Friday Five, I'd be thrilled to send you an advance copy of the book, just click here.
——————-
People often ask me why I'm affiliated with CBT News.
Besides having an outstanding, extremely talented, and hardworking team up here at the studio, I greatly appreciate the valuable role that CBT News plays in the automotive industry.
Every day, I eagerly look forward to my morning email from CBT News to ensure I'm getting the most up-to-date and relevant information on the industry.
I encourage you to tune in to CBT News to ensure that you're getting the automotive news that matters.
——————-
So that's your weekly Friday Five, a quick wrap-up of the big deals in the automotive technology space over the past week.
If you're an early-stage automotive technology entrepreneur looking to raise money, or an entrepreneur who is trying to decide whether and when they should raise money or sell their business, I'd love to speak with you.
Thank You For Tuning into CBT News for this week's Friday Five, and we'll see you next week!
---
Did you enjoy this episode of the Friday 5? Please share your thoughts, comments, or questions regarding this topic by submitting a letter to the editor here, or connect with us at newsroom@cbtnews.com.
Be sure to follow us on Facebook and Twitter to stay up to date or catch-up on all of our podcasts on demand.
While you're here, don't forget to subscribe to our email newsletter for all the latest auto industry news from CBT News.