A Service-First Philosophy Keeps Honda Dealership Growing
By Mary Welch
Vic Scholfield was a visionary when it came to customer service. Scholfield, and his brother Dick, opened up a used car lot in the small town of Augusta, Kansas in 1954. Two years later they acquired an Oldsmobile franchise and in 1957, a Pontiac dealership. Today they own Scholfield Honda.
"They were in this small town of 5,000 people and were doing so well that GM took notice and convinced them to move to Wichita. They were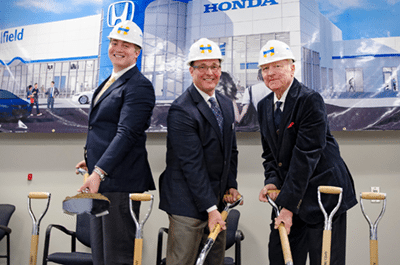 outselling the local dealer in Wichita, which at that time had a population of about 150,000," says Roger Scholfield, Vic's son.
All About Service
Advertising Partner

Unlike most dealers, the Scholfield brothers didn't focus on the sales aspect of the transaction; they were all about service.
In his office Vic had a plaque that read 'Service means sales.' "It was a reminder that sales sells the first car but service sells all the rest. The sales process is a few hours but it's the service department that keeps them a customer for life," says Roger. "We've always been very particular about having a great service department with the best technicians."
Today under Roger's stewardship, Scholfield Honda continues its service first attitude, which is one reason why it is the number one volume Honda dealer in the state. In 2015 he sold 1,533 new Hondas and 1,322 used. The dealership is slightly off last year's pace but is 3.5% more profitable this year, thanks to the service department and keeping a closer eye on expenses. Early next year he will be in a new 54,000 square foot facility, up from the 30,000 square foot one he built in 1985.
Vic and Dick accepted GM's offer of a dealership in Wichita in 1965, which meant dropping the Oldsmobile line. In 1968 they acquired a Mercedes Benz dealership, and in 1971 became the 107th Honda dealer in the country. With Vic in his 90s and Dick deceased, the Scholfields downsized and the non-Honda dealerships were taken over by Vic's long-time partners, but still under the Scholfield name.
Roger and Vic own the Honda dealership although all the dealers share the same CFO, payroll department, IT, insurance and other departments. In 1986 Roger started working his way up through the ranks at the dealership, and in 1988 his father told him he wanted him to become upper management and take over the HR department. "Well, we didn't have an HR department. We didn't have a personnel department. We didn't have any of those things," he says with a laugh.
Ritz-Carlton Influence
Not knowing exactly what to do, he asked his father what company he wanted to model the dealership after, and he was told the Ritz-Carlton.  "You couldn't do this today but I called the Ritz-Carlton general manager in Kansas City and told him what I wanted. They let me go through their orientations, gave me their employee and training manuals. I learned about lateral service. It was one of the most sharing experiences I've ever done."
It also taught him a lesson. "Everyone has their eyes on customer satisfaction scores but I wanted to concentrate on employee satisfaction and employee satisfaction indexes," he says. "I told our manager that if someone fails here, it's not their fault, it's ours. We either hired wrong or didn't give them the tools to succeed."
Scholfield was one of the first in the business to require drug screening, driver's license checks and other screening tools — all in the name of being surrounded by good people. "You can go into any business and tell about it by the attitude of the employees. If they're grumpy, surly or act like they don't care, it's not their fault. They're overworked, not paid enough, not trained. Customer satisfaction starts with employees."
He was also one of the first to air condition the service department. "Everyone thought I was crazy. It cost $30,000 and it paid for itself in two months. Techs said it helped their productivity because their energy was sapped by the afternoon because it was so hot and humid."
Process, Process, Process
Training is another part of maintaining customer service. He holds training sessions twice a week. "It's about having managers buy into what you're wanting to do. We have a great general manager, Brad Cox, who's been with us for years. I also find it invaluable being in a 20 group where I can go off three times a year and share ideas. Honda has a lot of training videos and classes but nothing beats a one-on-one experience so we assign people a mentor."
He likens his training philosophy to football training camp. "It's process, process, process. It's repetitive. Football players go into training camp and start over. They run the plays over and over again. They do the eight or nine things so repetitively that it becomes a part of them. You learn that if you take a short cut, the process degenerates."
Part of the training involves an in-house master tech program and offering bonuses for advanced study. One of his techs, Ryan Smith, who was recruited 22 years ago from a technical school in Wyoming, decided to become a master tech and is now co-shop foreman. Smith decided to test his skills and participated in — and won — a Honda Denver zone technician competition.  Honda flew him out to Torrence, Calif., where he undertook a rigorous four-hour diagnostic test competition with 11 other top Honda technicians. He placed fourth. "He was disappointed but I was very proud," Roger says.
He also took a page from FDR and his famed "Fireside chats" and started Roger's Curbside Chats where the entire staff (save for a skeleton crew) gather, talk business, play rock music, dress up in costumes, recognize employees and have a good time. An important part is Roger reading letters from customers. "I get three or four letters a month from people thanking us for our world-class service. One person can make a difference — good or bad. It takes everyone from the reception to sales to finance to service. If one part sucks, it affects the rests. People appreciate it."
Keeping up that service and morale is his biggest challenge he says. "I'm constantly trying to recruit, retain and train," he says. "We're not a nameless dealership. My name is on my shirt and I'm in our commercials. It's very small town Kansas."
Public Benchmarks and Awards
It may be small town but Scholfield wants the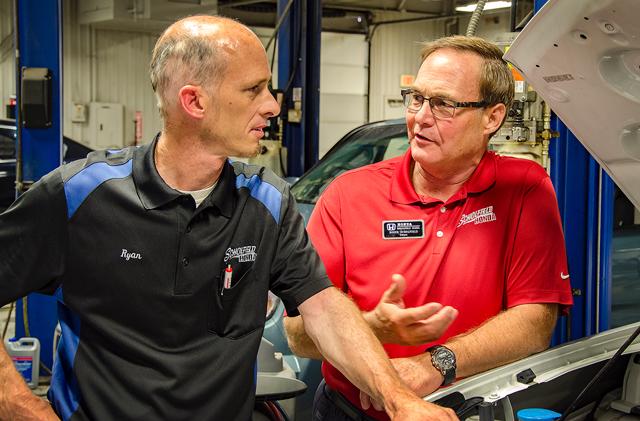 world to know. He entered the Wichita Business Journal's 10 Best Places to Work competition. The first year he entered he made it into the top 10 and was the only car dealership. The second year they made it again but he wasn't satisfied. He wanted to be the best place to work, not just in a size category. For the last three years, Scholfield Honda has been named the overall best place to work in Wichita.
He also has been given the seal of approval in the Women's Choice Awards where female clients are polled about their experiences. "We've gotten at least a 90% satisfaction rate. We want our women clients to feel respected and feel like they've been treated fairly," he says. "We don't take our success for granted. We look at benchmarks and how we can do better. We keep listening."
He estimates about 20 percent of his employees are women, including one in the service department. "We do a lot of diversity training here. Ultimately people are people. It doesn't matter age, gender, race. It's just training and you need to treat everyone with respect. If women are having a good experience here, then the men will. It's when you treat people differently that you have a problem."
Looking to the Future
Roger has been in the business for 30 years and now his son, A.J. is on deck. There still is a lot to handle. Twenty years ago Honda, noticing the proliferation of quick lube places, approached several dealerships about opening a standalone express service station. Today, only eight of those original service stations are still in business — with Scholfield being one of them.
He is also opening a 54,000 square facility that will feature 28 lifts (with room to expand) and will go from three lanes to four. He won't say how much the facility will cost other than "A lot."
"We'll be adding some new people and keep growing," he says. "Honda has done really well in the last few years with the new models and redesigns in the Civic and Accord. The new Ridgeline is doing well. My son is on college and wants to work here so we're just looking to the future."
Adding, "And, I know that we'll do well because people are starved for great service. There's so much poor service out there that when people get a wow experience they appreciate it and come back. It really makes all the difference."