Without leads, the likelihood of your business failing skyrockets. Leads are qualified prospects that have the ability to run into customers, but more than that, they can become ambassadors of your brand. Many companies, dealerships included, have various important goals set out, but roughly sixty-six percent of their organizational goals tend to focus on lead generation.
B2C marketers rely on various channels to boost their conversion rates and drive leads to their businesses. Often times, they find that those channels are not yielding the results that dealers can bank on. If you're spending a fair bit of time creating content, but don't seem to be getting results, it can be discouraging – which is okay. Most businesses struggle with getting leads at one point or another.
Lead generation is a crucial part of lead generation within digital marketing. Yet, it's easy for businesses to forget that originality is rewarded in this attention economy.
Before implementing any changes, you should first evaluate whether your dealership needs more leads. This is so that you can ensure that if you do need more, you have the resources to be able to manage them, which includes considering staffing and process requirements.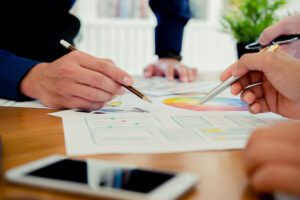 Regardless of the channel that you're using, studies by HubSpot found that fifty-four percent more leads are generated by inbound tactics in comparison to those by traditional paid marketing methods.
Here are five quick changes that you can make to increase your lead generation.
Review Homepage Messaging
For most, the homepage is the webpage that receives the most amount of visits. If you are actively promoting your website, then your homepage should be getting visitors from search engines, social media sites, referring websites, and other sources.
So, you should aim to have your homepage blend in with the objective of your dealerships. So, whatever your objective is, focus on that. If you want to focus on car repairs, then your homepage should have the same concept. It helps to create a fluidity that has a higher likelihood of gaining a higher lead conversion rate.
Separate Lead Generation Team and Sales Team
A study showed that fifty-seven percent of companies had problems with locating the skills needed to optimize their web pages. If you want to convert visitors into customers, then you need to keep continually checking and testing your landing page elements, such as calls to action, bullet points, headlines, subtitles, and more.
Think of the landing page as a prime piece of real estate, so take advantage of everything offered and experiment to find which style drives the best results.
Produce A Mobile Responsive Website
In this day and age, it's almost a crime to have a website that is not mobile friendly. In 2019, roughly sixty-three percent of mobile users have access to the Internet from their phone. Automotive lead generation starts with a good, responsive website. It is literally the digital doorway to your dealership. It's the place that most people will visit before they ever walk into your dealership.
With mobile readership becoming the norm, you should ensure that your website is completely responsive to mobile, tablets, and computers. If that's absent, you might be missing out on potential web traffic.
Publish and Promote Blog Posts
Blogging can be a great tool for car dealerships. Publishing relatable content on a consistent basis can end up offering you several benefits, including:
Optimizing locally targetted keywords to ensure that precise viewers are seeing your content.

Giving share-worthy content for readers to engage and spread over various social media channels.

Showcasing your dealership as a knowledgable source for trustworthy information regarding what you choose to blog about.
Hire External Talent For Marketing Purposes
As you are most likely working on various channels, such as your website, blog, and social media channels among others, you could try and hire external talents, such as local artists, to do some work for you. These can be anyone from copywriters to photographers.
Copywriters can be great at booting your ROI on lead generation projects. Copywriting, in specific, is a skill that takes years of practice to fully develop, so it's not wise to assume that anyone can just do what they do. Hire an experienced freelancer to work on your marketing material to give it more of an edge.
Try to hire one in the same age range as your target market for that marketing material as they'll be better equipped at knowing how to appeal to the interests, pain points, and emotions of your audience.
Similarly, photography takes skill and dedication to the art form. Freelance photographers are a great place to start when looking for individuals to take photographs. The photographs don't always have to be with vehicles. Instead, they can be during staff parties or events where your salespeople get together for a different cause. It helps to humanize your dealership on social media. It also helps a possibly local talent who can then grow and take you with them.
There are in fact hundreds if not thousands of ways for you to increase your lead generation. Regardless of which method you choose, you should always remember to consider the ROI of every marketing investment that your dealership makes. Remember though that driving engagement and quality leads will take time.
If you are looking to maximize your time, you have to expand your reach and repurpose your content to allows you to drive fresh leads to your dealership. It might not grow by a hundred percent in a week, but through consistency, you're likely to pass your lead generation percent milestone.
Just like any other part of your business, success takes time to build and nurture. These tips aren't some magical push-button, but they have been proven to work for a lot of brands and leaders to acquire new leads and continually converting them into loyal customers.
References: Oracle, HubSpot, Unbounce, Hosting Facts