People make the difference.  There it is.  Right up front.
At Cars, we think that the salespeople and service advisors within our industry are such an important asset, we believe they've supplanted promotion to become the new fourth "P" in the 4Ps of Automotive Marketing™ – Product, Price, Place and Person.  Let's look at a few facts:
97 percent of car buyers would prefer to select their salesperson before they visit a dealership.
One in five car buyers read reviews specifically to find salespeople.
About 49 percent of car buyers write reviews after positive or negative experiences with salespeople.
At a time when several industry pundits are forecasting the demise of the retail car business, whether it's from emerging technologies like autonomous vehicles or industry disrupters like Amazon, it's more important now than ever to leverage our greatest strength.
Advertising Partner

Technology should never be used to replace people, but instead to enable them, save them time, and create efficiencies in their work.  The vast majority of automotive transactions still happen one at a time and between two people.  Don't let outside forces or naysayers commoditize our proud, vital industry.
People Build Trust
People build trust!  Giving your customers the ability to connect with your salespeople prior to visiting your dealership also helps build trust.  Think about it.  As much progress as we've made in our industry, consumers today still don't trust car dealers.  The vast majority of consumers today visit multiple sites, shopping anonymously, gathering as much information as possible to help make the buying process easier and more enjoyable.
Yet, time and again, the research and work they do online is invalidated once they arrive at the dealership due to misaligned expectations and legacy processes that simply aren't consumer friendly.  They simply don't "trust" that the information they find online will be the same once they arrive at the dealership.
Allowing customers to select their salesperson in advance solves a two-sided problem.  
It's great for the customer, who feels empowered because

they

get to know who they're going to be working with based on independent feedback from other customers. And 

selecting salespeople ahead of time builds confidence that their needs will be meet once they arrive at the dealership because they've got an "advocate" on their side who understands what's important to them, such as saving time, credit, payments, or getting to learn more about features/benefits of the vehicle they're buying.

It's great for the dealership, because obviously the salesperson WANTS to sell a vehicle to that customer.  They'll go out of their way to prepare things in advance, helping to provide a more efficient and curated experience for the customer.  According to our data, 80 percent of DealerRater Certified salespeople say their employee profile helps them sell more cars.

Good salespeople act as consultants and concierges to the shopper, navigating buyers through the decision-making process

and

car ownership after the sale.
Invest in Your People
The problem is, turnover remains the #1 challenge within our industry.  Yet, as long as I've been in the automotive space, we casually accept this problem as something we can do little to change.
I disagree.
We've got to INVEST in our people.  But rather than sending them through more expensive training seminars and hiring countless consultants, why not empower them to use tools they're already comfortable with – such as their online profiles enriched with customer review s — and rewarding them in a more relevant way?
At this point, most of us have a social media profile.  Regardless of background and age, whether it's Facebook, LinkedIn, Twitter, etc., we've built up a following of friends, followers and connections over time.  And I'm certain very few of us would want to cancel our accounts and start over from scratch.
So, by allowing your salespeople to organically enrich their online profiles, based on actual reviews from their customers (primarily via mobile), they'll establish a social media portfolio at YOUR dealership — giving them greater exposure online and providing them even more opportunities to sell.  The data is clear: turnover is significantly lower for salespeople that are DealerRater Certified.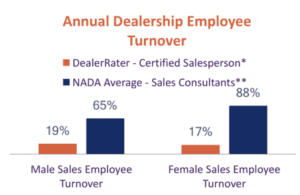 To maintain our competitive edge, we've got to invest in our people and shine a spotlight on the best of the best at our dealerships. Here are three ways to do so:
Invest in your salespeople to build trust with your customers.

Create more enjoyable and efficient buying experiences by showcasing your best salespeople online.

Start to solve the turnover issues that have plagued our industry for far too long.
So ask yourself: How well are you investing in your people?