No dealer wants a Vehicle Service Contract (VSC) Audit. It will most definitely result in chargebacks or penalties to the dealership. The best way to avoid issues and to save time on VSC repair approvals is to play things by the book, and document your work.
The fewer red flags associated with your repairs, the faster you will get repair approvals and the less likely an audit will be for your dealership.
There are many benefits for your dealership that come from a solid VSC process. For example, adjusters tend to develop rapport with repair facilities they know they can trust. This leads to quicker approvals, which makes for happier customers because repairs are done quicker and smoother. Finally, payments from the VSC come through with fewer disputes. Overall, it is a win-win-win!
Here are some ideas to streamline your VSC claims.
Proper Diagnostics
Expedited VSC repair approvals start with accurate diagnostics. VSC companies do not make money by throwing parts at a repair. It is important to be certain that the part(s) you claim need replacing are, in fact, the parts causing the problem.
If you say "we don't know exactly what's causing the problem, but we want to replace these parts", the claim will likely be denied.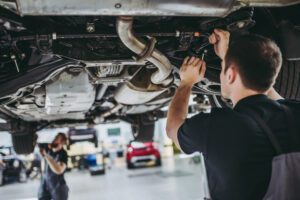 Focus on Fixed First Visit (FFV)
Along with proper diagnostics, fixing the vehicle right the first time can help avoid issues with VSC claims down the road. FFV makes for happier customers and will generate fewer opportunities for VSC audits.
FFV starts with proper diagnostics and ends with proper testing after the repair to verify that the problem has been fixed.  
Be Careful with Upsells
When a customer brings in a vehicle for repair with a service contract, it is important to communicate what repairs will be covered by the service contract, and which repairs might be arbitrary.
Upselling service is an important part of service department profitability, but if the customer thinks their service contract will pay for everything you suggest, you will run into problems either with the customer, or with the warranty company.
Take the time to explain the service contract repair, along with any additional repairs or maintenance you suggest and help the customer understand why they paying for the additional charges out of pocket is a good idea. 
Adhere to Book Hours for Each Repair
Each service contract repair is allotted a certain number of hours. Sometimes these hours might be less than accurate for the given repair. You may feel justified charging more hours, but this will raise red flags and could cause problems with approvals.
It is better to know beforehand the hours to be paid for a specific repair and do your best to adhere to these hours.  
Document Your Work
Sometimes a warranty repair approval comes down to your word against theirs. Your word will go a lot further if you have taken the time to document your work, including pictures and pressure tests performed in advance.  The more documentation you have, the easier approval will be.
Related: Are You Meeting Your VSC Objectives?(Opens in a new browser tab)
---

Did you enjoy this article from Ken Strong? Read other articles from him here.

Car Biz Today, the official resource of the retail automotive industry.

Be sure to follow us on Facebook and Twitter to stay up to date or catch-up on all of our podcasts on demand.
While you're here, don't forget to subscribe to our email newsletter for all the latest auto industry news from CBT News.