Making the decision to open a rental agency at your dealership is a huge commitment. There seems to be a lot of risk involved. Tales abound of dealership rental agencies that have crashed and burned. While nothing is a sure bet, the risk of starting a rental department can be mitigated with a solid strategy and proper planning.
Here are some points to consider that will help you succeed in starting a rental agency within your dealership.
Treat it as a Standalone Business
One of the biggest mistakes many dealerships make is opening a new department and treating it like an expense, as opposed to a revenue generator. Whether it is sales, service, parts, a detail bay, or a rental agency, every department of your dealership should be expected to turn a profit, and stand on its own as a revenue generating profit center.
Think about it. Why would your sales department open its doors for business if it wasn't making money? The same question should be asked when opening a rental department.
Start by hiring an experienced manager who knows the rental business. Running a rental agency is not like selling cars, or parts, or servicing vehicles. It is important to bring someone in who has experience running a rental business.
An experienced manager will know how to determine the right number of vehicles you need in your fleet, and what the right mix should be. Vehicle utilization rate is also an important factor to keep in check.
The tendency for most dealerships might be to maximize utilization, but if you're operating at much over 85% utilization, it means you are turning more customers away than you should. A good manager will help you maximize utilization without compromising customer service.
The next item of importance is proper accounting. In order to identify the profit potential and ensure long term viability, it is important to keep meticulous track of revenues and expenses.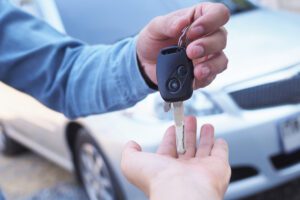 Judy Farcus Serra, controller and assistant general manager of Headquarter Toyota, in Hialeah, FL suggests that you "have a detailed balance sheet, a profit report and a management information system (MIS) report." While most dealerships' rental department financial statements average only four lines, it would be better to watch every penny that comes in and goes out, in order to better understand the business.
Improve Customer Service
Service customers appreciate the added benefit of renting a vehicle at the same location where their vehicle is serviced. Serra stated that "when we incorporate the rental into service jobs that the margins allow, it in turn adds value to our services for our customers." Such service can improve CSI rates and generally make for happier customers.
Explore Untapped Market Opportunities
At Zeigler Nissan in Orland Park, IL, General Manager Mike Connolly suggests that running a rental department creates unique selling opportunities.
"We make it known that our fleet cars are available for sale at any time," Connolly said, adding that each rental vehicle carries a marketing flyer. Some customers buy the vehicle they just rented. In some cases, they buy or lease a new Nissan vehicle from the store." With this strategy, rentals are a great way to offer an extended test drive and get more potential buyers behind the wheel.
Aside from selling more cars, there is also growth potential by marketing your fleet to the general public. Family vacations, business trips, or just a night on the town are great excuses to rent a car. By marketing your rental department beyond your existing customer base, you can make more money renting vehicles and attract more customers to your dealership in the process.
When exploring growth potential for your rental department, don't overlook vehicle mix. If you notice an opportunity for a certain type of vehicle such as work trucks, off-road vehicles, or convertibles, then make sure you have these vehicles available to rent. These specialty vehicles typically command a higher price and can be a sweet spot for profits.
Tailor-Made Pre-Owned Inventory
Lastly, Connolly also suggests that the profitability lifecycle of a rental vehicle does not end when it is taken out of service. Your rental fleet also makes for an easy supply of profitable used vehicles to sell.
Connolly employs a proactive strategy of filling his rental fleet with the types of vehicles he wants to resell a few months down the road. "I put in the fastest turn-rate vehicles I have on my sales reports, because I want the most popular cars to sell as CPOs," Connolly said.
Acquiring your own rental fleet for resale is brilliant. It eliminates the uncertainty of buying vehicles at auction and saves you transport and other fees. With rental vehicles feeding your used inventory, you are in complete control.