Black Friday is typically one of the busiest shopping days of the year as it kicks off the holiday season. Around 30% of the annual retail sales occur between Christmas and Black Friday. In 2018, The Federation has forecast that sales will increase by around 4.1%. On average, shoppers are expected to spend $1,007.24 each, $637.67 of that are for gifts. Out of that total, $215.04 goes towards greeting cards, flowers, decorations, and food, and $154.53 generally goes towards seasonal promotions and deals.
With ninety-five million shoppers hitting the stores on Black Friday, it's the perfect time for you to convince shoppers to come to your dealership. As it's fast approaching, it's time to get started with your promotional strategy. To help with that, we've created a list of all the actionable promotions ideas for you to utilize to get a piece of the Black Friday pie.
Here are thirteen ways to market your dealership to win on Black Friday.
Offer Black Friday Sweepstakes
Offering sweepstakes on your social media pages can really help to get people into the holiday spirit. With the number and quality of tools now available, such as Woobox, you can now easily create quizzes, sweepstakes, contests, and coupons for your social media networks. The ready-made templates make it easy to create sweepstakes and have customers provide the necessary information for a chance to win.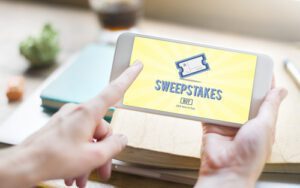 With these types of tools, you can now encourage or require users to 'Like' or 'Follow' your social media pages to participate in the sweepstakes. Make sure that you are promoting on all your social media channels. You can opt to use free image creating tools, such as Canva, to create Pinterest and Instagram-specific photos for promotional purposes.
Start An In-Store Scavenger Hunt
Getting creative with your marketing can be the deciding factor for a customer choosing you over your competitors. Creating a scavenger hunt within the dealership has just the right amount of fun and creativeness that it's sure to reel people in. Make sure that the hunt isn't too long or it's likely that the shoppers will lose interest.
You simply need to provide shoppers with a short list of things, a menu item, or an object for them to spot in-store. Have the shoppers take a photo using their phones and show it to the salesperson to earn a discount. This can also be done with a series of clue that leads to a coupon bowl.
Create Mystery Campaigns
By providing each paying customer a mystery gift, you can entice your customers to come back on Black Friday for a special surprise. You can give different gifts to different customers based on how much they're spending. Promote this via text, social media, and email to get the most return. Using tools, such as Scratch-It, can help to create interactive mystery discounts that shoppers have to 'scratch' digitally.
Send Sneak Peaks and Offers To Loyal Customers Only
Most businesses have a loyalty program, but generally, dealerships don't follow that. But, what they do have is a database of all the information that they need, including email information and purchase history. Use Black Friday to send messages to loyal members. These messages can include perks like sneak peaks, additional discount, or early bird shopping.
Create A 'Follow The Footprints' Sale
This might be difficult, but it isn't impossible. If you're planning specific vehicles or accessories to be on sale, you can lead your customers right to it by placing footprint stickers leading to it. Inform your customers through email and social media to follow the footprints for the hottest deals. For dealerships, you can even put a spin on it and place tire track, tires, or car stickers instead of the traditional footprint stickers.
Offer Hourly Deals
By creating hourly deals you can create urgency and encourage shoppers to act fast. For example, every hour for four hours you can provide shoppers with a specific deal on a specific product. For this, you'd have to provide your consumers with a list of all the deals that will be happening and encourage them to opt-in to your emails to receive all the reminders and information. Then, just automate emails to send each hour that the deal is live.
Free Gift With Purchase
You might also want to consider offering your shoppers with a free gift when they make a purchase. This can be anything including a free holiday-themed card, an ornament, or even just a car freshener.
Sign Up Deals
Between Cyber Monday and Black Friday, your website is sure to see more traffic than usual. Capitalize on that traffic by offering a theme-specific deal for anyone that opts-in and/or signs up to your email.
Offer Upgrades
Offering your shoppers upgrades can be a great strategy. For dealerships, you can offer upgrades from a basic oil change package and turn it into a premium package, which includes tire rotation. Doing this is likely to convince your customers to get premium services more often.
Doorbuster Campaigns
In order to encourage your shoppers to come to your dealership early on Black Friday, you could try to lower the prices of some top items. Make sure your only doing that for the first few hours from your opening times. This will then encourage your customers to act and make decisions quickly. Send an email to your consumers outlining all the deals that you'll be having a few days before Black Friday. Remember to send them another reminder the day before to increase anticipation and keep the promotion fresh on their minds.
Extend Deals
There's a lot of competition on Black Friday as most businesses are running sales. With only so many hours in a day, you have to stand out of the crowd and offer your customers something that others might not be. So, why not allow your shoppers more time to cash in on savings? You should consider creating a sales event that starts on Black Friday and goes through to Cyber Monday.
Promote A Charity
The holidays aren't just about shopping – though it might seem like it. To continue the spirit of Thanksgiving, you might want to think about giving back. You could encourage your shoppers to bring in canned goods for local food banks or give a portion of your Black Friday/Cyber Monday sales to a local children's hospital or charity.
Promote Deals In Your Newsletter
Get your consumers excited about the holidays by mentioning the deals that you're planning in your email newsletters. This will help to raise anticipation and let your opted-in consumers aware of everything that's going to happen.
While email newsletters are a great strategy to implement in your Black Friday sales strategy, you are definitely going to need a bit more to stand out of the crowd. Our thirteen tips are sure to get your dealership ahead of your competitors by implement creative and innovative ideas to promote a little fun into the atmosphere.
References: The Balance, NRF