Welcome to another edition of The Future of Automotive, with Steve Greenfield, Founder, and CEO of Automotive Ventures, where I put recent automotive and mobility news items into context, in terms of the broader thematic areas that will potentially impact the industry.
I'm glad that you could join us.
This week we have a special guest joining the show to help us understand how dealers can help their EV buyers install chargers at home.

One of the big sticking points for first-time EV buyers is uncertainty about which EV charger is best for their home, and how best to get the charger installed.
Over the past year, I've heard horror stories of electrical contractors who miss-estimated the cost to install the charger and the poor consumer, as a result, being stuck with a bigger bill than they first expected and being unsure who to blame.
Our guest on today's show is Eric Owski, the CEO of Treehouse.
Treehouse's unique pricing technology allows EV buyers to receive an instant, guaranteed quote for home EV charging installation at the point of sale in auto retail locations or via API while applying for vehicle financing. 
Instant pricing allows home charging to be integrated directly into the vehicle loan, reducing barriers to affordability for home EV charging.
Treehouse also automates permit documentation and has a proprietary network of electricians, enabling the company to deliver an elevated experience by managing the customer journey from end to end.
Automotive Ventures just participated in Treehouse's $10 million recent funding round, alongside CarMax, Assurant Ventures, and Holman.
Companies to Watch
Every week we highlight interesting companies in the automotive technology space to keep an eye on. If you read my weekly Intel Report, delivered to your email inbox at 7:00 AM on Mondays, I showcase a couple of companies to watch, and we take the opportunity here on this segment to share those companies with you.
Smart UQ
SmartUQ is a Machine Learning and AI tool optimized for engineering applications from ideation and design to manufacturing and sustainment.
By providing powerful tools and highly accurate models with user-friendly GUIs and APIs, SmartUQ makes it easy to perform predictive modeling, optimized sampling, uncertainty quantification, and model calibration.
From Fortune 500 manufacturers to startups and engineering consulting firms, SmartUQ's best-in-class predictive modeling accuracy helps our customers go beyond analysis to bring uncertainty into the decision-making process. 
Why do companies choose SmartUQ? SmartUQ's combination of unique sampling capabilities, powerful machine learning tools, and easy-to-use analytics helps its customers solve previously unsolvable problems.
SmartUQ serves a number of different industries, including aerospace and defense, turbomachinery, automotive, heavy equipment, medical devices, semiconductors, consumer electronics, energy, oil and gas, and HVAC. 
If you're interested in learning more, you can check out SmartUQ at www.SmartUQ.com.
SkyCharge
SkyCharge is focused on providing automatic industrial drone charging with no human interaction. 
To keep drones operational, you need to keep them charged – something that requires a hefty investment of people and resources if you're going to do it manually. 
Creating your own automated system can be a slow and frustrating process; you need to develop, integrate, and harmonize a slew of system components while satisfying rigorous reliability and safety standards. And on top of that comes autonomous charging, which is such a critical component to develop, iterate, and maintain, in order to keep your fleet operational. 
But is there another option? What if there were a proven turnkey solution that could provide autonomous battery charging?  
Since 2014, Skycharge has been dedicated to developing just such a product.
NASA, enterprises, government entities, and startups rely on the SkyCharge technology to automatically charge their drones and keep their fleet operational – without human interaction.
If you want to see more about SkyCharge, you can check them out at www.SkyCharge.de.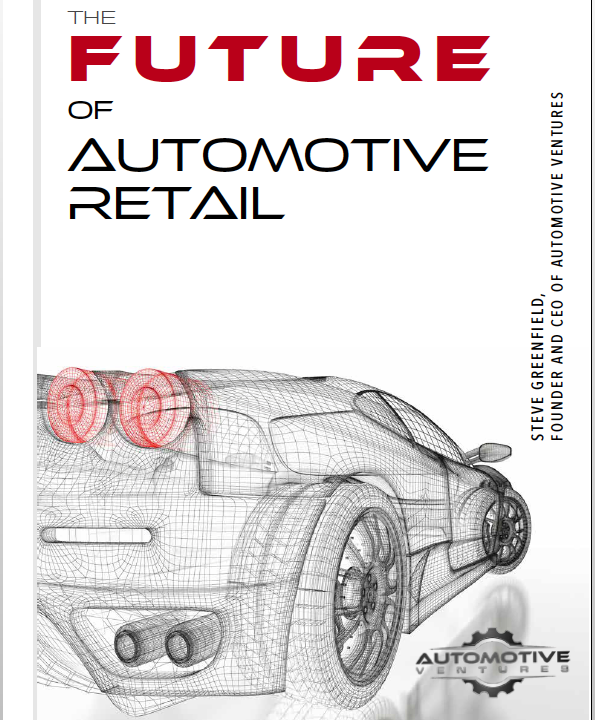 If you're an AutoTech entrepreneur working on a solution that helps car dealerships, we want to hear from you. We are actively investing out of our new DealerFund.
If you're a dealer who wants to invest in early-stage AutoTech companies that benefit your business, let me know. We are still accepting new investors into the DealerFund.
If you're interested in joining our Investment Club to make direct investments into AutoTech and Mobility startups with small checks, join the Club. There is no obligation to start seeing our deal flow.
And don't forget to check out my book, The Future of Automotive Retail, on Amazon.com. And keep an eye out for my new book, The Future of Mobility, which will be out at the end of the year.
Thanks as always for your ongoing support, and we look forward to working closely together with you to create the future of this industry.
Thank you for tuning into CBT News for this week's Future of Automotive segment, and we'll see you next week!