From Prime Day in July to Back-to-School sales in August to Labor Day discounts in September – we're now fast approaching Columbus Day. Average automotive sales exceed by 30.5% on Columbus Day. Your dealership has a great opportunity to drive business with this upcoming holiday.
As driving has become more expensive with gas prices at a four-year high with a gallon averaging at $2.84 nationally, compared to the $2.62 that it was a year ago. Despite the rising interest rates, higher auto prices, and financing is more expensive – car sales are expected to have a 3.5 percent increase than in comparison to a year ago.
It is no longer just enough to have an ad in the local newspapers or flyers around town. You have to be proactive in marketing your auto sales event to the maximum level. In order to bear the fruit, you have to put in the effort to let the public know everything that you can offer them. By luring them to your dealership, you'll have a better chance to sell them on what they need and want.
As with any other holiday, it is recommended that you pay attention early to your digital marketing campaigns. However, even if you haven't yet started – there is still time to capture the attention of the prospective car-buyers.
There are eight big tips that we can offer you to ensure that you make the most out of your Columbus Day saving event.
Consider The Timing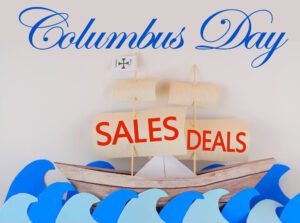 Columbus Day is just around the corner, so time is limited. You should have your ads up and running long enough to be noticed by holiday weekend car buyers. There is still time to optimize your paid search campaigns or you can also run an Offer Ad on Facebook. It might be too late to create a Columbus Day sales event landing page that would rank organically, as SEO results take longer to manifest.
Be Aware Of The Competition
The main thing that you're trying to do before the sales event is to drive traffic to your showroom and your website this Columbus Day. But, that's also what your competitors will be doing. So, when creating your digital strategy for the holiday weekend, you should ensure that your unique selling points are unique in comparison to your competitors. The question you should ask yourself, 'are you offering buyers something that will convince them to click your ad over the other dealerships?'
Bid Smarter, Not Harder
There are three tier levels when it comes to keywords. Tier I has high converting keywords and high traffic. Tier II has low converting keywords and high volume traffic. Tier III has high converting keywords and low volume traffic. While your competitors are likely to invest money on Tier I and Tier II keywords, such as 'Columbus Day car deals' – your dealership should try to focus and bid on Tier III keywords, such as '[brand name] Columbus Day sales'.
Make It Shareable
Regardless of what digital campaign you decide to run this Columbus Day weekend, you should ensure that they are worthy to be shared and are easy to share. Your USP's need to be compelling, unique, clear, creative, and contain strong calls to action and messaging. This becomes even more important when you incorporate organic and paid social media platforms into your digital marketing strategy.
Have Fun
Just because you have a sales event, does not mean that you can't have a good time – it is a holiday occasion. People love raffles, giveaways, and contests. So, why not make your advertisements creative and more attractive to car buyers by incorporating such activities into your offer. You could do anything from giving away tickets to an upcoming concert to giving tickets for a local Fall Festival. This would depend on the location of your dealership and what residents are more likely to go for as that varies from location to location.
Pay Attention To Seasonal Trends

It's vital that you don't focus too heavily on the holiday itself. It might be a great idea to build a digital campaign around a Columbus Day weekend event, but that won't be the only thing going on at this time to the year. As fall starts, schools and colleges have started up again, Halloween is approaching fast and Thanksgiving isn't too far behind. Be sure to keep these things in mind when you create events and campaigns that are relevant to Columbus Day. Create your campaigns to ensure that though they fit with Columbus Day, they also fit in with the bigger picture that is likely to suit an even bigger crowd.
Time Sensitivity
Sales that are offered for a limited amount of time, push customers to purchase a product quicker rather than delay purchases by saying to themselves 'we'll get it later'. By creating a sense of urgency – you are able to convince potential buyers to splurge when they otherwise wouldn't have. Purchasing a vehicle is an investment, creating a sense of urgency just makes that investment more likely. It could also be the unique selling point of the dealership.
Take Advantage Of Social Media Platforms And Email
There are very few tools that compare to email; even social media platforms don't come close. With 91% of consumers checking their email once and day and 65% of adults engaging on social media, combine the two and you get a strategy that is sure to reach every one of your possible buyers. With the two tools, you'll get the word out regarding your upcoming sales event. Emails even allow you to have direct communication, which makes it easier and more worthwhile of a platform to notify your current customers about upcoming savings and deals.
By implementing all or some of these tips, you're sure to get the best strategy for your Columbus Day sales event. Whatever you choose to go with, it still is a great opportunity to get your customers excited about the new and exciting product that you are adding to your line. Or even find a great deal in the used lot. Keep these strategies up even after the sales event ends as you'll want to keep your dealership in the customers' minds, especially with the holidays following Columbus Day.
Sources: https://www.digitaldealer.com/top-2018-automotive-digital-marketing-trends-need-know/