In the last few years, a determined grassroots movement has sprung up around the country, and it is quietly making a difference. No, it's not a political movement calling for a change in government or a rights campaign. It's a shopping movement. Or rather, an anti-shopping movement. Boycott Black Friday groups are catching on, and there are many good reasons why. For one, customers have found they don't like the November retail holidays, which are clustered around Thanksgiving, cutting into their family weekends. It doesn't sit well with them either that clerks and other employees give up on their own family time to serve them. There is also increasing pushback over the ugliness to be found in the aggressive crowds that have led to injuries and even deaths.

That said, it's one thing to object Black Friday morally, it's another to sit at home worried you're missing out on fantastic deals. Thanks to the news in today's Edmunds press release, when it comes to cars a least, shoppers can leave that anxiety behind and settle into some turkey and cranberry sauce FOMO free.
According to Ivan Drury, Edmunds' senior manager of industry analysis, car shoppers don't need to feel pressure to get to lots on Black Friday. "Black Friday is a great marketing tool for dealers," he says, "but the fact is, car shoppers can score just as great deals before and even in the weeks after the holiday."
The car site looked at the numbers and saw that while November 2017 sales hit record highs, only a small percentage, 14%, occurred on Black Friday itself. The remaining purchases took place on other days of the month. This is a shift from 2015 when a whopping fifth of November's sale volume was due to Black Friday sales.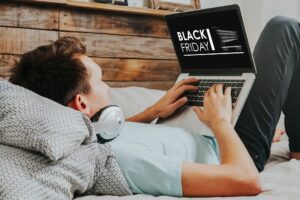 The trend of offering car deals throughout the latter portion of the month is on target to continue, providing ample opportunity for car customers to have the best of both worlds: a lovely holiday and a great deal on a car. Remarks Drury in the report,"Even though dealers don't have as much excess inventory to move as they did last year, they still have a lot of 2018s to clear out before the end of the year. And unlike last year, we're seeing many more excess SUVs and trucks, which means car shoppers no longer have to settle for something they may not want just to get the best bargain."
So what practical steps can consumers take to ensure they're getting amazing deals outside of the Black Friday madness? Edmunds gives a few pointers in their press release. First, shoppers should try to do as much as they can in advance. Even if buyers manage to go on a day other than Black Friday, chances are things are going to be hopping, so they should save time by preparing before even getting to the lot. This means starting the process to get a pre-approved loan, filling out any available paperwork online, and scheduling a test drive in beforehand. If a buyer still needs to go in on Black Friday, they should try to get to a dealership early in the morning to beat the crowds.
Above all, knowing they have more time should allow customers to make better decisions. Edmunds' senior consumer advice editor, Matt Jones sums it all up, saying, "Great bargains are to be expected this time of year, but don't be rushed into buying a car just because you are caught up in the hysteria of a seemingly good deal. Make sure to do your research in advance so that you don't get stuck with a purchase that you might regret down the road. And if you need to hold off on your purchase, the good news is that these deals are likely going to stick around beyond the holiday weekend and through early next year."