Welcome to this episode of The Friday 5 with Steve Greenfield, Founder and CEO of Automotive Ventures, an auto technology advisory firm that helps entrepreneurs raise money and maximize the value of their companies.
First up this week, the new Automotive Ventures Investment Club is off to a strong start, and we're oversubscribed for the first investment offered to our members. Thanks to all of you who are participating.
Automotive Ventures launched the new club to democratize access for industry participants to invest directly in automotive technology startups.
If you're interested in making small direct investments into auto tech and mobility companies and building your own portfolio, deal-by-deal, alongside the Automotive Ventures funds, please join the club and other investors funding the next wave of industry-changing startups.
If you're interested – or know of others that might be – please send me a note at steve@automotiveventures.com.
Next up, the Automotive Ventures NAVIcon Conference was last week in San Diego, and after some fierce competition from four other early-stage companies that pitched, we awarded the winner of the NAVIcon Cup to Jim Roche from WarrCloud.
The rest of the field did an incredible job, which included Work Truck Solutions, PAVE, Trusted Sale, and Skai Vision.
Thanks to all of the companies that participated at NAVIcon.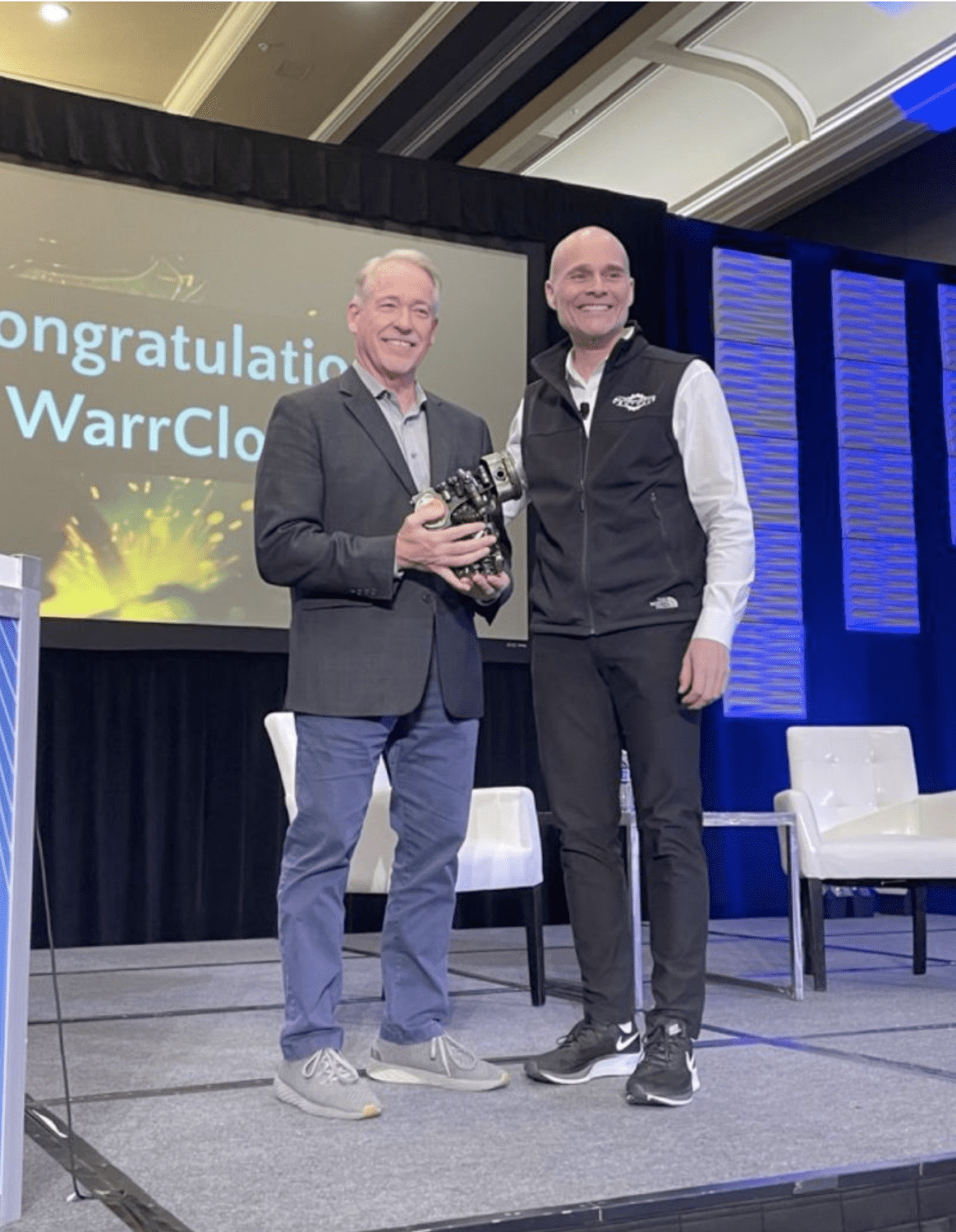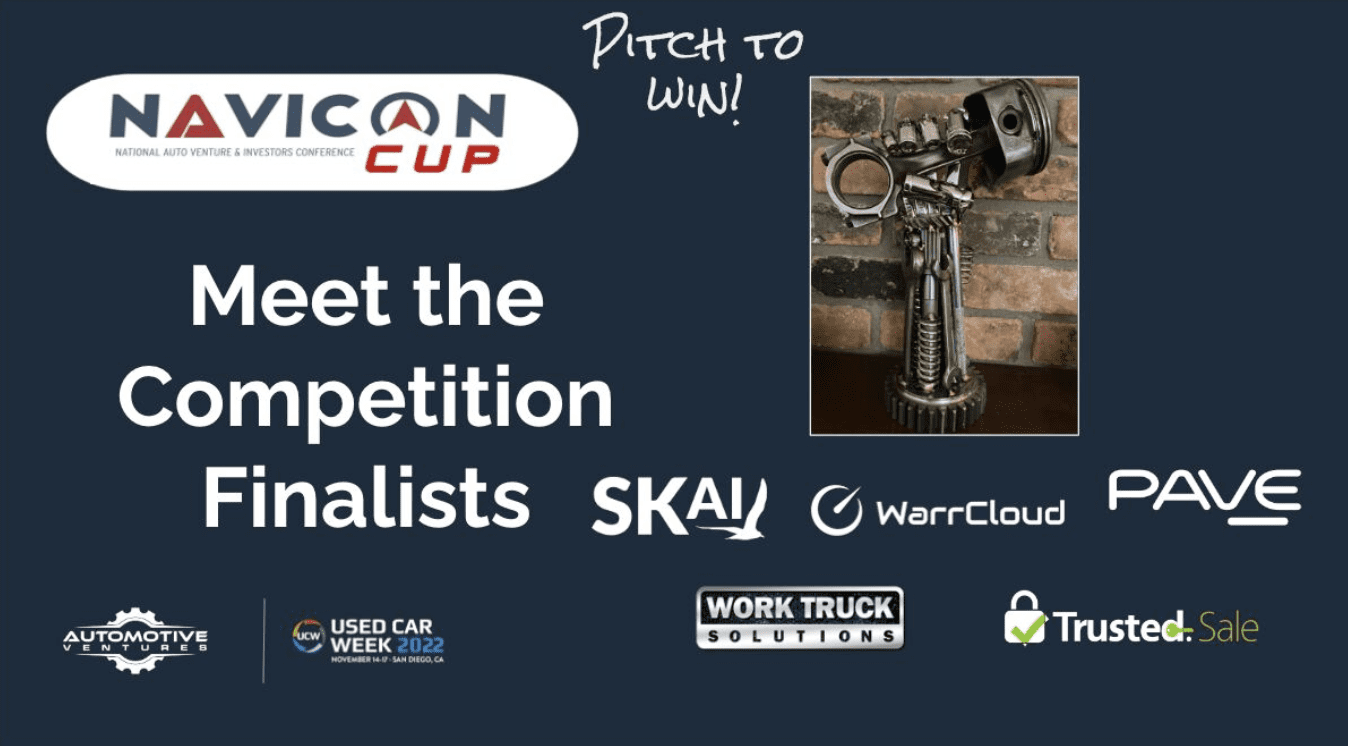 Mercedes-Benz
For new Mercedes-Benz EQ electric models, customers will be given the option to pay $1,200 yearly via a subscription model to unlock enhanced vehicle performance.
Mercedes calls this their "Acceleration Increase" subscription service that is available for all EQ models.
According to Mercedes, the yearly fee increases the maximum horsepower and torque of the car, while also increasing overall performance.
Acceleration from 0-60 mph is said to improve by about 1.0 seconds along with the overall driving characteristics of the electric motors.
The extra performance will be unlocked by selecting the dynamic drive mode.
This news comes a few months after BMW faced backlash for offering subscriptions for certain options, such as heated seats. BMW North America faced so much public criticism that it even released a statement defending its subscription option.
But we have started to see some evidence of pushback against these new, proposed vehicle subscription models in the courts.
For example, New Jersey lawmakers have proposed to stop subscription services for vehicle components and hardware already installed and functional without ongoing expense:
The new bill proposes that it shall be an unlawful practice for a motor vehicle dealer or a manufacturer of motor vehicles sold or leased in this state to offer to a consumer a subscription service for any motor vehicle feature that:
One – utilizes components and hardware already installed on the motor vehicle at the time of purchase or lease by the consumer.
Two – would function after activation without ongoing expense to the dealer, manufacturer, or any third-party service provider.
While I'm not a lawyer, I think it's going to be hard to stop an automaker from unbundling vehicle options and providing the consumer the option of either paying upfront or paying "As you go" on any month they want the feature activated.
But I'm excited to see how this plays out.
General Motors
And finally, General Motors this week said that it expects to save $2,000 per vehicle sold by expanding a digital retailing platform and shifting to a regional fulfillment model for electric vehicles.
The company previously had outlined plans for an online EV sales tool, powered by automotive software provider Tekion Corp, and a regional distribution strategy.
The automaker has opened three centralized EV fulfillment centers — two in California and one in the southeast. The inventory management change is designed to speed up vehicle delivery times — to as few as four days — and increase efficiency, which will reduce distribution costs.
Under the regional fulfillment approach, dealers will continue to receive EVs for test drives and immediate delivery, but GM will hold additional EVs at the regional centers. GM has said the approach reduces floorplan costs and the likelihood that unpopular vehicles will sit on dealership lots.
Many of the automakers have proposed regional inventory holding lots, with dealers being able to check out cars like checking books out of a library. This sounds great in theory, but I have a hard time reconciling this with an American consumer who likes the immediate gratification of walking onto a dealership lot on a Saturday and test driving and buying a car that is in stock, sitting on the lot.
I'll be interested to see how the regional lot concept plays out over the next few years.
Companies to watch
Every week we highlight interesting companies in the automotive technology space to keep an eye on. If you read my monthly Industry Intel Report, I showcase a few companies each month, and we take the opportunity here on the Friday 5 to share some of those companies each week with you.
WickedFile
WickedFile maps data from your customer management solution, vendor invoices, and accounting solution to find lost profit.
WickedFile allows you to search across tens of thousands of documents in seconds using nearly any term or number found on the document. Discover excessive freight charges, tax on retail purchases, and lost return credits owed by your vendors.
The reason that I love WickedFile is that when dealerships use paper records, there's no easy way to catalog the information, search by keyword and run analytics to ultimately run a more efficient business.
With WickedFile, a dealership can unlock the intelligence that has up until now been locked up in paper files.
You can check out WickedFile at www.WickedFile.com.
Cling Systems
Cling Systems is closing the loop of electric vehicle batteries.
Cling is focused on connecting the battery ecosystem to ensure batteries are reused, repurposed, and recycled.
Cling's b2b market platform aggregates used li-ion batteries from car dismantlers, repair workshops, production lines, and other collectors worldwide.
The reason that I love cling systems is that while the auto industry is rapidly migrating from internal combustion engines to EVs, much of the supporting infrastructure, things like charging, the grid, and recycling, hasn't yet been built out.
Cling systems helps to prepare for a future where batteries are more efficiently and effectively reused, and either repurposed or recycled.
You can check out cling systems at www.ClingSystems.com.
——
So that's your weekly Friday 5, a quick wrap-up of the big deals in the automotive technology space over the past week.
If you're an auto tech entrepreneur working on a solution that helps car dealerships, we want to hear from you. We are actively investing out of our new DealerFund.
If you're a dealer who wants to invest in early-stage auto tech companies that benefit your business, let me know. We are still accepting new investors into the fund.
If you're interested in joining our investment club to make direct investments into auto tech and mobility startups with small checks, let me know.
And don't forget to check out my new book available on Amazon called "The Future of Automotive Retail."
Thank you for tuning into CBT News for this week's Friday 5, and we'll see you next week!
---
Did you enjoy this week's episode of the Friday 5? Please share your thoughts, comments, or questions regarding this topic by connecting with us at newsroom@cbtnews.com.
Be sure to follow us on Facebook, LinkedIn, and TikTok to stay up to date.
While you're here, don't forget to subscribe to our email newsletter for all the latest auto industry news from CBT News.