The Industry Plague
While I can't promise you lower staff turnover, I know this much is true: departing sales agents often take a healthy book of business with them to their new home.
Fleeting employees and customers not only impact potential sales; they also affect dealership expenditures. On average, hiring a new employee costs $10,000. This means dealers spend around $1.5 million annually on replacement costs from turnover. Staff productivity, as well as your dealership's future revenue, face the biggest hits.
Don't believe that high sales turnover is an issue? Think again:
41 percent of dealers are considering changes to their sales process within the next 12 months.

Sales consultants have a 32.8 percent three-year retention rate.
Turnover is inevitable, and without the proper resources and tools, continued high staff turnover is conducive to a chaotic culture that impacts dealerships' bottom lines. This disarray can be avoided with one small organizational change in your dealership's culture: managing the phone. It's that simple.
Get a grip on the phone
It's impossible to look within five feet and not see a telephone. Your competitors are effectively utilizing it. Your customers are overwhelmingly using it to shop online, request Ubers, order groceries and more. Yet, somehow, your store still grapples with what to do on the phone and how to use it.
So, what's the connection between the phone's potential and employee turnover? Amidst turnover chaos, the best action your dealership can take is to create a culture of phone accountability. The telephone should be the rock of your dealership. It should be the glue that holds everything together. It must be a beacon of stability and process. Ultimately, the phone needs to be your dealership's core tool for order and success.
Sure, no agent is perfect. However, a strong phone culture built on the foundation of accountability, process and clear metrics makes it easier to point both new and existing employees toward high achievement. Each employee has the opportunity to be elevated to a certain standard with both a dealership culture of phone accountability and solid training opportunities in place.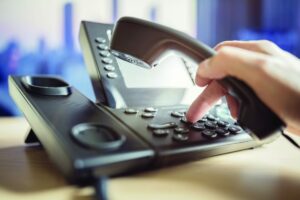 You know who deals with this same problem? College football coaches. Every year the nation's best coaches deal with player turnover — often their biggest stars. Players come and go, but the best programs thrive because of their foundation. They thrive because of rock solid fundamentals and core processes. Is it sexy stuff? No, definitely not. It's the stuff that works, though.
The phone isn't always sexy either. It needs to be your core focus for success, despite employee turnover.
Managing your team's phone skills and processes keeps agents accountable, on task and vigilant for missed sales opportunities. Managers want this and salespeople need this; impeccable phone performance is a breath of fresh air for everyone. Managers will no longer need to spend time micromanaging and monitoring new sales agents — a standard call monitoring process in place does that for them.
It's simpler than you think
Based on Car Wars data, it costs around $200 to $300 to make the telephone ring. Take advantage of every customer call. Here are four fundamental activities to do on sales calls to ensure your new salespeople are prepared and feel confident in their abilities and performance.
Focus on simple metrics

: Connect callers with someone who can answer their question(s), request and set firm appointments and pursue hot leads and/or mishandled appointment opportunities.

Train every day

: Offer constant feedback for agents to gain knowledge and skills on the phone. If you show that you care about their phone performance, they will do the same.

Create a strong onboarding process

: Establish a "live and die for appointments" dealership culture. Simple hack: put a sticky note on every agent's desk that reads: "Request the appointment on every call!"

Listen to calls as a team

: Let employees learn from each other's mistakes. Praise staff publicly for their achievements and criticize their errors privately.
If dealers can manage and dominate these core activities, they will be able to survive (and thrive!) when inevitable turnover occurs. Ultimately, strong phone processes will guide new employees through their transition and set them up for success.
The telephone is your most powerful asset, but it's also a quiet area leaking with opportunities. I'm not telling you that your turnover curse is magically solved, but "owning the phone" with a focus on the fundamentals will create a culture of accountability — amplifying both new and existing employee performance.
By providing your employees with a constant feedback loop for their phone performance, you are giving them the tools to become confident phone experts. Because after all, success feeds success. (Yes, the phone is THAT powerful!)