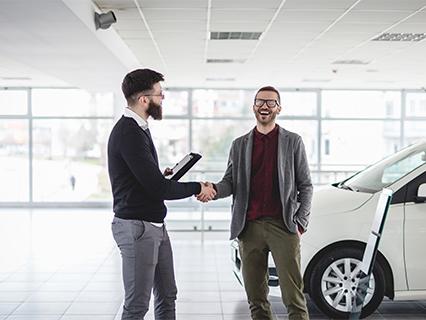 How important is reputation? If the stats are to be believed, pretty vital. According to the World Economic Forum, more than 25 percent of a company's market value is directly attributable to its reputation. Additionally, 41 percent of companies that experienced a negative reputation reported a loss of brand value and revenue.
Think about the last time you worked with a vendor, hired an employee, or worked with a contractor. Their reputation and the past experiences others have had with them plays a huge part in whether you choose to work with them or not. The same is true for how potential car buyers see your dealership. This reason is why reputation management should be a critical part of your marketing strategy.
Reputation management includes overseeing everything from online reviews to the reach of your web presence. It is any material that discusses who you are and what your dealership does.
So, how can you manage this aspect of your business? Take a look at these tips: 
Understand How Reputation and Search Rankings Relate to One Another
In some ways, Google's search algorithms can be a mystery. However, recently, more light has been shed on how Google is ranking local businesses—especially dealerships. A recent survey by Moz, an SEO firm, of marketers, found that the professionals ranked the influence of Google My Business and Google Reviews above search engine rankings.
According to marketers, when it comes to where your page is ranked on Google, the search engine doesn't just seem to be looking at physical distance and keywords. It is also weighing how well customers are rating and reviewing your dealership. According to data compiled by Status Labs, going from a 3-star to a 5-star review delivers businesses 25 percent more clicks from Google. Ultimately, your search engine activity can depend on how customers review and communicate about your business online.
Related: Integrating Your Online Reputation Strategy into Your Dealership's Marketing Plan
Consider Having Someone Take on the Role of Reputation Manager
How do you know what is being said about you online? Throughout the day, you and your team are focused on working with customers, handling purchases, and seeking out new business. This situation means that crucial reputation building can fall through the cracks.
Therefore, it helps to have someone running the station. Seventy-one percent of consumers say they are more likely to use a business that has responded to their existing reviews. You want to make sure you have someone who can follow up with individuals who may not have had the best experience at your dealership, whether it's monitoring social media or helping to improve your website presence. 
Don't Forget About Yelp and Facebook
When we discuss business reviews, Google can be seen as the only show in town. However, there are other places where your customers can be talking about you. Consumers still use Yelp and Facebook. Therefore, it's crucial that you scour these platforms to see if customers are leaving reviews or rating your dealership.
Additionally, don't forget about employment rating sites like Glassdoor. Customers also care about how you treat your employees. The interactions that you have with your workers could give them insight into how their experiences could be with your dealership staff.  
Create Branded and Value-Added Content
Brand plays a massive part in dealership reputations. Your brand is your identity, and you want it to speak to and engage your target audience. If you haven't already, you need to determine what you want your dealership to be known for. It could be fast service or convenience. Either way, once you decide what that is, you can ensure that your branding promotes these principles.
Additionally, you want your content also to do the talking. One of the best ways to increase your reputation is to offer content that is meant to add value and help potential car buyers. Whether it's videos that guide customers through vehicle upkeep or blog posts that provide more detail about the services you offer, you want to have a reputation of developing content that helps your customers move forward in their decision-making. 
Reputation Can Impact the Bottom-Line
A stellar reputation gives you the chance to make a lasting impression on your customers. From there, positive reviews, social media attention, and referrals give you a better opportunity to reach your revenue goals. It often helps to think about the times a company's reputation impacted your choices to buy or interact with a company.
Putting yourself in the seat of your car buyers allows you to create initiatives and processes that make it easier to improve your reputation. As more car buyers turn to online avenues to conduct their research and purchase vehicles, online reputation management will continue to increase in importance. Dealers that capitalize on this and make it a priority will stand out from the rest.
Related: Tips for Improving Dealership Reviews and Maintaining a Meaningful Online Reputation
---
Did you enjoy this article from Chanell Turner? Read other articles from her here.
Be sure to follow us on Facebook and Twitter to stay up to date or catch-up on all of our podcasts on demand.
While you're here, don't forget to subscribe to our email newsletter for all the latest auto industry news from CBT News.