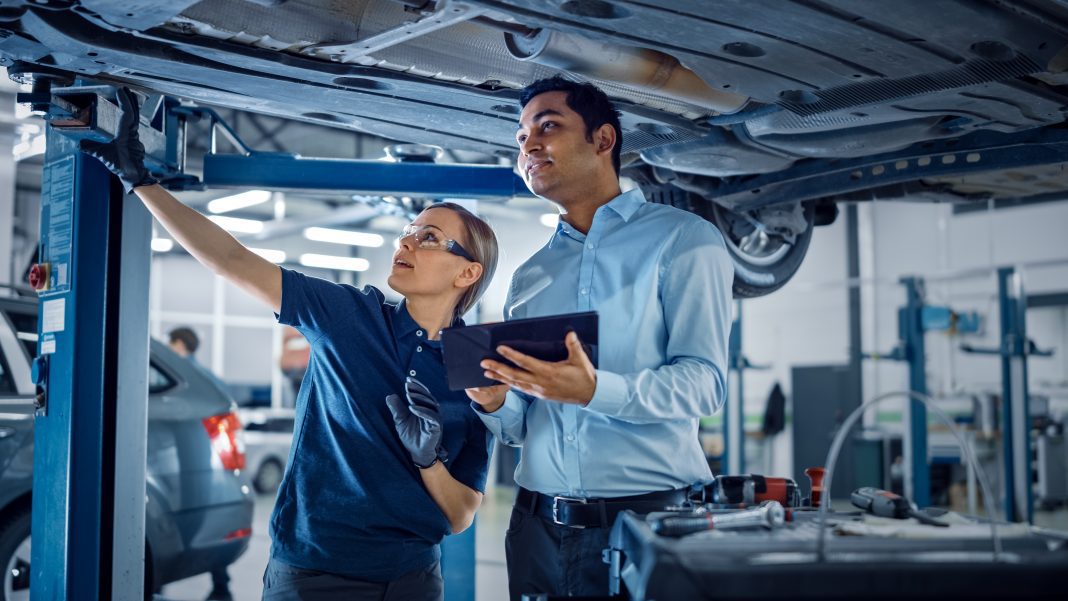 The Occupational Safety and Health Administration (OSHA) held its annual "Safe + Sound" week in mid-August, which brings awareness to the best safety practices and procedures for businesses to follow. Businesses from all over the United States plus almost 100 international businesses participated this year to discover what safety measures may be most beneficial for their staff and their workplaces. These concepts can absolutely apply to dealerships, so let's take a look at some safety practices dealers can implement.
Be Observant
All dealership staff should continuously be on the lookout for any hazardous issues that could lead to injuries and illness. OSHA's related guidance is the so-called "Find & Fix Hazards" practice that works to "identify and control" these issues. Noticing things like leaks in the service lane, blocked emergency valves, fractured railings on stairs, spills, and so on is the first step to fixing issues and ensuring safety. Management must encourage their staff to report any potential problems and then be ready to take immediate action if needed.
Know the Current Recommendations
One of the first steps towards increasing safety in a dealership is simply knowing what the most recommended safety practices currently are. Researching OSHA's latest guidance and understanding what its recommendations are can help dealers implement great safety practices. This could include posting signage around the dealership to remind staff and customers to take particular safety measures or keeping a formal log of issues and how they were successfully resolved.
If a dealer is unsure of how it can improve and maintain safety, OSHA offers on-site inspections and consultations to small businesses at no cost. A trained OSHA consultant will give an educational presentation and then do a walkthrough to point out where the dealer can improve and provide guidance on risks the dealer may have not even thought about.
Implement and Enforce Protective Gear
Perhaps the most obvious relevant rule that dealerships should consider implementing for their staff is proper footwear. Most dealerships have their vehicles outdoors, so stepping on any sharp objects if not wearing the right shoes can be a serious hazard. Many dealerships also have their staff going back and forth between the sales floor, breakrooms, and the service lanes, and slip-and-falls can happen in any of these areas.
Salespeople should absolutely always wear a seatbelt when going out for test drives, and dealership maintenance employees should be required to have the proper eyewear or other protective gear on when working on vehicles or any other machinery. Dealership management should also follow these guidelines and make sure they are enforced.
Follow Up on Safety Incidents that Do Happen
Let's face it – accidents happen, even if serious efforts are taken to prevent them. Instead of just brushing them off, dealers should assess what happened and take action to prevent them from happening again. This may include writing and distributing incident reports, which could even mean sharing with other dealerships that are at risk of experiencing the same issues. Finding out why something happened and what overlooked safety measures caused it (if any) can help dealers formulate a plan for a safer workplace.
Be Prepared for Emergencies
Being prepared for an emergency or natural disaster is critical for any business, including dealerships. While serious, unforeseen emergencies aren't too common, they can be extremely detrimental, and having an emergency plan is always necessary. Dealers should know what potential natural disasters have a high chance of occurring (e.g., hurricanes are more prominent in Florida, whereas tornadoes are more prominent in states like Kansas) and have an emergency management plan in place should something happen.
Dealers should make sure their insurance is up to date and covers the necessary risks, and staff should be given training on what to do if an emergency does occur. This includes teaching them how to help any customers who are visiting the dealership at that time. Being prepared in advance can help lessen any impact of an emergency.
---
Did you enjoy this article from Kimberly Hurley? Please share your thoughts, comments, or questions regarding this topic by submitting a letter to the editor here, or connect with us at newsroom@cbtnews.com.
Be sure to follow us on Facebook and Twitter to stay up to date or catch-up on all of our podcasts on demand.
While you're here, don't forget to subscribe to our email newsletter for all the latest auto industry news from CBT News.