Though facials and pedicures aren't what naturally come to mind when people think of car dealerships, that's what you get when you visit the Grimsby Chrysler-Dodge-Jeep dealers of Ontario, Canada. This dealership's attached spa not only brings in a little extra cash–an "Oil Change + Manicure" goes for $34.95–it also helps it rise above the competition and enhances the customer experience.
In today's competitive market it's critical to differentiate your dealership from others. Strategic touches, like Gimbsy's spa, go a long way to bringing people in. Take Fletcher Jones Mercedes-Benz of Newport Beach, California, for example.
They offer a number of personal touches, among them, free airport shuttle rides to the nearby airport. By doing so, they create recurring foot traffic and brand loyalty.
You too can tap into these dealers' successes. To start, decide today what your brand, theme or character is. What makes you distinct or what could set you apart. It could be your proximity to an airport, as in the above case of Fletcher Jones. It could also be identifying your area's demographic and tailoring the customer experience to that demographic. If located in an area that's mainly populated by families with children, putting a game area in to entertain the kids while the parents browse could bring great dividends. Or you could mold your store around the area's aesthetic, like they do at the Island Lincoln Mercury Land Rover and Jaguar dealership at Merritt Island, Florida. There they fully embrace the island-vacation vibe by providing a club for anyone who buys one of their cars. Membership includes access to a Tiki Grill, a fitness center, arcade and more.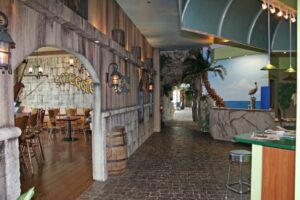 Advertising Partner

When deciding on your dealership's image, think about how your environment, both social and geographic, can be converted into a marketable product that enhances customer experience. Another variable to consider is convenience. Ask yourself questions like when are our customers most available? Chances are, many of your customers work during the day and don't have much time to spend at your store during business hours. Koerner Ford in Syracuse, New York considered this when setting their store hours. They found their business expanded when they extended their hours to 8 pm. While this small change might not have the same bells and whistles as a Tiki grill, it's a way these dealers stand out from their competition. Convenience is high on the list of consumer priorities today, so all touches that improve this aspect of the shopping experience can inspire long-term loyalty.
Finally, consider what you can personally bring to the table. How can you dress up your shop so it stands out from all the others? Can you stage rare cars as museum works of art like they do at Las Vegas' Penske-Wynn Ferrari/Maserati dealership? Or perhaps you have connections with local artists who can open a gallery in your space. Use local or brand resources to create an immersive experience that lingers in customer minds long after they drive away with their purchase and chances are you'll see them–and their friends–again!