Update 10/5/22: According to a regulatory filing made on Tuesday, Elon Musk has changed his mind once again and is proposing to purchase Twitter for $54.20 per share. After Bloomberg broke the story, Twitter stock rose more than 22%.
Tesla was up 5% on Tuesday morning. However, the EV maker's stock erased nearly all of its gains after investors questioned the legitimacy of the announcement. Trading was eventually suspended.
According to the SEC filing, Musk wrote to Twitter on Monday to inform the firm of his intention to carry out the transaction that was agreed upon on April 25, when the deal was initially announced.
In a statement, Twitter acknowledged receiving the letter and stated, "The Company intends to close the transaction at $54.20 per share."
According to CNBC sources, a deal might be reached as soon as this Friday.
Update 9/27/22: Elon Musk was supposed to spend the next two or three days responding to questions from lawyers for the social media platform Twitter. However, CEO Parag Agrawa abruptly postponed a deposition that was part of Twitter's lawsuit against Musk, angering the billionaire's legal team, according to persons familiar with the matter who spoke with Insider.
In a deposition that was due to begin at 9 am local time on Monday in San Francisco, the Twitter CEO was expected to be questioned for a total of ten hours. Musk's partner at Quinn Emanuel Urquhart & Sullivan in New York, Alex Spiro, was scheduled to interview Agrawal in-depth. Twitter's legal team emailed Musk's side on Sunday to cancel Agrawal's deposition due to "personal reasons." 
The deposition was planned to last until Wednesday if necessary and would not be public. Musk will still be deposed sometime this week, though the date has been changed. His interview will also take place in person, though probably not in Delaware as originally planned.
In April, Musk agreed to buy the social media platform and take it private with an original offering price of $54.20 a share. Musk had mentioned plans to loosen the company's content policing policies and make an effort to clear out fake accounts on the site.
In July, just a few short months later, Musk said he wanted to back out of the deal, claiming Twitter misrepresented the number of factual accounts versus bots on the platform. Twitter promptly filed a lawsuit to force him to follow through on the acquisition at the original offer price, saying his claims were unfounded and that he was merely suffering from buyer's remorse.
Update 9/13/22: Tesla CEO Elon Musk made a third attempt to call off a $44 billion acquisition deal with social media giant Twitter on Friday, saying that payments made to a whistleblower are grounds for canceling the deal altogether.
Musk's legal team sent a letter to Twitter on Friday, saying that the company's $7.75 million severance payment to whistleblower Peiter "Mudge" Zatko is a clear breach of the takeover agreement.
The letter is the third attempt from Musk to cancel the agreement, following a filing on July 8 with the SEC alleging the company had "not complied with its contractual obligations." A second letter was sent on August 29, citing the allegations made by Zatko about "extreme, egregious deficiencies" in the company's security, privacy, and content moderation were also grounds for cancellation.
Twitter responded to the new letter, saying the company intends to enforce the agreement and close the deal with the original terms. The company will meet to vote on whether to approve or reject the takeover bid from Musk.
"As was the case with both your July 8, 2022 and August 29, 2022, purported notices of termination, the purported termination set forth in your September 9, 2022 letter is invalid and wrongful under the Agreement," read a letter sent to Musk's representatives from Twitter's legal team.
"Twitter has breached none of its representations or obligations under the Agreement, and following the receipt of the approval of Twitter's stockholders at its September 13, 2022, special meeting, all of the conditions precedent to the closing of the Merger will be satisfied."
The Tesla CEO and the social media company will head to trial on October 17 to resolve the matter unless they reach a settlement first.
Update 9/8/22: Musk won't be able to postpone a crucial October trial over the disagreement, Chancellor Kathaleen St. Jude McCormick, the Chief Judge of Delaware's Court of Chancery, ruled on Wednesday. However, Judge McCormick has allowed Musk to use the whistleblower's claims as new evidence.
Twitter's former security head Peiter Zatko, who is slated to testify before Congress next week about the company's subpar cybersecurity policies, made the whistleblower allegations. According to Musk's legal team, the assertions made by Zatko to American officials may support Musk's claims that Twitter deceived him and the public about the issue with bogus and "spam" accounts the firm was having. 
Zatko, a well-known cybersecurity specialist better known by his hacker alias "Mudge," said that he was let go by Twitter in January after raising concerns about the company's lax approach to user security and privacy.
The judge's decision came after a lengthy session on Tuesday during which lawyers for Musk and Twitter sparred about the validity of Zatko's accusations and the rate at which each side is gathering evidence in preparation for the trial.
Judge McCormick stated on Wednesday that the newly released whistleblower complaint offered Musk's team justification to modify their countersuit, but she chose not to comment on the specifics.
"I am reticent to say more concerning the merits of the counterclaims at this posture before they have been fully litigated," she wrote. "The world will have to wait for the post-trial decision."
However, McCormick agreed with Twitter's worries that putting off the trial would make it more difficult for the firm to resume operations.
Update 8/17/22: A Delaware Court has ordered Twitter to give Tesla CEO Elon Musk documents from a former Twitter executive, according to a court order issued earlier this week. The order requires Twitter to collect, review, and produce documents from former General Manager of Consumer Product Keyvon Beykpour. 
He was described in filings as one of the executives "most intimately involved with" determining the number of spam accounts on the social media platform. Twitter has accused Musk of breaching his agreement to buy the platform, while Musk says Twitter misrepresented the number of its real and active users.
Beykpour left Twitter in April, shortly after Musk entered into a $44 billion acquisition deal to buy the company.   
Musk later backed out of the agreement, accusing Twitter of misrepresenting the number of real active users on its platform. Earlier this month, he officially accused the company of fraud in response to Twitter accusing Musk of breaching his agreement to acquire the company at the agreed-upon price of $54.20 a share.   
The request for access to documents and a list of employee names was given to Chancellor Kathaleen McCormick last week from Musks' legal team. The judge has since denied the request for access to 21 other people involved with the company.
A Delaware Court has ordered Twitter to hand over documents from a former executive to Tesla founder Elon Musk. The social media company was ordered to collect, review, and produce documents from Kayvon Beykpour, the former General Manager of Consumer Product for Twitter.  
Musk has stated that Beykpour was a key figure in calculating the number of bots and fake accounts in use on the platform. Court filings from the case describe Beykpour as being one of the executives "most intimately involved" with determining the number of spam accounts active on the platform.   
Beykpour left Twitter in April, shortly after Musk entered into a $44 billion acquisition deal to buy the company.   
Musk later backed out of the agreement, accusing Twitter of misrepresenting the number of real active users on its platform. He officially accused the company of fraud earlier this month, in response to Twitter accusing Musk of breaching his agreement to acquire the company at the agreed-upon price of $54.20 a share.   
The request for access to documents and a list of employee names was given to Chancellor Kathaleen McCormick last week from Musks' legal team. The judge has since denied the request for access to 21 other people involved with the company.
Update 7/19/22: According to a recent report from Reuters, a judge will hear arguments today regarding Twitter's request for a September trial in its lawsuit against Tesla CEO Elon Musk. However, Musk and his legal team have now requested the court to delay his trial. The filing of an extension would push the trial back to at least February 2023. The decision on whether or not this case will be extended takes place this week.
Twitter is suing Elon Musk for not holding the end of their deal worth $44 billion to purchase the large social media company. The judge for the case recently notified both parties of the 90-minute hearing which will take place on July 19 at 11 am eastern time.
Reportedly, Musk terminated the planned purchase of Twitter due to false information about spam accounts and bots. He has stated that Twitter is now unfairly going 'warp speed' with this trial since they have been "dragging their feet for two months about the problems." Musk's lawyers believe they need more time to find substantial evidence to show Twitter's false and spam accounts. Delaware Chancery Court's Judge Kathaleen McCormick will decide on the trial date and potential extension.
Update 7/12/22: Tesla CEO Elon Musk announced late last Friday that he was terminating his agreement to purchase Twitter, citing the lack of information regarding the proportion of actual Twitter users who are bots.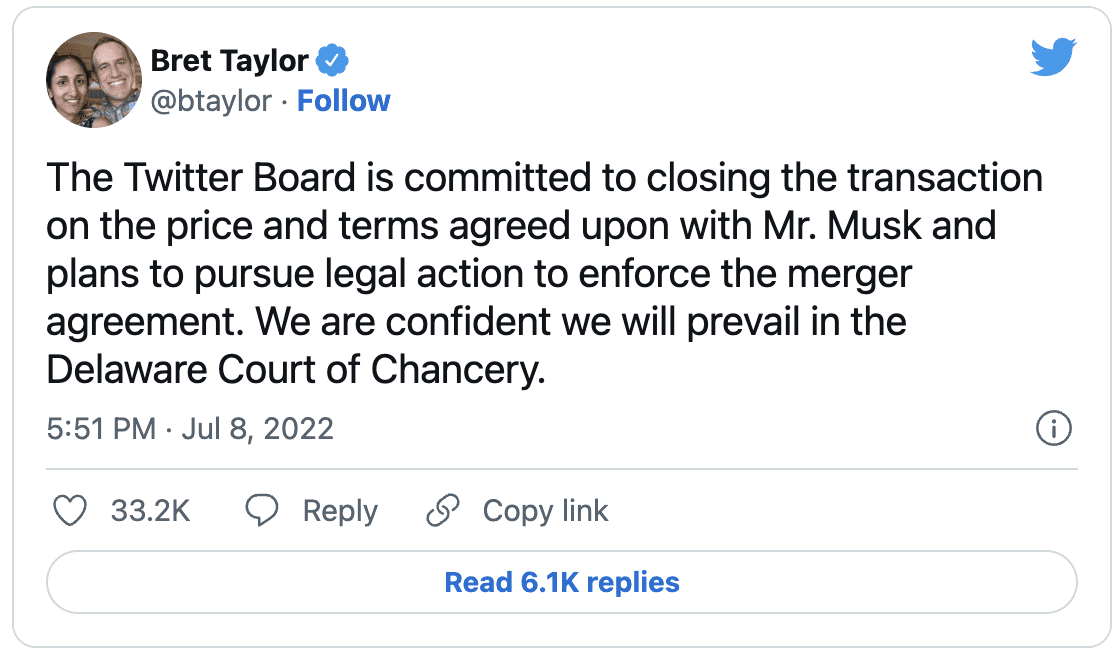 According to Reuters, Twitter intends to sue Musk as soon as this week to compel him to finalize the transaction.
In a tweet, Elon Musk poked fun at Twitter's attempts to pressure him into buying the firm.
Musk tweeted four pictures of himself laughing early on Monday, along with the following captions: "They said I couldn't buy Twitter. Then they wouldn't disclose bot information. Now they want to force me to buy Twitter in court. Now they have to disclose bot information in court."
Following that, Musk tweeted a photo of actor Chuck Norris playing chess with just one pawn on his side of the board and all the pieces on the other with the caption "Checkmate."
The agreement stipulates that Musk must pay Twitter a $1 billion fee if he cannot close the transaction due to events like the failure of the acquisition finance or opposition from authorities.
Twitter answered back accusing Musk of "knowingly" breaking the terms of the agreement to purchase the social media company.
Twitter stated in a letter to Musk dated Sunday that it had not violated the merger agreement, contrary to what Musk had claimed on Friday in order to terminate the acquisition.
Update 4/26/22: On Monday, Twitter announced that it had accepted Tesla CEO Elon Musk's offer of $44 billion to take the company private. That means the world's wealthiest and arguably most theatrical individual will soon have the power to affect conversation on the social network, which more than 200 million people utilize every day.
Musk identifies himself as a "free speech absolutist" who has blasted what he perceives as excessive moderation on social media sites.
"Free expression is the backbone of a functional democracy, and Twitter is the digital town square where things crucial to the future of humanity are debated," he said in a statement announcing the purchase.
Musk has claimed that even though Twitter comments are sometimes controversial, they are still lawful and should not be erased.
Musk's desire to change the engagement on Twitter is causing concern among social network experts. They claim this might empower harassers, trolls, and others who abuse the site to target specific individuals.
Currently, advertising accounts for about 90% of Twitter's revenue, but the firm has struggled to lure advertisers to the platform, which frequently devolves into political firestorms and nasty online brawls.
The corporation will no longer be under the same pressure from shareholders to increase advertising income now that it is private. Musk has suggested that it switch to a subscription model.
Still unknown is whether or not Musk and Twitter will re-instate former President Donald Trump. Musk has not publicly stated if he will allow the former President to return to the platform after he was permanently barred for using language that violated the site's rules and allegedly fueled the siege on the U.S. Capitol on Jan. 6.
Update 4/15/22: Twitter's board of directors has taken measures to block Elon Musk's proposed takeover offer, in a huge setback to the billionaire's aspirations to seize full financial control of the platform.
In a press release, the company's board of directors stated that a "shareholder rights plan" was adopted "after an unsolicited, non-binding proposition to buy Twitter."
This plan, known as a poison pill in the financial sector, prevents hostile takeovers by allowing some shareholders to buy additional stock if an outsider tries to take control.
According to the proposal, Twitter's board of directors wants to battle Musk's move to acquire control of the firm, as previously reported. Twitter's CEO, Parag Agrawal, had stated that the business was still weighing Musk's offer. The strategy was also disclosed in a file to the U.S. Securities and Exchange Commission and will be in effect for one year.
Update 4/14/22: Last week, Tesla CEO Elon Musk was the subject of headlines after purchasing a 9.2% stake in Twitter, which gave him stocks worth almost $3 billion. Twitter subsequently announced Musk would be joining its Board of Directors. Former Twitter CEO Jack Dorsey released a statement saying he was "happy" about the situation and that Musk "cares deeply about our world and Twitter's role in it."
That plan derailed when Musk declined to join the board the same week. 
Musk is taking his investment in Twitter even further and is now offering to purchase 100% of the social media platform for $54.20 per share. According to a regulatory filing this week, he sent Twitter's Chairman, Bret Taylor, a letter stating that he believes in Twitter's "potential to be the platform for free speech around the globe" and that "free speech is a societal imperative for a functioning democracy."
Musk's full offer was to "buy 100% of Twitter for $54.20 per share in cash, a 54% premium over the day before [he] began investing in Twitter and a 38% premium over the day before [his] investment was publicly announced." He referred to this as his "best and final offer" and noted he would "reconsider [his] position" as a shareholder in the social media platform if it is not accepted. 
The letter further stated that it is critical for Twitter to become a private company, as soon after purchasing his shares, he "realize[d] the company will neither thrive nor serve this societal imperative in its current form." He ended his letter with, "Twitter has extraordinary potential. I will unlock it."
Twitter is valued at around $37 billion, and Musk's offer this week would value Twitter at approximately $43 billion. Last fall, Musk surpassed Amazon's Jeff Bezos and is now the richest person in the world. 
On Thursday, Twitter released a very short press release regarding Musk's offer and said it had "received an unsolicited, non-binding proposal" from Musk and that it will "carefully review the proposal to determine the course of action that it believes is in the best interest of the Company and all Twitter stockholders." 
Of course, Musk has a widely discussed Twitter presence, as he has continuously accused the social media platform of restricting free speech. On March 25th, he posted a Twitter poll asking if followers "believe Twitter rigorously adheres" to its free speech principle. He followed up the tweet with a comment, stating, "The consequences of this poll will be important. Please vote carefully."
As of April 14th, over 70% of followers responded "No."
Musk has also faced regulatory issues related to his Twitter posts, including his 2018 tweet about possibly making Tesla a private company. Regulators discovered he did not have the funding to do so, and the Securities and Exchange Commission imposed a rule stating that Tesla's attorneys must pre-approve any Twitter posts related to financial matters regarding his companies. 
---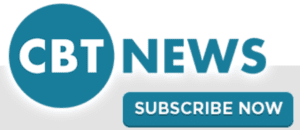 Did you enjoy this article? Please share your thoughts, comments, or questions regarding this topic by connecting with us at newsroom@cbtnews.com.
Be sure to follow us on Facebook, LinkedIn, and TikTok to stay up to date.
While you're here, don't forget to subscribe to our email newsletter for all the latest auto industry news from CBT News.