Today, cars have almost become synonymous with technology and innovation. Years ago, anti-lock brakes, CD players, and intermittent windshield wipers represented the boundaries of what was possible.
In 2019, cars can almost drive themselves while allowing consumers to purchase goods or surf the web on an in-car infotainment center. The future is here, and OEMs are clamoring to add more tech-based features that promote convenience and flexibility.

So, what are some of the newer tech features that you can expect customers to begin to inquire about as they enter your showroom? Let's take a look at eight new and exciting tech features in the automotive industry. 
Automatic Emergency Braking 
By 2022, automatic emergency braking is set to be included in all cars produced. However, according to Kelley Blue Book this feature can be found in many vehicles sold today. The automatic emergency braking system causes a car to immediately brake if the car's sensors determine that a crash is imminent. While it may not always prevent a collision, it could reduce the severity of the accident. This feature could bring unparalleled levels of safety and accident cost reduction to the automotive industry. 
Virtual Reality Entertainment 
At this year's Consumer Electronics Show (CES) 2019, Audi showcased their new partnership with Disney. The company has worked to synch their car's movements with a VR-based game. Riders can then use VR headsets to see and interact with Disney characters during the car ride. Demos at the showcase revealed riders interacting with Marvel characters, Iron Man and Rocket Raccoon in an intergalactic and entertaining mission. For car buyers with families, this feature will likely be a popular one, especially for those who regularly take road trips. This technology is set to hit Audi cars in 2020 or 2021.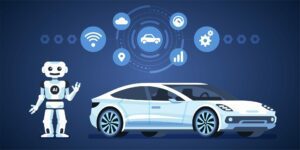 Head-Up Displays 
Looking down in your car to see the speedometer, or fueling information can take your eyes away from the road. Carmakers and a few innovative companies have sought to stop this problem by creating Head-Up displays. This technology displays the car's speed and navigation information directly in the driver's line of sight. Some car models currently include this tech, but some companies have created devices that car owners can purchase for older vehicles. 
Exit Warning Systems 
More and more major cities in the United States are adding bike lanes to make cities more cyclist-friendly. However, there is still the threat from cars which are pulling out of parallel spaces colliding with bikers. Audi and Hyundai have created technology to help car and bike owners avoid this problem. They have instituted exit warning systems that flash warning lights, locks doors, and warns passengers if the sensors detect someone behind the car. Again, this safety measure not only prevents collisions with cyclists, but it could also keep drivers from backing into other vehicles or pedestrians. 
Lane Keeping Assist 
Unfortunately, distracted driving will always be an issue for most drivers. Whether they are distracted by another person in the vehicle or are trying to keep up with their GPS while driving, distractions happen. Automakers are beginning to realize that they can help prevent accidents by developing tech to address this issue. Lane Keeping Assist gently moves cars back into their respective lanes, if a driver unintentionally goes over the line. Many new cars already have this capability, but it will likely become standard in the years to come as autonomous vehicle technology continues to evolve. 
Massaging Seats 
While consumers are concerned with safety, many are also looking for comfort in their vehicles. With the American car buyer spending an average of 18 days in their car a year, it makes sense that a perk like massage chairs would be a hit. While massage seats are commonplace in many luxury vehicles, since 2016, brands like Ford, Audi, and Lincoln are allowing more economically-minded customers to take advantage of this feature. 
Vehicle-to-Everything Communication 
More connectivity is coming to cars. Again, at this year's CES event, automakers began to showcase their approach to vehicle-to-everything communication. Qualcomm, a telecommunications equipment company, is working to provide 5G-ready cellular communication equipment that allows cars to send messages to pedestrians or communicate with infrastructure. These advances could result in vehicles letting pedestrians know when they are coming down the road, or traffic lights informing drivers of when the light is set to change. Ford is pledging to offer this feature on new trucks and cars by 2022. 
Controlling Cars with Mobile Apps 
Even though this tech has shown up before, more and more automakers are adding smartphone connectivity to their offerings. Today's smartphones allow customers to remotely start their cars, unlock doors, check diagnostics like fuel status and tire pressure, and schedule an upcoming maintenance appointment for the vehicle. Again, customers are looking for more convenience in their vehicles, and automakers are using smartphone capabilities to meet the need. 
Final Thoughts 
Automakers are becoming more in-tune with how they can use technology to enhance the car buyer's customer experience. As a result, today's customers can experience unparalleled levels of safety, convenience, and communication.  As 2020 comes into view, customers can begin to see many of the above tech features become standard in most new vehicles. According to Cox Automotive's 2018 Vehicle Tech Features study, most customers look to dealerships for information on tech features. The more comfortable dealership staff are with accepting the role of tech consultant, the higher chance they have of enhancing the customer experience as these features become more widely distributed.