In an interview with the Associated Press, General Motors Chief Executive Officer Mary Barra laid out the automaker's plans and expectations for the future. Barra said that despite high inflation, increasing interest rates, and ongoing supply chain issues, she remains confident in her past statements that GM's electric vehicle sales will outpace Tesla's by 2025.
Anticipated upcoming EVs from GM include an electric Chevrolet Blazer (Summer 2023) and an electric Chevrolet Equinox (Fall 2023). Speaking about GM's plan to have at least 30 battery-powered vehicles within the next two and a half years, Barra said, "What we have coming, it's in the heart of the market."
EV costs
Barra stressed that the high price tags of EVs currently available are not appealing to customers and that in order to increase EV sales, automakers must create EVs that cost somewhere between $30,000 and $35,000. Seeing as the base price of Tesla's least expensive model starts at around $48,000, Barra feels GM has a real chance of seeing booming success with EVs if the automaker can produce vehicles that come at lower costs.
Barra's comments come after this summer's announcement that the price of the electric 2023 Chevrolet Bolt was dropping by $6,000 and would start at $25,600.
The CEO pointed out that GM is also working on making transportation more affordable by connecting dealerships nationwide with customers looking for affordable used cars as well as developing its autonomous Cruise vehicles that the automaker hopes will expand to other cities.
EV charging and range anxiety
Barra also touched on the unavoidable topic of distrust that many consumers currently have when it comes to the existing range of EVs. She said GM is working to alleviate consumers' so-called "range anxiety" by partnering with Pilot Travel stations to install 2,000 charging stations within 50 miles of one another. By doing so, GM is reportedly hoping consumers will choose to leave their gas-powered cars at home for both short commutes and long road trips.
Economic outlook
Speaking on the economy and possible recession, Barra referred to the situation as "pretty volatile" and said GM is "looking at many different scenarios as any prudent business leader would to make sure [GM is] ready for whatever, however, the situation evolves."
Like all automakers, GM has been greatly impacted by the ongoing semiconductor chip shortage. To combat the issue, Barra noted the automaker will be conducting a different method of acquiring and controlling chips itself, which will allow more efficient management of them. She also said the upgraded chips GM is investing in are more powerful so they can perform more than one function at a time.
Barra said the move will ultimately allow GM to have "much better control and a stable supply."
Overseas markets
In early 2017, GM sold its Opel brand and cut ties with Europe, but Barra told the Associated Press the automaker is looking to return and solely sell EVs there. She expressed excitement about the possibility of re-entering the European market, stating it would be "a huge growth opportunity for the company." She also noted that GM's joint venture with China-based SAIC will remain as-is at this time.
Social issues
Barra shied away from answering questions about specific sensitive issues such as political and social matters, noting that GM would not make changes to protocols "other than [GM] will make sure [it complies] with all state laws." GM previously created an inclusion advisory board in the summer of 2020 and "aspire[s] to be the most inclusive company in the world."
Ultimately, GM is still planning on solely producing EVs by 2035, and Barra's interview indicates the automaker is still working to fulfill that mission. Despite the challenges GM faces, at the end of the interview, she expressed confidence and stated, "I'm an engineer, so I'm a problem solver."
---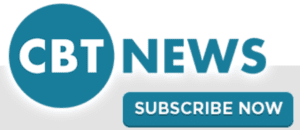 Did you enjoy this article from Kimberly Hurley? Read other articles on CBT News here. Please share your thoughts, comments, or questions regarding this topic by submitting a letter to the editor here, or connect with us at newsroom@cbtnews.com.
Be sure to follow us on Facebook, LinkedIn, and TikTok.
While you're here, don't forget to subscribe to our email newsletter for all the latest auto industry news from CBT News.