It is no surprise that Carvana has been working to revolutionize auto sales since its foundation in 2013, from its vending machine car sales to its next-day delivery car sales. It has quickly expanded to become one of the auto industry's top nationwide online retailers and does not have plans to slow down any time soon. Not surprisingly, the company's latest announcement has followed suit.
On Thursday, Carvana announced that it had launched its CarvanaACCESS platform, which, according to its website, "is a modern direct purchase platform that gives independent and franchised dealers and wholesalers the ability to buy wholesale vehicles from Carvana." Carvana locations nationwide will process wholesale autos and trade-ins and subsequently list them on the CarvanaACCESS platform where they will be available for a "timed bid."
The platform will include 360-degree imagery of the vehicles as well as extensive, thorough details on the condition of each vehicle. This helps buyers to be more informed before placing bids and buying. There are set previewing times throughout the week as well as set sales times. Carvana has claimed that the vehicles on the platform are "priced to sell" and will have a "90 percent first run sales rate."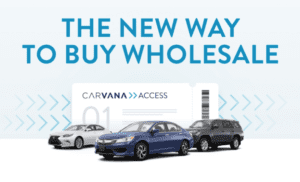 To provide this offering, Carvana partnered with Manheim Digital, which it has already successfully worked with on various ventures for several years. Condition and pricing information for the listed wholesale and trade-in vehicles will be based on the Manheim Market Report (MMR), which aims to ensure buyers are getting a fair price when making their purchases.
When asked about the current collaboration, Carvana CEO Ernie Garcia is remaining optimistic due to the partnership's past success and stated, "Utilizing Manheim's broad remarketing experience and diverse digital solutions has helped us accelerate as demand increases for our new way to buy a car."
As with every revolutionary development in the industry, along with a new innovative idea comes the questions of how it will affect dealerships and change the way consumers buy cars. Even though wholesale prices have seen some improvement within the past two months, the COVID-19 pandemic has undoubtedly continued to impact the auto industry, including global supply chains. While the industry bounces back from the detrimental effects, CarvanaACCESS is looking to make it easier for dealerships who may not be equipped with the inventory needed to meet a future increase in demand.
Carvana's website even states the company believes there is "no need to play games or waste time," so the hope is that CarvanaACCESS users will be able to make bids/purchases quickly and have the inventory ready for their consumers. This also benefits Carvana, seeing as Carvana and dealerships will not have to spend time, money, and resources on physical auctions.
Overall, dealerships – especially those low on inventory after these hard times – can benefit from CarvanaACCESS because they will now have an additional channel to source inventory from. It is yet to be determined, but the vehicles on the platform may turn out to be less expensive based on Manheim's pricing model, which will help dealerships who are struggling financially.
The direct-purchase model may save money and time at the moment, which is critical right now more than ever for many dealerships. In the long term, however, the new offering may end up giving Carvana more deal flow, meaning they may gain more power in the industry, taking it away from dealerships.
Ultimately, if the successful partnership between Carvana and Manheim continues to thrive, CarvanaACCESS will be a promising new platform for dealerships to use to increase their inventory.        
---
Did you enjoy this article from Kimberly Hurley? Read other articles from her here.
Car Biz Today, the official resource of the retail automotive industry.

Be sure to follow us on Facebook and Twitter to stay up to date or catch-up on all of our podcasts on demand.
While you're here, don't forget to subscribe to our email newsletter for all the latest auto industry news from CBT News.