Today's consumer look to streamline all the processes they undergo. Making larger purchases, such as vehicles, is included within that. The quicker the process, the better it is for consumers. What many don't realize though is that the car buying process has the ability to be streamlined by simply setting an appointment.
Though more and more people are shopping online, consumers still go to dealerships before they buy a vehicle. 88% of consumers still come in for a test drive before they make a purchase. However, the main challenge is to get people to come into your dealership.
Regardless of what step in the buying process the consumer is, appointments can help to ensure that the wants and needs of a customer are acknowledged and met. Thus, meaning that you are able to meet their demands early on in the 'search' process until the day of the purchase.
Advertising Partner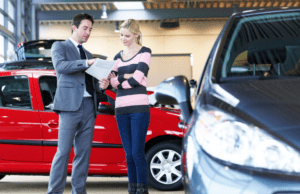 As a dealer, you know that appointments are helpful. Most dealerships only have appointments for their service department, but the sales department can also reap the benefits of an appointment based system. It might even make it more convenient for the customer to have an appointment, though they might be more reluctant.
Advantages of Scheduling Appointments
Here are a few of the main advantages that your customers will get to experience with an appointment based system at your dealership.
Have Several Vehicles Ready
With an appointment, you'll have a rough idea on what vehicles your customer is likely to prefer based on some questions that they might need to answer during the appointment making process. As most consumers do their own individual research before they step into a dealership, they can also have a few in mind that they would like to see.
Having a section for comments during the appointment making process allows you time to locate those vehicles and have them accessible. This can be especially helpful during extreme weather days, such as heat, snow, rain, etc.
Verify Availability
Depending on the time, day, season, etc., the dealership can be very busy. With the vehicle buying process being quite lengthy, certain time periods can make the process even longer for customers. Scheduling appointments allow dealers and salespeople to verify that a salesperson will be available for a consumer during their scheduled appointment time.
It cuts down the people roaming aimlessly, waiting for a salesperson to take notice of them, while also cutting down the number of people that leave the dealership due to long waiting periods.
Avoids Herd Of Salespeople
As dealerships are traditionally recognized as the place where as soon as you walk towards the door, a herd of salespeople runs towards you. Scheduling appointments eliminate the 'need' for a herd. This way there will be customers arriving at specific times for specific salespeople.
This also helps to decrease the number of customers that might avoid dealerships due to the 'herd' situation. All they'll need to do is walk into the reception and say they have an appointment with so and so.
Better Car Buying Experience
Salespeople often do not know the intentions of every customer that walks into the dealership. They don't know what step of the process they are in nor do they know what vehicles they are looking for. Customers could just be looking to get a feel for the market, arriving at the dealership multiple times, the first time being at a dealership, nearing the end of their buying process, or just there to find more information.
Scheduling an appointment helps the salespeople and customer to get exactly what they want at a time that suits both parties. Both can come prepared with all the necessary documents and information to get the process underway quicker.
Best Practices For Scheduling Appointments
To maximize the productivity of your team and keep a steady flow of consumers coming through your doors, scheduling appointments is the next big thing. Here are a few of the best practices that will help to ensure that your dealership is setting and maintaining scheduled appointments as best as possible.
Schedule In Consecutive Blocks
Many find that scheduling the morning appointments backward starting at noon and the afternoon appointments from noon forwards help to reduce any empty slots during the day. Though even during the lull periods, staff can use the time to complete administrative tasks, hold team meetings, or catch up on documentation.
It can also help to reduce overhead costs as your staff can go home early or come in late during days where they have lighter appointment loads.
Implement Appointment Reminder System
You can minimize the number of no-show appointments through the use of an automated system that can call or text customers at set intervals. You should also give your customers the ability to reschedule or cancel (up to a point) by directly responding to the message.
You should also have a cancellation policy that should be informed to your customers, such as including it in your appointment reminder messages. The key to customer satisfaction is good communication. Automated reminders are a great way to reduce no-shows and improve communications.
Have A Waiting List
Even with all your preparation, no shows and/or late cancellations will be inevitable. It is possible for you to mitigate the negative effects that these often cause by creating a waiting list of customers. If some customers want an earlier appointment but there are no empty slots, they can be placed on a waiting list.
So, if any appointments are to cancel, then you can inform them and see if they can make it. Using a system that notifies customers and responds to the open appointment can eliminate the need for you to call them one by one. Customers will also appreciate the heads up.
Collect, Assess, and Repeat
If you are actively trying to reduce the wait times of your customer and maximizing productivity, you will need to understand all that is happening. Collect data that will help you troubleshoot issue objectively and set metrics that help you work as a team. It might even be helpful to have a salesperson standing in the waiting room for further assistance.
With more and more people preferring automation, scheduling appointments make it easier for customers to feel valued at dealerships. It avoids many of the problems that traditional methods raised, simply by attending to the customers efficiently and effectively. These are only a few of the practices that your dealership can employ, but they will help you get started on your appointment system journey.
References: AutoTrader