CBT News Anchor Joe Gumm reports on U.S. automotive sales totals for the month of January 2018 at dealerships around the U.S.
The (SAAR) seasonally adjusted, annualized sales rate for the month was 17.2.
WINNERS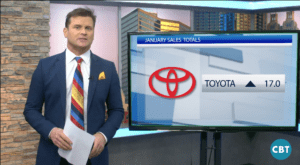 For our winners, we start off with Toyota.  The company's namesake brand was up 17%…it's biggest monthly jump since May 2014.  Surprisingly, Toyota posted a 5% increase in passenger-car sales.  Pickups rose 27.3%.  The luxury Lexus lineup increased 15%.
Advertising Partner

Highlighted by the popularity of the Rogue crossover and its increase of 25.8%, Nissan's brand was up 12.1%.  With Nissan's brand trucks, crossovers and SUVs all combined, the automaker set a January record, up 18%.
Volvo was up 60.5%.  Mazda increased 15%.  Mitsubishi was up 31.2% in January.  Sales at Subaru edged up 1.1%.
Some of the other automakers looking positive for January…included VW's brand, up 5.2%.  Porsche increased 4.7% and Audi rose 9.9%.  Land Rover ended the month up 4.6% and BMW was up 5%.  Jeep had a slight increase of 2.2% and sales were up at Kia.
GM was up slightly at 1.3%, with Chevy's brand posting a 5% increase.  Chevy was powered by a 14.5% rise in sales of the Silverado full-size pickup. The Colorado midsize pickup also recorded a rise of 24.9%.  Buick rose 4%.
LOSERS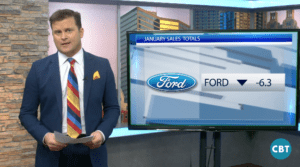 Let's take a look at the losers, starting with FCA.  Fiat declined 43.2%.  Dodge fell 31.2%. Chrysler decreased 20.9% and Ram declined 15.8%.
Ford Motor Co. ended a four-month winning streak with a 6.3 percent decline. Ford's brand fell 5.2%.  Lincoln declined 27%.
Honda had a slight decline of 1.6% and a 3.2% decline in luxury Acura sales.
Although GM was up, GMC's brand fell 11.4%.  Cadillac's slump continued, as the luxury brand fell 3.9%. Jaguar declined 11.4%. Mercedes had a small decline, 0.3% and Hyundai's brand dropped 11%.