Tesla has been blazing new paths since it was founded by Elon Musk back in 2003. The manufacturer's commitment to Electric Vehicles (EV) has revolutionized the market and forced legacy manufacturers such as General Motors (GM) and others to take notice. It is becoming more apparent that those who don't try to keep up with the trends set by Tesla's are likely to get left behind.
In addition to revolutionizing EV manufacturing, Tesla is also famous for its approach to automotive retailing. As if Tesla's decision to own its distribution network and denounce third-party dealers is not controversial enough, last week Tesla made an announcement that it would be closing several stores and placing a greater emphasis on online-only sales.

The announcement comes in the wake of shrinking profits and a company initiative to lower vehicle prices by an average of 6 percent, including a new $35,000 Model 3.
Tesla's aggressive sales strategy will no doubt have ripple effects throughout the industry, but what are the long-term implications?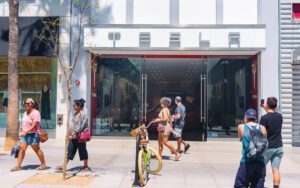 Will Other Manufacturers Follow Suit?
Companies like Amazon are making sure that shoppers can buy just about anything online. There is little effort involved and risk is low because returns are easy and shipping is generally very fast. Online shopping also has a natural way of fostering aggressive price competition.
Studies show that generations from Baby Boomers to Millennials (including Gen-Xers), have progressively greater proclivities toward online purchasing. So why is automotive retailing so slow to adopt the online trends?
The answer is likely the long-standing interdependence between manufacturers and independent dealers. Manufacturers rely a great deal on independent dealers to sell their vehicles. Tesla, on the other hand, seems to do a better job of pre-selling vehicles. Historically, Tesla buyers are happy to put down a $1,000 deposit months in advance for a car they have never driven.
Add to these market trends the fact that auto dealers already have a bad reputation, and it is no mystery why Elon Musk is banking that auto buyers want to buy cars online. While independent dealers are not likely to disappear overnight, legacy manufacturers would be unwise not to take notice of Tesla's recent actions.
Do Consumers Really Want to Buy Cars Online?
Online shopping has become incredibly popular on the backs of better information, customer reviews, and easy returns. The same will be true for automotive online retailing. Tesla has already proven it can sell cars without a test drive, but what about returns? Tesla has that covered as well with a very liberal return policy that allows customers to return the car for a full refund if not satisfied.
But do consumers really want to buy cars exclusively online?
According to Cox Automotive analyst Michelle Krebs, "studies show consumers want to do more of the car-buying process online," But she cautioned that doesn't mean they're ready to complete such a major purchase completely online. "Not only do people want to test drive the vehicle, they want to sit in the car and learn the technology. Who's going to show them that?"
It is also interesting to note that while Millenials seem to want to purchase everything online, Generation Z (born between 1998 and 2010) is showing a preference to shop in-store versus online. These digital natives want to touch and feel their purchases more than previous generations, but they also place a high emphasis on technology in the shopping experience, such as social media presence complemented by touch screens in brick-and-mortar stores.
Conclusion
While the future of automotive retailing is still unclear, one thing is certain – the landscape is evolving. Those manufacturers and dealers who don't pay close attention and try to adapt could get left behind.