To truly see CSI and revenue go through the roof, your first step is converting the phone from a liability into an asset.
Unlike sales, the Service Department has long ignored the importance of the phone. It's not often you see Service stakeholders invest in training and technology to create a better experience on phone calls. The phone feels like more of a burden than a strength, especially when measured against a fifty item to-do list, internal disputes and customer frustrations. To top it off, most employees aren't near their phone that often.
I wouldn't be surprised if you told me the phone gets placed on the back burner pretty regularly.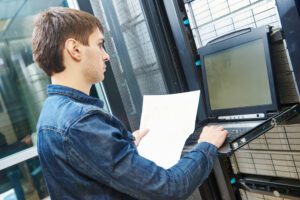 Advertising Partner

A lack of grip on the phone is dangerous, though. Your team keeps the lights on at the dealership. They're directly responsible for either retaining or losing lifelong customers. They're pivotal to revenue expansion. So isn't it important to make sure customers are happy – not just at the dealership, but in every interaction, they have with your team? Imagine the potential revenue and CSI scores you'd see if the phone was just properly managed on a consistent basis.
Your callers expect a seamless customer experience over the phone. If you look at any service-oriented business, you'll notice heightened attention on customer experience in recent years due to raised consumer expectations. Amazon has even gone so far as to invest in technology that will allow customers to "just walk out" of their stores. Companies in today's landscape must be thinking of innovative ways to put the customer first and provide a top-notch experience to stay ahead.
Your Service department is no different. Customers have more options than ever; you must be on top of your game – every call, every time.
Based on our data, Service departments receive an average of 2,540 calls per month. Of those calls, 37 percent are appointment opportunities. With the average repair order costing about $250, your profit potential is at every corner. Losing out on valuable customer opportunities due to poor phone performance just won't cut it anymore.
From working closely with thousands of Service Managers, I've discovered three main concerns they have regarding calls coming into and out of the Service center. Ready to quickly and easily put the phone at the forefront? Let's go.
Problem Number One
Service Manager: I don't know why my prospects and customers are experiencing long holds and sometimes not getting through at all.
Phone chaos starts with callers just trying to reach someone who can help them. Yikes. That scenario sounds entirely preventable, yet remains a central roadblock in the industry.
Fix it today:
Staffing Your Phones
With your team frequently away from the phone and working with customers in the drive, long hold times become a huge, huge problem. There's a super simple fix: adequately staff your phones. Make it easier for calls to get to the right person by utilizing a multi-ring, which allows you to ring multiple phones at the same time. The most qualified Service representative who answers will be connected through to the caller. Phone call reporting solutions can help you understand the times of day and days of the week that receive the highest volume of appointment opportunity calls to adjust staffing appropriately.
Call Scheduling
Based on Car Wars' data, 52% of callers will not call back if the initial call isn't answered. Call scheduling allows you to control the routing of calls based on time of day or day of week. Consider using call scheduling after hours to route phone calls to a call center or cell phone. If your Service agents aren't by their phones, the calls still need to be answered.
Bridge/IVR
You may have heard these options referred to as 'menu routing' or 'phone trees,' but a bridge is used to route callers to various areas of your Service center. It may start with a prerecorded greeting sounding like, "Thank you for calling. Press 1 for Parts, Press 2 for Service…" On average, callers coming into a bridge line are connected with their intended party sooner than those without a bridge.
Problem Number Two
Service Manager: I don't know if my agents are doing all they can to convert callers into booked appointments.
This statement should be the outlook that every decision maker in the Service drive has, as the vast majority of Service appointments are initiated over the phone.
Once you're driving more calls, your people need to know how to handle them. To help them properly do so, hold them accountable. What gets measured gets managed.
Fix it today:
Train agents to request an inspection
Hold meetings once or twice a day to review phone handlers' inspection request rate and performance. If specific agents are struggling, give them some pointers to help with converting calls. I'd recommend:
Inviting every caller in for an inspection. Place a sign next to every single phone that reads: Every call has an appointment request!
Avoid price quoting over the phone. If a caller says she needs her brakes looked at, ask her: "Just curious, how do you know you need brand new front brakes? You actually may not need them. It would be much better for you if one of our factory certified technicians took a look for you to give you a fair recommendation. When can you come in?" This word track helps your team avoid the pitfalls of her hanging up and price shopping at other Service drives. Your agents should lean on the expertise of your factory certified technicians and request the inspection on every call.
One-on-one coaching calls
Carve out some time during the week to review a few calls with either the entire team or in individualized coaching sessions. On these calls, determine the main problem areas and come up with a game plan to alleviate them on future calls. Hold them accountable for solid phone performance, and you'll have more ROs and Service appointments.
Set an example
You say you don't know if your agents are doing all they can to convert calls into appointments, but are YOU? If you notice your team struggling, try taking a look at your performance. Get on the phone and execute on some of the following types of calls:
Make confirmation calls for appointments set. Call customers, letting them know your staff is looking forward to having them in on X date at X time. Assure them they'll be fully taken care of and provide any necessary details upon arrival.
Call prospects who: didn't speak to someone who could help them, weren't offered an appointment and/or booked a soft appointment with no scheduled date and time. Salvage any mishandled phone call.
Reach out to customers who were just in for an appointment to ensure they received the best experience possible. You'll be shocked to discover what this can do for your CSI.
Problem Number Three
Service Manager: My team isn't taking the time to get on the phone and reach out to customers.
Executing outbound calls is huge for CSI and helps you capture the most readily available and hottest opportunities. Proactively reaching out to customers with details — such as status update calls — also reduces your amount of inbound calls, which helps alleviate your already-slammed phone lines. To take advantage of additional revenue opportunities and show customers you genuinely care, have your guys take it up a notch on outbound calling.
Fix it today:
Status updates
If customers calling in to check on their vehicle often happens at your drive, it's probably a sign your guys aren't operating with an outbound-centric mindset.
Enforce a process (and actually measure it) where agents provide customers with frequent status updates. The recommended amount is at least once a day per customer. It's simple and only takes a few minutes.
If I'm having my car serviced for its routine 6,000-mile checkup, I don't want to find out at 6 p.m. that my car is ready when I've already left the area and headed home for the night. If only I had a better idea in advance of when my car would be ready, then I could make better decisions based on my schedule. Now guess how high I'd rate the Service center on my visit survey? Pretty low, as I'd feel like they disrespected my time and didn't make things as easy as possible for me (it may sound pretentious, but this sentiment rings true for a majority of today's consumer base). Subsequently, my low rating — and most likely others' low ratings — just sent your CSI score on a downward spiral.
By frequently following up with customers on their vehicle status, it shows you care. Instill a mentality in agents that something minor — such as a status update — can either make or break the customer experience. If you do, you'll outlast the competition.
Declined appointments
Let's say about a week ago you had a customer call in to have his transmission looked at. The agent offered an appointment. The caller asked how much it would cost. The agent let him know the exact price and the caller thanked him. *Click.* Your agent's poor phone skills just lost you potential revenue.
On these appointment-opportunity calls, it's essential agents don't price quote over the phone. Some good questions to implement here are: How do you know you need your transmission fixed? Why don't you bring the car in and have one of our factory-certified technicians take a look? Agents should sound confident in your team's brand and services.
Since you can't go back in time on a call like the above, what you can still do is work to salvage the missed opportunity. It's your team's obligation to ensure customers' vehicles are safe and operating at their highest potential. Declined appointment calls should be the most valuable part of your team's day. I've also seen huge success in managers making these types of calls — show your team you're willing to get right there in the weeds with them!
No shows
This type of call is another good one for managers to be making. Chances are if the caller didn't show for the appointment, the agent didn't set a firm date and time for him or her to come in. Based on Car Wars data, firm appointments are three times more likely to show than soft appointments.
Reach out to these hot leads to inquire what stood in the way of their showing up. Ask if they still need their vehicle looked at. Go above and beyond to rescue any ROs that may have gone haywire.
By solving the problems happening on the phones at your Service center, you'll see more return customers and improve your CSI scores. In today's market, flawless customer service is the expectation, and it all starts with the phone. It's time to use your data, not your gut, to monitor what's happening at your business.