As we move into an era of self-driving cars and pervasive e-commerce, it seems that the current iteration of the automobile dealership is due for a makeover. With Tesla's recent announcement about store closures and e-commerce giants like Amazon and Walmart closing in on the reality of buying cars online, what does the next generation of automobile dealerships really look like?
Perhaps this question can be answered by taking a closer look at the immersive and interactive Porsche Palm Springs, which debuted recently in the California desert. The dealership sits on a 2.7 acre lot with 45,000 sf of facility. The building is LEED-certified, utilizes solar power and is designed to service and recharge electric vehicles such as the new Porsche's Taycan.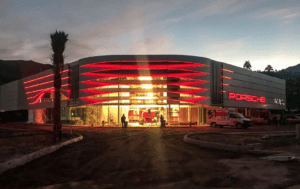 With a major shift underway toward online vehicle sales, the function of a dealership is naturally shifting from that of a sales point to the more nebulous role of a customer experience center. As millennials and younger generations come of age, Research shows that they crave experiences more than tangible items. The automobile dealership of the future has to sell cars by delivering these experiences without overtly trying to "sell" anything.
Porsche Palm Springs does this in a big way. The showroom is designed with distinct areas for each model where it can be displayed in its own unique environment. Each environment feature audio-visual experiences (including interactive touch-screens), as well as virtual reality (VR) elements that allow customers to experience their own unique car configuration before purchase.
The showroom includes the Porscheplatz social space, a café, and a kid's corner. The second floor features a lounge for events known as Werk 1. One of the most compelling and immersive features of the new dealership is the service waiting area. The service lounge connects customers with the repair process through a wall of windows showcasing the inner workings of the shop itself.
Porsche Palm Springs is the prototype of a new corporate architecture philosophy at Porsche known as Destination Porsche. The aim of this new philosophy is to transform the dealership into a central gathering place for the Porsche community. Porsche is currently working on 2 new dealerships in Dortmund Germany and Hangzhou, China to be opened in 2020 as the final concept for this next generation of dealerships.
With Porsche leading the way, look for other manufactures to follow suit as the automotive industry gets thrown headlong into this new era of automotive retailing.