Analysts have been cautiously optimistic for months while attempting to project when high-interest rates, Federal rate hikes, and high new car prices would finally have an impact on sales. It looks as if consumers in September are finally reacting to the effects of these factors. Edmunds and Cox Automotive are estimating overall declines of 8.3 and 7.2 percent respectively. While interest rates and other financial events can be blamed for the fall, there are a few other reasons why this September was not on par with the sales of 2017. Read on for takeaways from this month's auto sales results.
Hurricane Florence versus Hurricane Harvey
The financial markets can have a field day with consumer behavior and expectations, but weather can also become a significant factor. In comparison to last year, the early part of fall was met with some of the country's most devastating hurricanes in recent memory. Hurricane Harvey brought winds and flooding to parts of Texas the previous month, and buyers were running to dealers to replace their vehicles in September.
This year, Hurricane Florence touched down in the Carolinas. There will likely not be as large of a bump in sales since Florence failed to cause as much car damage as Harvey. However, last year's bump can be attributed to Harvey, and Florence's impact would likely make it impossible for car sales to catch up with 2017.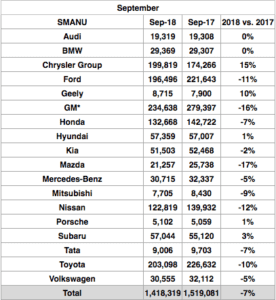 Most Major Automakers Saw Declines
Automakers that have chosen to keep larger fleets of passenger vehicles likely paid for the decision in September. The sale of passenger vehicles attributed to much of September's decline. Ford and Toyota experienced a decrease in sales of 11.2 and 10.4 percent respectively. Nissan and Honda, automakers who also have mixed SUV and passenger fleets, also experienced declines of 12.2 and 7 percent respectively.
Brands that have decided to focus more of their branding and attention to SUVs were able to escape the downturn. Subaru and Fiat Chrysler continue to defy expectations. Subaru saw an increase of 3.5 percent, while Jeep's popularity helped Fiat Chrysler to a sales bump of 14.7 percent. General Motors no longer provides quarterly results, but the maker did express they saw declines as a result of higher SUV sales. Cox Automotive and Edmunds has their estimated sales decrease slightly over 15 percent.
Loans, Down Payments, and Financing Do Not Bode Well for the Future
Each month, the state of loan terms, down payments, and financing percentages are having more of an impact on car sales. In September, the average loan payment increased from $3,187 in September 2017 to $4,198 this year. That number was $3,555 just five years ago. Also, only 5.6 percent of car buyers are receiving zero percent finance loans. This is down from ten percent when compared to last year, the lowest it has been since2005.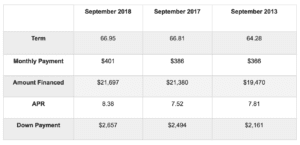 However, average loan terms contracted were at their lowest at 68.7 months in September 2017 compared to 69.4 months last year this time. The trend of rising interest rates is likely not going to slow down or improve upon these factors. The average percentage rate for new vehicles in September is 5.8 percent, an increase from 4.8 percent in 2017. If this trend continues, it is likely that we will continue to see unfavorable buying conditions for consumers.
Final Thoughts
This is one of the first months of the year that has started to reveal the impact of rising interest rates, down payments, and higher new car prices. According to Kelley Blue Book, average new car prices have seen a two percent year-over-year increase. The estimated average transaction price for light vehicles in the United States is $35,742. These rising prices and rates in September may be the turning point for the rest of 2018, and it could be an indicator of what is to come in the lead up to January.