Welcome to another edition of The Friday 5 with Steve Greenfield, Founder and CEO of Automotive Ventures, an auto technology advisory firm that helps entrepreneurs raise money and maximize the value of their companies.
Q3 Earnings
We're in the middle of the Q3 earnings season, and the strong performance from automotive stocks continues to illustrate just how resilient the auto industry and dealer operations have been.
Thin inventory and strong demand sent Q3 gross profits soaring on both new and used vehicles for AutoNation, Penske Automotive Group, and Lithia Motors; all of which reported record results with bottom-line increases topping 80 percent.
AutoNation CEO Mike Jackson noted that they haven't had sufficient new or used inventory to meet demand, so they've been able to hold prices AND gross margins. Hopefully, healthy demand and profits continue for dealers into Q4.
Strong interest in the automotive space from investors continues. A strong stock market, Carvana's $35 billion dollar market cap, and the ease of going public through special purpose acquisition corporations, or SPACs, is adding fuel to the fire.
Mergers
This week it was announced that CarLotz, an online consignment store for used cars, has agreed to conduct a reverse merger with SPAC Acamar Partners Acquisition Corporation. The deal values Carlotz at $827 million dollars, similar to where SHIFT Technologies is currently trading. A group of investors that includes Fidelity Management, KAR Global, former GM CEO Rick Wagoner and TRP Capital Partners has also committed to a $125 million investment into the combined company.
As part of the deal, CarLotz will receive an injection of up to $321 million dollars, which it plans to use to expand beyond its current eight locations.
It's very interesting to see KAR Global, the parent company of the second largest physical auction company ADESA, invest in a physical dealership. CarLotz would be the third major U.S. online car seller to go public this year after Vroom and Shift Technologies.
While selling nearly three times the number of units, CarMax's market capitalization at $14 billion dollars, is less than half that of Carvana's. But the country's largest retailer of used cars is not sitting still, having recently announced that they've rolled out their Omni-channel customer experience to 100% of their stores.
CarMax hiring aggressively
In a strong signal this week, CarMax is aggressively hiring in preparation for growth.  CarMax announced plans to hire more than 3,500 positions companywide by the end of the year.
These positions include more than 1,300 Auto Technicians, Detailers, Painters and Inventory Associates; More than 900 Store Sales and Business Office Associates; More than 600 Customer Experience Consultants; and more than 100 Digital Technology, Product and Data Science employees.
AutoNation
The automotive retailers are feeling confident, and AutoNation announced plans to nearly double its combined new- and used-vehicle sales to 1 million annually, and to add at least 95 used-only AutoNation USA stores to help reach that goal.
The company did not specify when it aims to reach 1 million sales, which would be up from almost 529,000 last year, beyond calling it a "long-term" target.
AutoNation, which has only five standalone AutoNation USA stores today, said it will add five more by the end of next year, grow to 30 by the end of 2023 and to at least 55 by the end of 2025. The nation's largest new-vehicle retailer wants to have at least 100 AutoNation USA used-car stores by 2030.
SoftBank
Scott Painter, the founder and former CEO of online car leasing startup Fair.com, is exploring a bid to acquire the company from SoftBank's Vision Fund and other investors. Painter, who stepped down from Fair last year, is in conversation with one or more SPACs to potentially make a bid.
In late 2019, Painter resigned as CEO of Fair, but stayed on as chairman. Painter founded Fair in 2016 after leaving TrueCar the previous year. Fair grew to over 700 employees and acquired
Uber's leasing company Xchange Leasing in 2017, and Ford's Canvas subscription platform late last year. At that time, Fair claimed it would be adding Canvas' customers to an existing base of about 45,000 monthly users in the US.
SoftBank led a $385 million dollar investment into Fair at the end of 2018, pushing the startup's valuation to about $1.2 billion dollars. Fair has raised close to $700 million dollars in total from investors.
Subscription Models
Flexdrive was launched by Cox Enterprises in 2014, and in 2017, Cox and Holman Enterprises announced a joint venture to hold Flexdrive. In February of this year, it was announced that Lyft acquired Flexdrive for just $20 million dollars.
Founded in 2014, Clutch was a similar vehicle subscription service launched by Cox Enterprises. Clutch was then acquired by Cox in 2018, and is now a wholly-owned subsidiary of Cox Automotive. Clutch powers a number of OEM subscription services, including the Mercedes Benz Collection and the Porsche Drive program. Clutch claims to work with three-quarters of OEMs, and over 400 dealerships.
Companies to Watch
We continue to highlight interesting companies in the automotive technology space to keep an eye on. If you read my monthly newsletter, I showcase a few companies each month, and we take the opportunity here on the Friday Five to share some of those companies each week with you.
Today, we'll look at three very interesting automotive technology companies, Motive Retail, Darwin Automotive, and Spiffy.
Motive Retail
First up is Motive Retail, a software company founded in 2008 by partners Kim Campassi and Dan Seats, and based in Louisville, Colorado.
Motive Retail provides innovative and dynamic system integration solutions to auto manufacturers and dealer software systems.
Motive Retail provides a suite of solutions that help businesses integrate faster, better, and with more partners. You can kind of think of them as the API layer between dealers, OEMs and software vendors.
Working with third parties on complex integrations typically introduces variables in the process you can't control, and results you can't predict. You're often left with bad data, heavy support costs, and frustrated customers.
Motive Retail reduces the cost, time and pain of integrating software systems.
Darwin Automotive
The second company we're showcasing this week is Darwin Automotive, founded in 2014 by CEO Phil Battista, and based in Boca Raton, Florida.
Darwin's mission is to connect consumers' desire for a seamless, transparent, shopping experience with dealers' desire to provide them with this experience, while increasing profitability.
Darwin currently has over 7,000 dealers across their three business lines, which are Digital Retailing, F&I Software and Consumer Direct.
Darwin's Digital Retailing solution allows consumers the option to handle more of the car buying process on-line.
Darwin Automotive has become the leader for F&I presentation software, providing more than just The industry standard F&I Menu. Their patented technology evaluates the overall car deal for each individual customer,  to determine the ideal presentation which is proven to increase sales and decrease chargebacks.
Finally, their Darwin Service product provides dealers with the technology and training to sell declined F&I products to customers that didn't buy them at the time of purchase.
Darwin claims to be the fastest-growing software in the F&I space.
Spiffy
Finally, this week we showcase Spiffy, an on-demand car wash and detailing business, founded in 2014 by Scot Wingo, and located in Raleigh, North Carolina.
Wingo is a serial Entrepreneur who successfully started four startups, most recently exiting ChannelAdvisor, which IPO'd in 2013, and is listed on the New York Stock Exchange.
Spiffy is a technology-enabled on-demand service that allows consumers to request and schedule vehicle service and repair through a mobile app. Spiffy offers on-demand car wash, detailing and mobile oil changes.
Spiffy's goal is to provide truly convenient and environmentally-friendly car care for individuals and fleets across the country. With the Spiffy app, consumers can schedule, track, and pay for mobile oil changes, car washes, and other maintenance services at a time and date that fits their schedule.
---
Did you miss last week's episode of The Friday 5? Watch it here now! And don't forget to share your questions and comments with Jim Fitzpatrick at jfitzpatrick@cbtnews.com.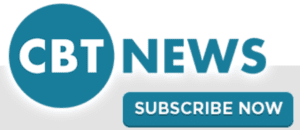 Be sure to follow us on Facebook and Twitter to stay up to date or catch-up on all of our podcasts on demand.
While you're here, don't forget to subscribe to our email newsletter for all the latest auto industry news from CBT News.