According to NADA, overall new light-vehicle sales took a small hit in July. Unit sales for the month came in at 1.39 million. Even though this number is higher than last year's 1.36 million during July, the seasonally adjusted rate (SAAR) is still coming in under 17 million at 16.82 million. 
Even with strong showings from Subaru, and Hyundai, strong light truck sales, and rate cuts from the Federal Reserve, July still saw a 1.4 year-to-date percent decrease in the purchase of new light vehicles. However, when only comparing last July to this year, new car sales saw an approximate 2.2 percent increase.

As a result, automakers and dealers will have to play a bit of catch-up as they go into the final stretch of the year. So, how did individual automakers fair, and what other trends defined the month? Take a look at our takeaways of July 2019 car sales.
July 2019 Brings a Mixed Bag of Results for Automakers
Most brands experienced rises in July 2019, with a few not being able to capitalize on the lower interest rates and extra selling day in the month. 
As far as individual performances, the winners of the month are Hyundai and Subaru at 12.1 and 7.9 percent respectively. Subaru continues to be on a roll, with the brand having its second-best sales month in company history. The brand's Outback and Ascent models led the pack for the best month ever in sales. 
In addition to Hyundai and Subaru, Honda, Toyota, and VW experienced increases of 2.5, 0.4, and 2.2 percent respectively. Unfortunately, Nissan did not fare as well as the others with a decrease in sales of 8.9 percent. 
Detroit automakers have all chosen only to reveal quarterly sales. However, Cox Automotive estimated that these automakers experienced either nominal gains or modest drops. GM and Fiat are expected to have increases of 3.0 and 0.6, respectively, and Ford is projected to have seen a 1.4 percent fall in sales.
Interest Rates and an Extra Selling Day Help to Boost Sales in the Short Term
In July, the average transaction price for a new vehicle was $37,030, an almost $2,000 increase when compared to the same time in 2015. Average monthly payments have also risen to $556, an over $100 rise from four years ago. 
Customers have been feeling more financial pressure at the dealership, and The Federal Reserve has decreased the burden a bit. July is the third month in a row to see a drop in average interest rates, and thirty-five percent of shoppers saw interest rates below 4 percent in this past month. Also, automakers and dealers are increasing the number of deals on new 2018 models. While this was enough to see a short-term increase in sales when compared to last year, it was not enough to put the SAAR at last year's numbers. 
Jeremy Acevedo, Edmunds' senior manager of insights expressed his concern about how decreases in sales may be a common occurrence for the rest of 2019:
"The extra selling day makes things look a little better than they really are, and we still believe sales will continue to trend downward through the back half of the year."
 2018 Models are Still Lingering on Showroom Lots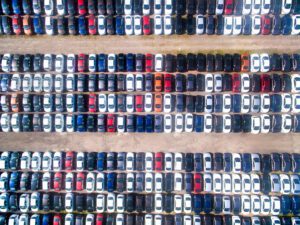 One area that is disconcerting to many automotive analysts is the amount of time new 2018 models are spending on dealership lots. When dealers typically would have their focus on selling new 2019 vehicles and clearing the way for 2020 models, many 2018 models have not yet been sold. Three percent of new cars sold in July were 2018 models; this is the highest number of outgoing-model year sales in any July ever recorded by Edmunds since 2002.
Acevedo also commented on the emergence of this development:
"We're seeing old cars lingering on dealer lots a bit longer than they should, which means that shoppers could see more attractive sales events as we head into the end of summer." 
So, while this could be troubling for dealers and automakers as the year winds down, consumers stand to have a lot to gain as deals are created to free up space on dealership lots for 2020 models.
Final Thoughts
July's short-term bump may look like a victory, but slowing sales and many other emerging trends are a cause for concern for dealers and automakers. From rising transaction prices to the large number of 2018 models still on dealership lots, sales will likely continue to slow as we move into the final quarter of 2019.
Also, consumers will continue to look for better deals. This could be in the form of searching for incentives on 2018 models as well as more demand for used vehicles which are currently $15,000 less than new cars. Dealers who can implement strategies to meet consumer cost expectations will be able to battle the competition in a tighter automotive economic landscape.