It's often said that in the car business having the right people makes all the difference. However, dealers continue to struggle with attracting, hiring and training the right people that fit their dealership. As we know, it's a very tight career market, so remember that the best place to find your next manager could be within your own dealership.
With that idea in mind, NADA has launched a new series that will help dealers train their dealership employees to take them to the next level of their career. Joining the CBT Network to talk more about this very exciting new program is Camron Wilson, Director of Training and Business Development, and Georgia Munson, NADA Academy Instructor.
Advertising Partner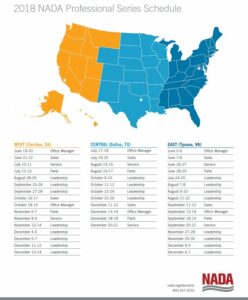 Times are changing and dealer groups continue to expand to new growth causing the number of dealers to rapidly shrink. Currently, with 8,500 dealer owners, the predictions say that that number will continue to shrink to an estimated 6,500 owners over the course of the next few years.
NADA recognized the need to engage more people within the automotive industry, sooner. NADA believes it's important to engage with the automotive industry community sooner than traditionally practiced. Georgia explains that in order to set the tone for the industry and make sure everyone is aware of how they can grow within the industry it's important to engage with the 1.3 million industry professionals sooner. By doing such, Nada is opening their view to where the automotive career can lead.
The NADA Professional Series grants certifications for new or high-potential department managers. Participants can choose from four management disciplines (Sales, Office, Parts, or Service) and complete your certification in as few as three months. The online professional series includes HR and DMS training, two days of core competency-focused training and two days of leadership training in a classroom. To learn more and become an expert in your dealer group, visit the NADA website for more details.