Spend an hour at a David Lewis training session and you ask the same question as all the other attendees: Where have you been?
Yes, Lewis' sessions are that transformational. "All it takes is a one-hour presentation and the dealers are asking when they can start training with us," says Lewis. "Everybody has something to sell dealers, whether it's software, training, equipment. They get bombarded with calls and they, unfortunately, have put up a defense shield. That's why we do a one-hour session so the dealers can see what we offer and what they will get. And, that's when they get excited."
Lewis started David Lewis & Associates in 1986, and his team of 26 trainers provides automotive sales training, dealership management training and service training to dealers across the country. They train about 700 dealers a year on a monthly basis either through visits to the dealerships, at their training centers or online videos.
He currently has three 10,000 square foot training centers in Philadelphia, Pittsburgh and Montvale, N.J., with plans to add two more next year in Cleveland and Detroit. He intends to open three facilities a year for the next 20 years.
Business has never been better. "The biggest problem I have found over all these years is that dealers don't understand the customer. They still have the high-pressure mentality of beating the heck of the customer. They don't have follow-up programs. Dealers use techniques that people don't like."
I Don't Want a Mercedes

Lewis' philosophy came from years of working in dealerships but it may have crystalized when he went to not buy a Mercedes-Benz. "I went into a Mercedes dealership with no intention to buy and met a salesperson who was unique. He made it all about me and I ended up driving home in a new Mercedes."
His "process" is called "inspirational selling," which advocates a customer-friendly dealership. "I thought it should be more enjoyable for the consumer," he says. "Buying a car should be fun. Selling a car should be fun. Unfortunately, it's not often that way, and if we put more fun into the process, we'd sell more cars."
He started telling the Mercedes story and it was the foundation for his first book (out of five), "The Secrets of Inspirations Selling."
His Mercedes story resonated with dealers because it showed a different way that — surprise! — worked. Dealers are "still doing the same things than when I started in the business 31 years ago. The only difference is that they have embraced the Millennial buyer who buys on the internet. But they still have the same sales processes, negotiations. They use tablets in fixed ops but if the service people don't know how to talk to customers, then tablets are useless."
So what does David and his team do? "We come in to create change. Everything around dealers has changed except them. They are frozen and we unfreeze them so they can go and sell cars."
One of the reasons why Lewis' training is so effective is that it is not just one seminar or training session. Once he or his trainers leave, management and the leadership team continue the training. "We train even when we're not there," he says. "We provide dealers with training modules and visuals so it's a progression of training. Everyone has a structured process for the next 30 days until we get back to the dealership in a month."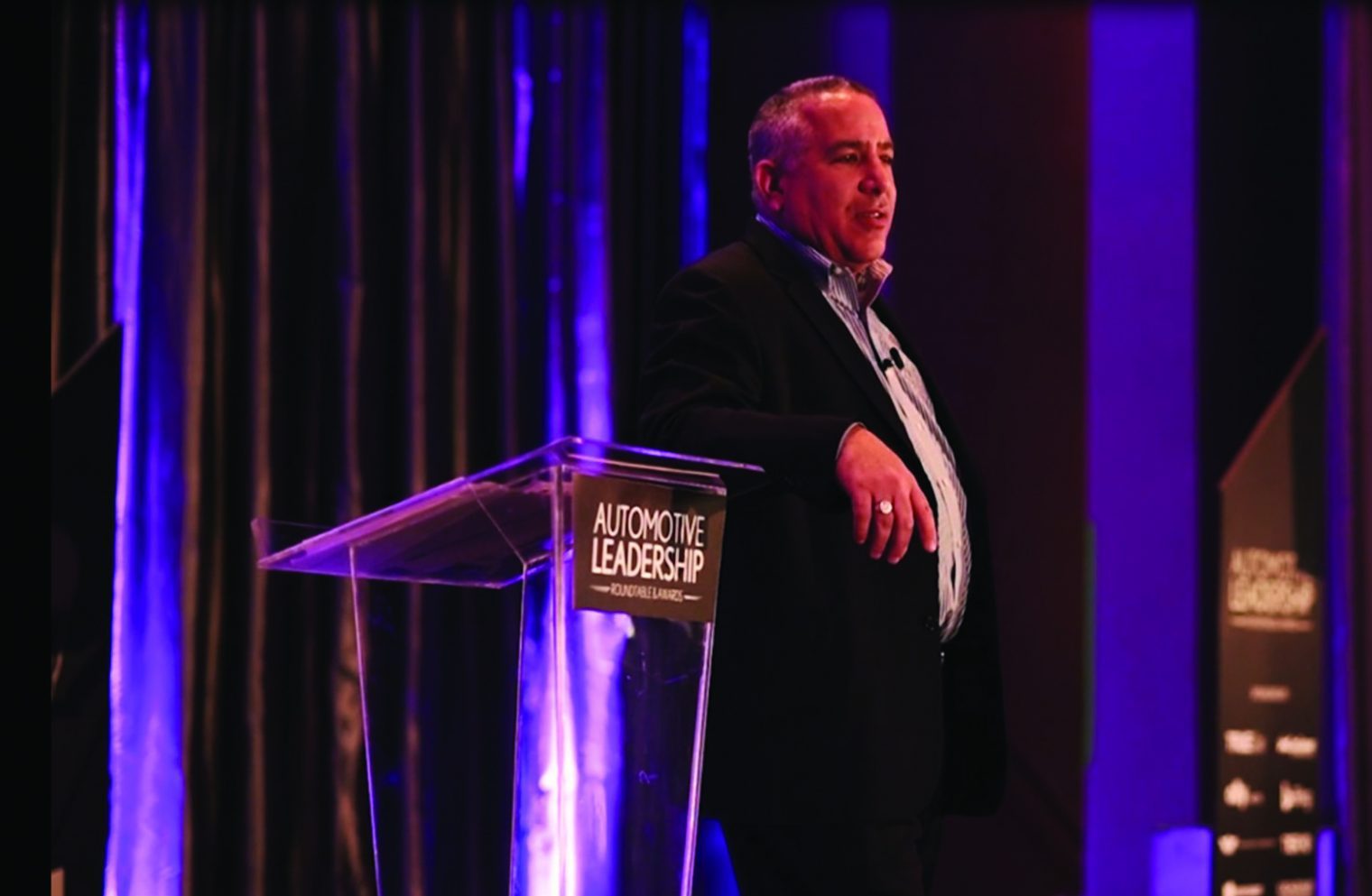 And, I Don't Want to Be a Trainer!
Lewis averages 30 resumes a month from people wanting to be a trainer and hires typically one new trainer every six months. "We are very particular about who we hire as trainers and they are very motivated to work with us."
Lewis, on the other hand, didn't set out to be a trainer. In fact, for a while, he wasn't sure where his career path would lead. Growing up in Andover, Mass. he worked a summer job for his neighbor's dealership when he was 13. At 15, he talked his neighbor into letting him sell cars and then had a work-study program in high school.
He didn't attend college, but he was a natural. Seven years later was a general manager. "I pushed the envelope. I enjoyed the challenge, the aggressive sales process. I enjoyed making a lot of money. I was going to school and making $500 a week."
In 1985 he tried to purchase a small dealership but the manufacturer thought he was too young. He started consulting with local dealers. "I talked about fixed ops, sales training, management training. I was 23 and very successful. One of the things that I did even at that young age was to understand my customers. I would read books about customers. I would talk to my customers and learn why they said this, why they were defensive. I analyzed them. It made me see customers from a different standpoint."
Although successful, he still wasn't committed to training as a career and tried to buy another dealership. Problem was, he was getting very successful. Without even marketing himself, word of mouth started him on a career path that was inevitable — and unstoppable. "I was getting calls all the time and I found my niche". In 1987 he moved to Pittsburgh and the momentum kept coming.
"Even in those days, I was not convinced I wanted to make my living as a dealer. In the early 1990s, the business started to grow really aggressively and I found my niche in F&I. Back then there wasn't a lot F&I training. I may have been the first consultant and I became known as the F&I guy." He built the business up to 20 trainers and was working with 600 dealers a month.
Eventually, he expanded beyond F&I into sales, sales management, leadership training and continued writing books. He was ready to take a financial hit in 2008, along with the rest of the business, but instead saw the opposite."I've had many dealers tell me the reason they were able to make it through was what they learned and put into practice from our training."
Lewis is optimistic about the future as long as dealers embrace change. "You cannot have growth without change," he says. "You can't wish upon a star, wave a magic wand. You have to create change within the dealership organization and then it'll happen."