Mike Sullivan Sells Cars and Spreads the Word about the Environment
By Mary Welch
Mike Sullivan has always been environmentally aware — whether it is surfing, putting in charging stations in his dealership or helping convince Tom Hanks to take a Prius to the Oscars back in 2003.
Today, as president and CEO of Sullivan Automotive Group with 10 award-winning dealerships and a state-of-the-art body shop, Sullivan is not only a proponent of environmentally friendly cars, he extends his environmental passion to teaching employees, friends and even school children the valuable lessons of caring for and protecting the environment. In fact, he, along with John Paul DeJoria, co-founder of Paul Mitchell and Patrón Spirits Co., was recently honored by the Grades of Green, an environmental education nonprofit, for their efforts in creating environmental awareness in young people.
And, while he aims to change everyone's behavior towards the environment, he admits it's not always easy. "My wife drives a Porsche Cayenne plug-in hybrid. We plug it in at night," he says. "She doesn't like going to the gas stations and she frankly doesn't care about the electricity. Even if it's 50 percent more [environmentally friendly], it's progress!"
Meet LA Car Guy
Of course Los Angles is a fertile market for the green message but Sullivan, AKA "LAcarGUY," has no pro
blem mixing the car business with saving the environment. His passion and community works are only matched by the outstanding service and innovative practices he brings to his dealerships. His dealerships rank among the top 25 of all Toyota dealerships, 2010 revenues of $634 million and more than 800 employees. He currently owns: Audi Pacific, Pacific Porsche, Subaru Pacific, Lexus Santa Monica, Pacific Volkswagen and Volkswagen Santa Monica, Scion of Hollywood and Santa Monica and Toyota dealership in Hollywood and Santa Monica.
He is one of the top hybrid dealers in the world and has the largest used Prius inventory in the world. For every car sold he donates $100 to a green charity. Since hybrid and diesel vehicles are highly advanced that require a very specific expertise, he built the largest green car service department in the country and staffed them with experienced green service technicians. He has seven service departments in Los Angeles County as well as two body shops that are experts in also repairing diesel, hybrid and plug-in vehicles
He is the first automotive dealer to install electric charging stations in Los Angeles for anyone to use free of charge and one of only eight dealers in California selected by Toyota USA to sell the new Miraj, Toyota's hydrogen fuel cell vehicle. He also added the position of manager of the environment whose sole job is to ensure they are reducing their carbon footprint through employee education and infrastructure changes. In 2010 he launched LAcarGUY.com/green that features his green vehicle inventory as well as green technology news and updates on his internal sustainability efforts.
Sullivan father opened a Volkswagen dealership in 1964 in Santa Monica and he went to work with his dad in 1976 before eventually buying him out in the 1990s. "I had 25 years working with my dad and now my kids are in their 30s and working with me and it gives me a whole new outlook on the family car business."
Adding and Subtracting Dealerships
While his father was content with one dealership, Sullivan had more aggressive plans. While they were together Sullivan added an Isuzu franchise and eventually a Hyundai franchise as it was just starting out in this country. And while those brands didn't work with his Santa Monica customer base, he knew Lexus would and became one of the first Lexus dealers, a decision he has said launched his career.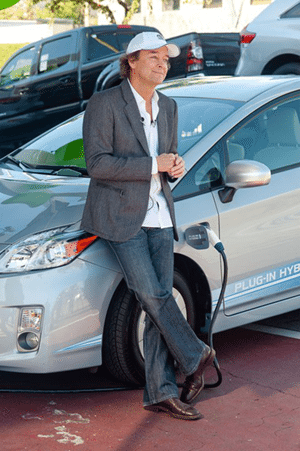 He started adding dealerships — VW-Porsche and Audi store in South Bay, near Santa Monica,  Toyota of Hollywood in 1997, Scion in 2002, Toyota of Hollywood in 2002 — while subtracting both the Isuzu and Hyundai dealerships. He brought another Hyundai dealership but faced challenges with a Mitsubishi one so he closed both and used the Mitsubishi property to build a new Lexus dealership. He also, for a short time, added the Lincoln-Mercury brand in Hollywood but sold it in 2007.
"It was hard making money," he says looking back at his early days. "I could sell Prius in Hollywood and then moved to Santa Monica and now we're among the biggest Prius dealers in the world. Lexus Santa Monica is the largest hybrid dealer. I realized that in a business that's known for being environmentally dirty, I could be the good one. I could be the best of that group and that's how it started."
He then set up free charging stations in his Toyota dealership. "People would come in and use our charging stations even if they weren't interested in buying," he says. "I think they really wanted a parking space in Santa Monica for a couple of hours. I started doing things like that and it caught on."
Community Outreach
Sullivan's environmental crusade started early. "I grew up in Santa Monica in a real natural environment and I grew up with surfers. I learned early on that after a rain storm all sorts of stuff would be in the water. I'd go diving and people were allowed to dump sewage 100 yards off shore. That's stupid and I didn't understand. But, that was forming the foundation as to why I cared.  I started giving my hard-earned money to the causes as well as my time. I live in a beach house with solar panels. I love off the grid 90 percent of the times. There are things you can do."
He started a large community outreach, as well as in his dealerships, about changing habits to benefit the environment. "I realized it was my job to show people it wasn't all that difficult to change and to get into the habit of working with the environment."
He started out with little things at the dealership such using the right recycling piles. Every four months the company recycles any accumulated E-waste, which is all the electronic components and products that are no longer used. Last month he diverted more than 3,000 pounds from landfills. "If we could reduce the size of landfills, that's substantial. I brought in mulch worms, which is a really fascinating subject. People like to hear about poop when you're having breakfast. But as I was educating my employees and they were going home and educating their families. Sometimes the kids were learning things that they'd bring home that information. I wanted to make it fun and meaningful for kids but also to change their habits."
Green is Good For Business
Although he admits he would be on his environmental crusade regardless of his business, it does bring in customers, especially after he branded himself as LAcarGUY. "I started to show up organically on environmental pages and it gave me a platform to talk about it and become more of a public figure. We had the first gold LEEDS Audi store in the country," he says. "Maybe that brings in business. Reviews are such a big part of my world and if they're searching around and find me, maybe they're predisposed to like me. All I ask it for them to give me a shot and I can show them I'm that guy."
He feels a real responsibility not only to the cause but to his business. "It's a real responsibility and I get it. The world doesn't want a poser. But I don't mind being the front person. When Prius launched they were pretty ugly in the early days. But we got famous people like Tom Hanks, DiCaprio, Cameron Diaz to go to the Oscars in this funny car. Forget what their motivation was but whatever it was, it showed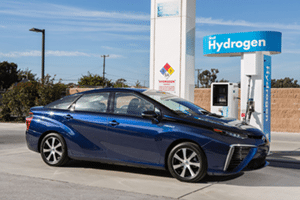 the public that it was a cool thing to do. Prius and Hollywood went mainstream. It became a part of the global green movement and once you start finding opportunities, you'll see they're all over."
He also is excited that the car manufacturers line up with him. "Toyota, Volkswagen and Subaru are arm-and-arm with me. Porsche gets it. They all want to be involved," he says.
He is excited about the Miraj, which he says is a "really cool car. If you look at the cars that are using alternative fuels, they are getting really strong numbers. Tesla is a fascinating story and I'm a fan.  Prius is doing a great job, so is the Chevy VoIt and it's changing the Chevy buyers' mentality. I like the technology. I'll take the time to plug it in. We're moving toward the next battery generation. You always take arrows when you're out in front."
Right now, Sullivan's three children aren't ready to be out front. "That's fine, at their age I didn't want to be either," he says. But they are all involved in the business. "They get the car business and they get the whole giving back part. When they were little we would take one of their Christmas presents and give it back. I live this way and I've found an opportunity to teach others and expose them to being environmentally aware," he says. "And I love selling cars and putting smiles on people's faces."