As our world gets back to work after the initial pandemic shutdown, we are noticing successful social distancing protocols implemented all around us.
Grocery and other stores now monitor the number of people in the store, with markings on the floor to remind people to social distance. Many restaurants have been allowed to reopen with tables spaced out to allow for social distance.
The bottom line is that life goes on, albeit in a different way than what we were used to pre-pandemic. We must adapt to survive, and your dealership service department is no exception.
Although there may be restrictions on how many customers you can physically accommodate, there are proven strategies you can implement to keep your service drive packed with customer vehicles while still observing strict social distancing protocols. 
Schedule the Appointment Online
When working to limit traffic in your store, it is important to schedule service work in a manner that avoids large crowds of people congregating in your store at peak times of day.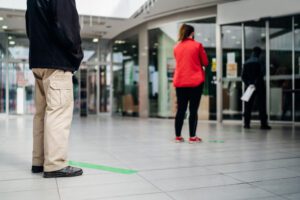 By allowing customers to schedule an appointment online, you can ensure that you have the capacity to handle that customer when their vehicle shows up.
For online scheduling to work, you need to factor in your own restrictions. Don't overbook, especially if you offer some sort of valet service. 
Contactless Pick Up and Drop Off
The best way to accommodate social distancing in your service department waiting room is to eliminate the need for customers to wait in your waiting room in the first place.
More dealerships are now offering valet pick up and drop off services for customers. This works especially well if appointments are scheduled online. You can set your online scheduling calendar to account for available valet personnel.
Valet service typically requires at least 2 drivers to retrieve and deliver customer vehicles, but rideshare options like Uber or Lyft can also be utilized in this process, depending on your available personnel.
There are also options for contactless customer drop off by providing a secure location to park their vehicle and leave the key in a secure location like a key kiosk. Customers can retrieve the key in a similar manner after paying their bill online and receiving the required access code.
Email or Text Notifications
For the best contactless experience, it is imperative to offer up-to-the-minute updates on the service process. There are several tools available that will notify customers via text or email when work has started on their vehicle, when work has completed, and when any complications are encountered.
Some tools will even allow you to include pictures and videos taken by the technician. Including images and videos in your proposal to the customer allows them to see the work needed, and increases the chance they will approve the work. Remote approvals allow the customer to approve or decline the proposed additional work right from their smartphone — no need to leave their home.
Electronic Paperwork and Billing
Once work is completed, you can complete the paperwork and billing completely online by sending a notification when the work is complete along with a request for payment, including a copy of the final invoice. This can be done via text or email.
By using any number of safe and secure digital payment options to complete the service, customers avoid waiting in line at the cashier and completely eliminate any concerns about physical distancing while at the dealership.
Finishing Touches
The final touch in reassuring uneasy customers is to make sure the vehicle is clean and sanitized before returning it to the customer. It's a good idea to make sure your customers know that their car has been given a thorough cleaning.
One final wipe-down at the customers' home by your valet can really drive this idea home. That little extra can put them at ease and goes a long way toward building trust and cementing a long-term relationship.
---

Did you enjoy this article from Ken Strong? Read other articles from him here.

Be sure to follow us on Facebook and Twitter to stay up to date or catch-up on all of our podcasts on demand.
While you're here, don't forget to subscribe to our email newsletter for all the latest auto industry news from CBT News.