According to a recent study by the Specialty Equipment Market Association (SEMA), young car enthusiasts ages 16 to 24 spend $7.2 billion each year customizing their vehicles.
"More than 7.9 million young people customize, modify or upgrade their vehicles each year," says SEMA Director-Market Research Gavin Knapp. "Their vehicles not only help them get from A to B, they are also an integral part of their social lives."

Of course, vehicle customization is not new to the rising generation. Car enthusiasts have been modifying their vehicles for performance and style since the age of the Model T.
So, since buyers need to modify their vehicles anyway, the question is, why are you not offering more modifications in-house at your dealership?
Barrier to Entry
Nearly every dealership parts department carries a line of branded accessories, from floor mats, to bug shields. Unfortunately, vehicle modification options tend to stop there for most dealers.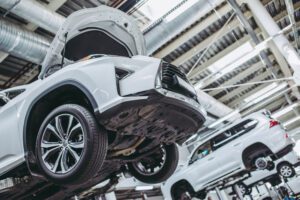 Dealerships notoriously stink at trying to do aftermarket upgrades. A successful dealership accessories department is more than floor mats and bug shields. It must be approached as a business within a business; its own profit center, not an afterthought.
This presents a barrier to entry that requires serious consideration. A dealership accessories department cannot be a half-hearted endeavor. For any dealer willing to break through this barrier using good business sense, there is a lot of incremental business and blue-sky profits to be had.
Related: How to Upsell Accessories in your Dealership(Opens in a new browser tab)
Specialization is Key
There is a powerful sentiment in business that suggests you cannot be all things to all customers. If buyers in your area primarily buy trucks, you wouldn't want to waste a lot of effort targeting minivan buyers. The same goes for accessories.
Before setting up an accessories department, it is important to understand what buyers in your area are already doing to their vehicles, and what the potential is.
For example, out west, lifted trucks are king. Any dealer who can economically and professionally install lifts, tires and wheels, will do very well.
In other regions, other upgrades might be more popular. According to SEMA, here is a breakdown of the most popular vehicle upgrades. 
Wheels and Tires:

Almost half of young buyers upgrade these elements. Original tires are upgraded to all-season models, performance slicks, off-roading tires or low-profile versions. Swapping out standard wheels for lighter options made of aluminum, alloy or carbon fiber enhances both the look and performance of any given vehicle.

Exterior Body Mods:

Exterior looks matter to 42 percent of young customizers. They spend money adding tint to their windows, completely wrapping their car body or installing a body kit. Customizers also often upgrade their bumpers, mirrors, fenders and grilles to achieve unique looks.

Interior mods:

From simple changes like upgraded floor mats to more intricate modifications like installing a new dash kit or replacing upholstery, 16- to 24-year-old enthusiasts feel enhancing the interiors of their cars is just as important as modifying the exteriors. Changing the seats alone can result in a more comfortable ride.

Lighting:

With the advent of LED lighting, these modifications have become some of the easier and more common upgrades performed by young car aficionados. Most exterior lighting upgrades consist of replacing the taillight and headlight covers, switching lightbulbs and/or adding lighting kits. Inside vehicles, customizers easily personalize looks by changing cabin and dash lighting to different hues.

Mobile Electronics:

Upgrading a car's sound system remains a priority for young enthusiasts, including new stereos, speakers, amplifiers or anything else that enhances sound to their liking. Other electronic upgrades may include new GPS systems, dashboard cameras, alarm systems and/or Smartphone connections.

Performance Enhancement:

Young customizers enhance the performance of their cars by switching to aftermarket high-performance oil, fuel additives and engine treatments. By replacing original equipment such as brake pads and rotors with lighter counterparts, they can also lower vehicle weight. Modifications like an updated suspension system, exhaust kit, drivetrain and/or intake system can help a vehicle perform at a different level.
A Dedicated Team
If increased accessories sales are in your future. It is important to have a dedicated and coordinated team that unites the parts, service and sales departments in a concerted effort. Most of the upgrades will probably be sold on the sales floor, but service will have plenty of opportunity to sell upgrades as well.
An accessories manager that handles sales of all accessories (whether through the sales department with a new vehicle purchase, or direct through the service department), will make the process will go much smoother. The accessories manager's job is to be very knowledgeable on the unique aspects of vehicle modification, and to help the buyer understand the upgrades that will be performed.
The accessories manager also needs to make sure all departments are making money on the deal, while making sure that the pricing is competitive within the market.
The parts department should be allowed to make a reasonable markup on the parts. Service should be allowed to make money on the labor. And, in the end, there should be enough meat left on the bone for sales to make a markup as well, all while maintaining a competitive price within the market.
Margins for each department might be thinner than on other work performed, but if done right, a well-run accessories department can differentiate your dealership from other dealers, and can create a new profit center within your store.
---

Did you enjoy this article from Ken Strong? Read other articles from him here.

Car Biz Today, the official resource of the retail automotive industry.

Be sure to follow us on Facebook and Twitter to stay up to date or catch-up on all of our podcasts on demand.
While you're here, don't forget to subscribe to our email newsletter for all the latest auto industry news from CBT News.