Service contracts have been around for a long time. They provide additional profit opportunities at the time of sale, and theoretically provide more service opportunities after the sale. The problem is that most service contracts do not tie a customer to the dealership where they are purchased.
Some of the latest innovations with service contracts revolve around ways to tie customers to dealerships as well as ways to increase take rates. Here is a quick look at some of these innovations.
Tie Back Clause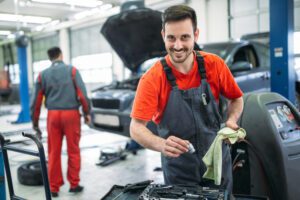 A tie back requires a vehicle owner to service their vehicle at the dealership where the service contract was purchased, as long as it breaks down within 40 miles of the dealership. This unique new take on the service contract ensures increased value for every service contract sold, by ensuring that the service work is done at the dealership.
To make the tieback attractive to customers, dealerships can price the maintenance package aggressively, while still ensuring that the service department makes money, Derek Hanson, General Manager at Tom Bell Chevrolet in Redlands,  charges $1,480 for the five-year plan, which includes eight oil changes and all other factory-recommended service. The retail value of the package is $2,422, Hanson adds.
"We see the importance of getting people back into our service department," Hanson says. "If you sell a maintenance package with a tieback, we're married."
Related: 4 Tips to Sell Service Contracts After Delivery
Disappearing Deductible
A disappearing deductible is another unique take on the service contract aimed at keeping customers at the selling dealership. The disappearing deductible service contract waives the deductible if the vehicle is serviced the selling dealer.
Cascade Auto Group in Cuyahoga Falls, Ohio, offers a disappearing deductible, but not a tieback, says Michelle Primm, the group's co-owner and general manager. The group sells Subaru, Mazda and Audi vehicles on one campus.
"We can pull a loyalty report at any time to see what percentage of our customers are returning to us for their claims, so that we can adjust our policy in the future if business demands it," Primm says.
Cascade's contract provider is Resource Automotive Inc., a division of Assurant Inc. Matt Mahar, Resource Automotive's regional general manager for Ohio and Indiana, says Cascade customers whose contracts include disappearing deductibles are significantly more likely to return to the dealership for service than those whose plans don't include the feature.
Mahar says, "Our pitch to dealers is that you would be surprised how many people will drive 100 miles to save $40 or $50."
Incentivize Service Advisors
Service advisors are an underutilized resource for selling service contracts. Hanson (Tom Bell Chevrolet) incentivizes every service adviser, including those in the express lane, with $100 for every service contract they sell to their customers. Otherwise, he says, advisers might be reluctant to offer prepaid maintenance plans and to explain the benefits of the tieback to customers.
Hanson says the service department sells about 10 service contracts with a disappearing deductible each month, compared with as many as 70 in the dealership's finance and insurance department. "There is a real opportunity to get service advisers in the quick lane" to pitch the product, Hanson says.
Related: Do Customers See the Value of Vehicle Service Contracts?
Conclusion
With these two features, "not only is the dealer making money selling the service contract, he is also going to guarantee his service department will be loaded with work," says Max Zanan, president of Total Dealer Compliance, a consulting firm in New York.
These innovations offer new opportunities for increased service and customer retention at a time when dealerships are fighting for relevance and a competitive advantage.
---
Did you enjoy this article from Ken Strong? Read other articles from him here.
Car Biz Today, the official resource of the retail automotive industry.
Be sure to follow us on Facebook and Twitter to stay up to date or catch-up on all of our podcasts on demand.
While you're here, don't forget to subscribe to our email newsletter for all the latest auto industry news from CBT News.