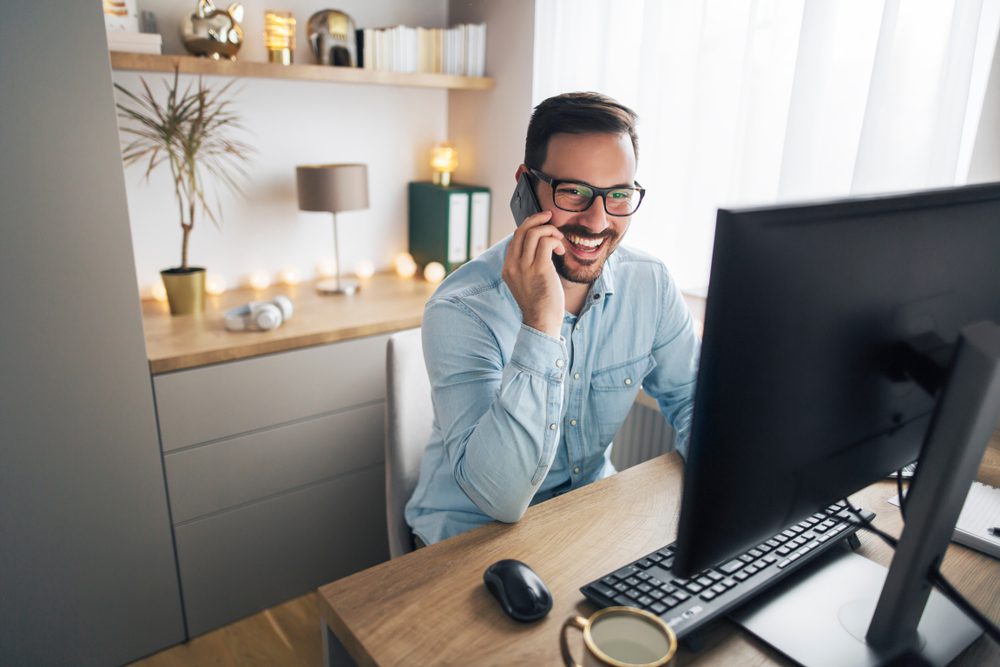 Prior to the pandemic economy shutdowns, less than 10% of Americans in the workforce were full-time remote workers. Virtually none of the auto retail positions were performed from home. But in the US, nearly half of workers transitioned to work from home (WFH) and a good portion will likely continue that way of a hybrid of in-office and remote. While most dealership positions don't have that luxury, it's becoming apparent that the WFH shift is affecting compensation rates that could affect dealers and their staff.
For employers, the idea is that employees working from home should reduce payroll expenses. It's an attractive practice that offers increased flexibility, reduced stress, and higher morale, and nearly one-quarter of workers surveyed by OwlLabs stated they "would take a pay cut of up to 10% to work remotely". The opposite appears to be occurring, though.
Payscale reports that remote workers performing the same job as non-remote workers are currently paid 8.3% more. Generally, remote workers earn 7.5% more than non-remote workers. Increased pay from employers willing to allow WFH benefits has generated the opposite effect as desired.
Lucrative WFH pay for specialized positions
For some positions like retail and customer service, remote and non-remote workers earn nearly the same pay. But for positions in the technology industry as well as finance and insurance, there are disparities that lean heavily in favor of remote workers. In finance and insurance, WFH positions are paid 31.7% more, on average. For technology jobs, compensation averages 39.4% more for those who work remotely. Likewise, marketing and advertising positions and information technology have opportunities that pay a third more working remotely than going to the office.
These specialized jobs are in high demand and often require skills obtained through post-secondary education and years of job experience. Although typically on the upper end of the pay scale anyway, they're also in industries that don't require face-to-face interaction most of the time. But why does that matter in the auto retail industry, for example?
Why it affects dealerships
For employers that have roles across a wide range of industries, these high-paying WFH positions challenge their ability to staff appropriately. For instance, an IT specialist for a dealership or dealer group that's paid a median wage nationally could easily be tempted to switch to a WFH position with a regional, national, or international company with more flexible hours and higher compensation for their work.
The same can be said for F&I positions. Although one of the top-paying positions in many dealers – not to mention some of the highest revenue-generating positions – F&I managers have a unique set of skills that are highly sought after by finance and insurance companies. Remote work options could pose a risk of poaching some of the most valuable team members in dealerships.
Know where they stand
For HR managers and department heads, it's crucial to know your team's worth and their perceived value. If there's a chance that they're exploring WFH options, you should be aware. Be in frequent discussions with employees to determine their job satisfaction and if they're satisfied with their pay. Although working remotely isn't for everyone, the higher pay could influence them to take a remote position.
Should you lose key team members in the high-demand industries previously mentioned, it can be nearly impossible to replace them with someone as productive, costing your dealership tens of thousands of dollars monthly until someone new gets up to speed. Have HR look into WFH comparisons and adjust pay plans as needed to retain your human capital.
---
Did you enjoy this article from Jason Unrau? Read other articles on CBT News here. Please share your thoughts, comments, or questions regarding this topic by submitting a letter to the editor here, or connect with us at newsroom@cbtnews.com.
Be sure to follow us on Facebook and Twitter to stay up to date or catch-up on all of our podcasts on demand.
While you're here, don't forget to subscribe to our email newsletter for all the latest auto industry news from CBT News.